2014 Annual Conference Recap
VACo 80th Annual Conference
November 9-11, 2014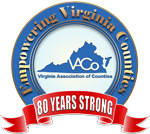 ANNUAL CONFERENCE PRESS RELEASES

VACo Elects Penny Gross President for 2014-2015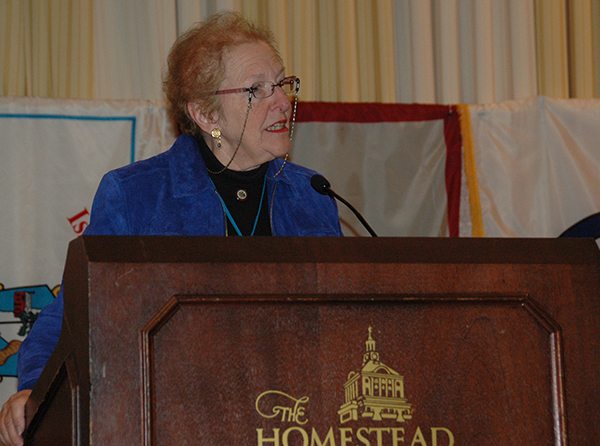 The membership of the Virginia Association of Counties elected Fairfax County Supervisor Penelope A. "Penny" Gross as 2014-2015 President during VACo's 80th Annual Conference in Bath County. Gross and other newly elected officers started their terms at the association's Annual Business Meeting on November 11.
Gross succeeds Dinwiddie County Supervisor Harrison A. Moody.
Gross becomes the ninth president from Fairfax County and the second in four years. Fairfax County Supervisor Catherine M. Hudgins was VACo President in 2011-2012.
"I'm excited for the challenge of being VACo President, and I'm humbled by this opportunity," Gross said. "VACo is coming off a successful year of implementing the strategic plan, and I want to continue the progress. I'm also thrilled to lead an organization that promotes the well-being of all counties, and I hope to make a difference in my year as President."
Gross was first elected to the Fairfax County Board of Supervisors in 1995 and was re-elected to her fifth term on November 8, 2011. She currently serves as Vice Chairman of the Board.
"Penny has been a leader in VACo for a long time," VACo Executive Director James D. Campbell said. "Penny is a tireless worker and has a knack for solving problems with fresh and innovative ideas as well as taking practical approaches to issues. VACo is going to grow stronger under Penny Gross. We are fortunate to have her as our President."
On the state and national level, Gross currently is vice-chair of the National Association of Counties' Energy, Environment, and Land Use Committee. She completed a one-year term as President of the National Association of Regional Councils Board of Directors in June 2014. Gross was appointed by Governor Mark Warner to the Local Government Advisory Committee (LGAC) to the Chesapeake Executive Council, which she chaired from March 2006 until August 2008, and continues to serve.
Prior to her tenure as Supervisor, Gross worked for 20 years as staff in various congressional offices. She served on the Board of the Lincolnia Park Civic Association (1985 to 1997), and on the Executive Board of the Mason District Council of Civic Associations (1988 to 1995). She has held numerous offices with PTA, and is an Honorary Life Member of the Virginia State PTA.
Gross was elected to the VACo Board of Directors in 1996 as the Region 8 representative.
"People often ask me where I get my energy," Gross said. "I simply love my job. I love to work, and I get energy from the people I serve. Being out in the community and getting to know the people of Virginia as friends and having them consider me as a friend keeps me going."
Gross was born in Eugene, Oregon, and earned her degree from the University of Oregon. She and her husband Hal have been married for 44 years and have three children.
VACo 2014-15 Executive Committee
President: Penelope A. Gross, Fairfax County
President-Elect: David V. Hutchins, Carroll County
First Vice President: Judy S. Lyttle, Surry County
Second Vice President: Mary W. Biggs, Montgomery County
Secretary-Treasurer: Donald L. Hart, Jr., Accomack County
Immediate Past-President: Harrison A. Moody, Dinwiddie County
VACo 2014-15 Board Directors
In addition to the VACo Executive Committee and Past Presidents, the Board of Directors consists of 24 supervisors representing 13 regions of the state. The terms are on a two-year cycle and the number of directors, per region, is based on the population.
This year, representatives were selected in regions 1, 3, 5, 6, 7, 8, 10, 11, 12.
(Click here for a regional map)
VACo 2014-15 new board members include:
Region 1: William A. Robertson, Prince George County
Region 3: Patricia S. O'Bannon, Henrico County
Region 5: Cassandra L. Stish, Buckingham County
Region 6: J. Michael Hobert, Clarke County
Region 7: Robert M. Thomas, Jr., Stafford County
Region 8: Sharon S. Bulova, Fairfax County
Region 8: Gerry W. Hyland, Fairfax County
Region 8: J. Walter Tejada, Arlington County
Region 8: Scott K. York, Loudoun County
Region 10: Gary W. Tanner, Appomattox County
Region 11: Charlotte A. Moore, Roanoke County
Region 12: Timothy A. Reeves, Wythe County
Past Presidents: John D. Miller, Middlesex County; Catherine M. Hudgins, Fairfax County; Robert R. Adkins, Wise County
VACo Recognizes Graduates of the Supervisor Certification Program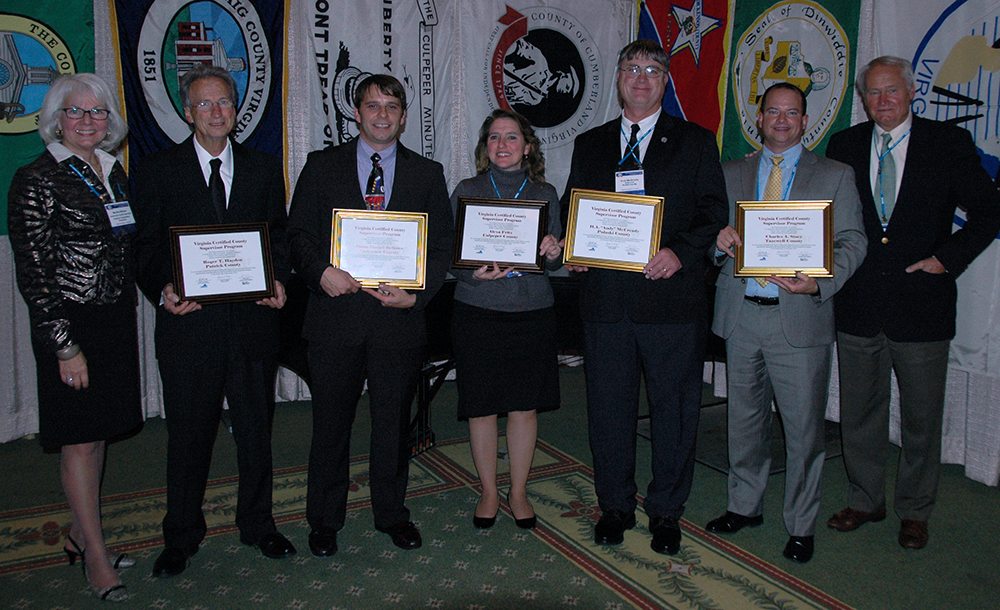 The Virginia Cooperative Extension and the Virginia Association of Counties (VACo) recognized the ninth class of the County Supervisor Certification Program on November 9 during the VACo Annual Conference in Bath County.
The County Supervisor Certification Program is a partnership between Virginia Cooperative Extension, Virginia Tech and VACo that provides training to enhance the leadership and decision-making skills of county supervisors in the Commonwealth.
This year's five graduates of the 18-month certification program are:
Jason Daniel Bellows, Lancaster County
Alexa Fritz, Culpeper County
Roger T. Hayden, Patrick County
A. "Andy" McCready, Pulaski County
Charles A. Stacy, Tazewell County
The County Supervisor Certification Program was created to provide VACo members more in-depth knowledge about government operations.
"Congratulations to our five newest graduates on completing this challenging and rewarding VACo Educational Program," said James D. Campbell, VACo Executive Director. "With five more graduates, we now have 50 who have completed the certification program since its first class in 2006. VACo has emphasized quality educational opportunities over the past few years, and the County Supervisor Certification Program continues to be one of our best offerings."
Virginia Cooperative Extension partners with Virginia Tech and VACo to develop and deliver the program. "This program is a great example of Virginia Cooperative Extension growing its partnership with an organization to strengthen the impact of our community viability efforts and to collaborate with other agencies to provide leadership education," said Dr. Michael Chandler, Professor Emeritus at Virginia Tech and one the program's instructor along with Dr. Martha Walker, Extension Viability Specialist.
The County Supervisor Certification Program provides an overview of the basic issues, expectations, and practices associated with serving as a county supervisor as well as detailed information about local government. Each participant completes five core courses featuring both classroom instruction and self-directed learning on leadership development, duties and responsibilities of public officials, community planning, local government finance, and collaborative governance.
For more information about the County Supervisor Certification Program, contact Phyllis Errico, General Counsel, at perrico@vaco.org or 804.343.2509.
Supervisor Certification Past Graduates
2013
John Cataldo, Brunswick County; Claire Anne Collins, Bath County; William F. "Bill" Gandel, Prince George County; Don C. Gantt, Jr., Prince Edward County; John Haynes, Richmond County; Dana G. Kilgore, Wise County; Phil D. McCraw, Carroll County; Phillip "Bart" Perdue, Bath County; Cassandra L. Stish, Buckingham County; Robert "Bob" Thomas, Jr., Stafford County; Kevin Wagner, Highland County; John R. Woodward, Page County
2012
Joseph C. Straten, Washington County
2011
Larry K. Bartlett, Grayson County; David W. Blanchard, Highland County; Brenda Sutherland, Grayson County
2010
Stephen W. Bowen, Nottoway County; D. Cave, Page County; Donald W. Kidd, Amherst County; Dr. Thomas Littrell, Carroll County; Ernie McLeod, Louisa County
2009
Deborah B. Coats, Hanover County; Robert H. Conner, Brunswick County; Willie L. Gentry, Jr., Louisa County; Bernard L. Jones, Sr., Brunswick County; Ann H. Mallek, Albemarle County; Carl Schmitt, Greene County
2008
Sharon Baroncelli, Shenandoah County; Kate Berger, Pittsylvania County; Tony Carter, Warren County; David Hutchins, Carroll County; Paul Milde, Stafford County
2007
John Rust, Page County; William Quarles, Jr., Goochland County; Charles Allbaugh, Fluvanna County
2006
Wayne A. Acors, Caroline County; Charles C. Ballard, Page County; Phillip A. Bradshaw, Isle of Wight County; Gerald M. Cubbage, Page County; Carol Lee Fischer-Strickler, Page County; Thomas W. Fore, Amherst County; R. Kenneth Hatcher, Powhatan County; Judy S. Lyttle, Surry County; Ronnie L. Shortt, Wise County; Thomas J. Wright, III, Isle of Wight County
VACo Recognizes Winners of Go Green Program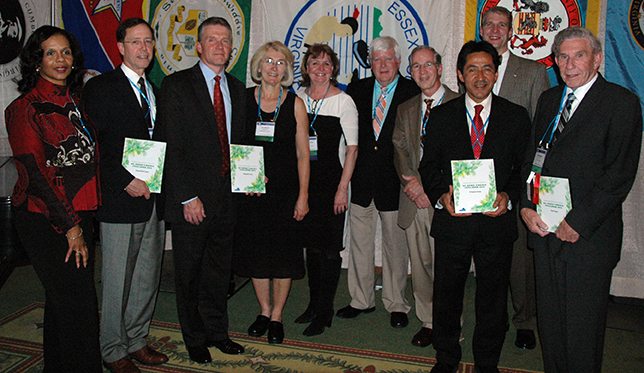 The Virginia Association of Counties (VACo) is pleased to announce the recipients of the 2014 Go Green Awards, a program designed to encourage implementation of specific environmental policies and practical actions that reduce emissions, and save local governments money.
The winning counties are:
Albemarle County
Arlington County
Chesterfield County
York County
This is the sixth year VACo has participated in the program, which was started in 2007 and called "Go Green Virginia."
The program is generously supported and sponsored by Moseley Architects and Trane.
"The winning counties represent a growing group of localities that believe in taking innovative steps to reduce energy usage and promote sustainability," VACo Executive Director James D. Campbell said. "We are proud to be a part of this exciting program."
Visit www.GoGreenVA.org for more information.
Albemarle County (2009, 2010, 2011, 2012, 2013)
Arlington County (2009, 2010, 2011, 2012, 2013)
Chesterfield County (2010, 2011, 2012, 2013)
Clarke County (2011)
Culpeper County (2011)
Fairfax County (2009, 2010)
Franklin County (2009)
Frederick County (2011, 2013)
Gloucester County (2010)
Hanover County (2009, 2010, 2011)
Henrico County (2009, 2011, 2012, 2013)
James City County (2012, 2013)
Loudoun County (2009, 2010, 2012)
Prince William County (2009, 2012)
Roanoke County (2009, 2010, 2011)
York County (2009, 2013)
ANNUAL CONFERENCE SPEECHES
Harrison Moody gives final speech as President
Penny Gross accepts the VACo Presidency
ANNUAL CONFERENCE KEYNOTE SPEAKERS
Dr. Bob Holsworth on Politics
NACo President Riki Hokama on Federal Issues
ANNUAL CONFERENCE MISCELLANEOUS
Annual Conference Concurrent Sessions Presentations
Roanoke County Police Department Color Guard Presents the Colors
Spotlight on VACo Education
2014 Annual Conference Program