Breakout Sessions Presentations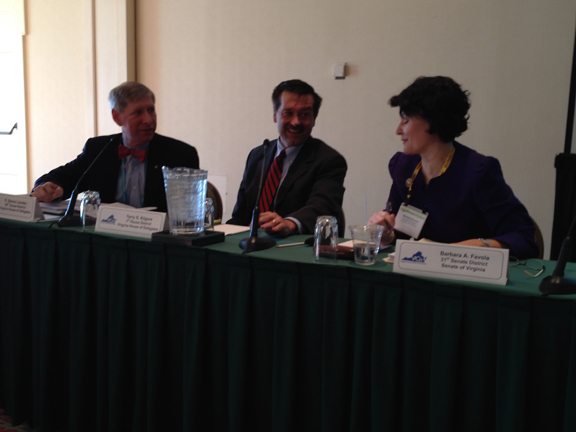 Click on name
to view the presentation
Monday 11:15 a.m. – 12:30 p.m.
State Perspectives on Medicaid Expansion • Mount Vernon
The Honorable Dr. William A. Hazel, Virginia Secretary of Health and Human Resources
—
Managing Performance for a LEAN Government • Blue Ridge
James O. McReynolds, County Administrator, York County
—
Fire and EMS: Mighty Results for a Meager Price • Piedmont
Tom Joyce, Assistant Chief, County of Orange Fire & EMS
—
$15.2 Billion: The Unfunded Teacher Pension Liability Challenge • Stratford
Joe Casey, Deputy County Manager for Administration, Henrico County
Monday 1:45 p.m. – 3 p.m.
Growing Your Economy Through Agriculture • Blue Ridge
Gary Larrowe, County Administrator, Carroll County
William L. "Billy" Vaughn, Deputy County Administrator, Rockingham County
Sherri Smith, Executive Director, Artisans Center of Virginia
—
General Assembly Forum: State Leaders Discuss County Priority Issues • Stratford
—
Transportation in the Commonwealth: State and Local Perspectives • Mount Vernon
The Honorable Jeffrey C. "Jeff" McKay, Board of Supervisors, Fairfax County
—
Are You Getting the Most from Your VACo Membership? • Piedmont
Jim Campbell, Executive Director, Virginia Association of Counties
Monday 3:30 p.m. – 4:45 p.m.
Stormwater Management: The Next Steps for Counties •
Blue Ridge
Melanie D. Davenport, Director, Water Division, Virginia Department of Environmental Quality
M. Ann Neil Cosby, Counsel, Sands Anderson, PC|
Christopher D. Pomeroy, President, AquaLaw
—
Finance/State Funding of Programs: Budget Update • Stratford
Robert P. Vaughn, Staff Director, House Appropriations Committee
—
Mandate Review and Commission on Local Government Update • Mount Vernon
Zack Robbins, Local Government Policy Manager, Commission on Local Government
—
Maximizing Your County's Economic Development and Job Creation Opportunities • Piedmont
Elizabeth Povar, Vice President of Business Expansion, Virginia Economic Development Partnership