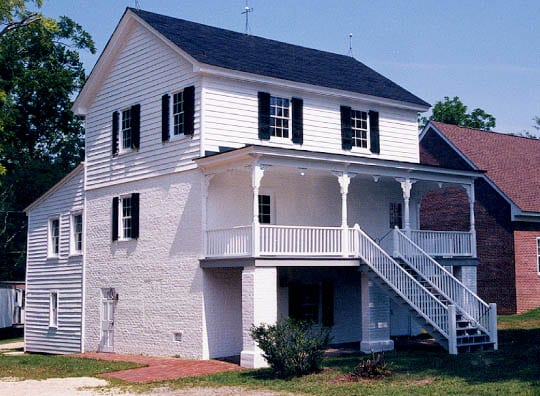 The Courthouse Tavern Museum presents the old Fary's Tavern building as a turn-of-the-19th-Century Tavern, including a restored dining room, parlor and two bedrooms. It is the oldest surviving building in the Courthouse Historic District. King & Queen County purchased the Tavern in 1941 from its last owner and used the building for county offices. It was restored by the Historical Society in 1999 with funding by matching grants from the State of Virginia and the Jessie Ball duPont Fund.
The Museum's main exhibit is on the history of King and Queen County. It tells the story using artifacts donated or loaned by residents, including early fossils and shark's teeth, a piece of a cannon used in the 1600s at Fort Mataponi, a spy glass used in the Revolution and the Civil War by a King and Queen family, an 18th century ladies' cloth cap, and pictures of early schools and churches.
The Museum also has a current exhibit featuring early tools used in King and Queen County, including farmers' tools, watermen's tools, and carpenters' tools. Also on display are new state-of-the-art touch screen videos showing tours of exhibits, the courthouse green area, tavern history and rural farming customs. Publications are available on King & Queen County's History.
The Museum is owned by the County and is leased to the Historical Society. The Historical Society provides volunteers and is responsible for exhibits, education, acquisitions, endowment and related activities.
Visit the Tavern Museum's Official Website | SOURCE: King and Queen County