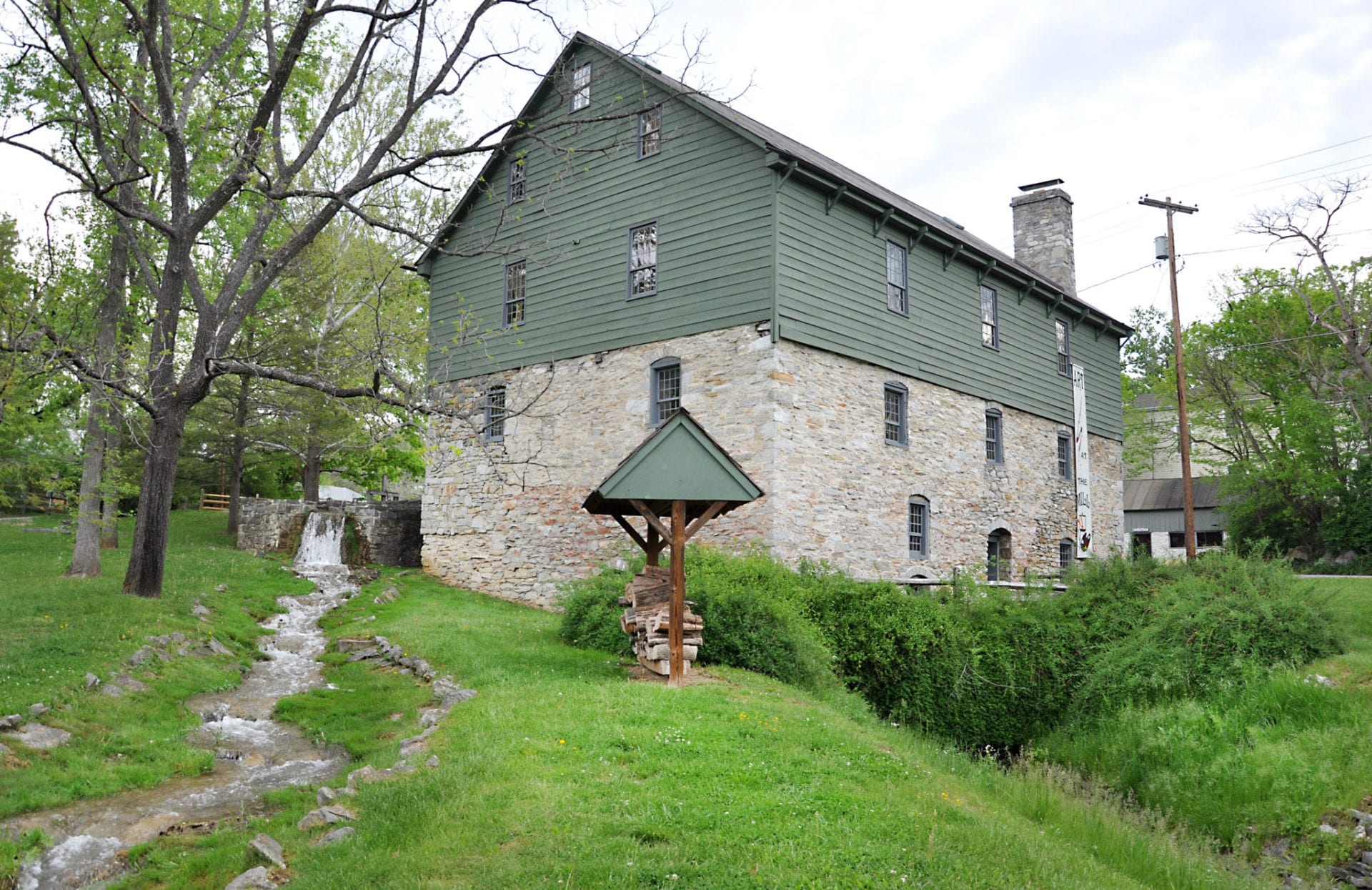 Although Millwood is small, it's easy to spend hours in the village of about 200 residents. Explore its antiques shops ‑ The Red Schoolhouse, Malcolm Magruder Antiques and Judy Judy Judy – enjoy fine food and wine from Locke Store and, of course, visit the magnificent Burwell-Morgan Mill, which has been the very heartbeat of Millwood since 1782.
The Burwell-Morgan Mill, with its unique interior wooden water wheel and gears, is a National Register Historical Landmark and one of the oldest, most original operational grist mills in the country.
The mill, located on Millwood Road (Route 723), is maintained and held in trust by the Clarke County Historical Association, continues to grind grains and operates as a working museum. The mill is open Fridays, Saturdays and Sundays, from May through November. Freshly ground white, yellow, red, and blue corn as well as buckwheat, hard wheat, soft wheat and rye is available for purchase.
The mill opens and ends its season with a biannual Art at the Mill show. The art shows began in 1990 as a way to raise funds for the ongoing restoration of the mill. Over the decades, the Art at the Mill show has grown in every possible way, including reputation.
Across the road from the mill sits a row of historic properties that are now shops, including Locke Store.
Locke Store, originally Clarke's, then Locke's and later Locke's Modern Country Store, has served the Millwood community for about 200 years. Since 2003, Locke Store has offered house-made sandwiches, soups, baked goods, entrées, salads, sides and a large selection of fine wine and beer. It sells locally grown and raised produce, meat, fish, honey and dairy. Enjoy a meal onsite, at home or at a picnic table in the meadow that surrounds the Burwell-Morgan Mill.
Farther east on Route 723 is the Mill at Carter Hall, which hosts art shows and art classes throughout the year.
Millwood is also the headquarters for Project HOPE (Health Opportunities for People Everywhere), an international health-care organization founded in 1958. Originally a peacetime hospital ship that sailed to developing countries around the world, Project HOPE became a land-based organization in the 1970s. Project HOPE is based at historic Carter Hall.
Plan to visit Millwood and stay a while. Contact the Burwell-Morgan Mill at 540.837.1799 or director@clarkehistory.org. Visit burwellmorganmill.org, lockestore.com, redschoolhouseantiques.net and clarkehistory.org. Find the Mill at Carter Hall on Facebook.
TEXT AND PHOTO SOURCE: Cathy Kuehner | Clarke County Director of Public Information