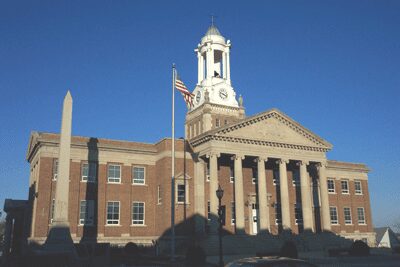 Location: 123 East Main Street / Court Street
Built: 1929 – 1930
Style: Classical Revival
Architect: C H Hinnant
Contractor: Fred O Fuqua
Description: The building faces south and is a two story red colored brick, stone and concrete Classical Revival style structure. The building is located on landscaped grounds in the center of Bedford. The south front has a large portico with six Corinthian columns rising to a pediment at the roof line. The massive triangular pediment has a unique design incorporating symbols of the local crops of corn and tobacco and the official crest of the fourth Duke of Bedford, John Russell. The center section of the building projects from the main building. On the roof is a high square clock tower with clock and open belfry at the top. The building houses the County Circuit Court, County General District Court and County Juvenile and Domestic Relations Court of the 24th Judicial Circuit. The building was renovated in 1997 to 1998. TAhe architect was Fauber Architects and the contractor was Blair Construction. The bell tower was renovated in 2014. The architect was Dominion 7 Architects and the contractor was Jamison-Lewis Construction.