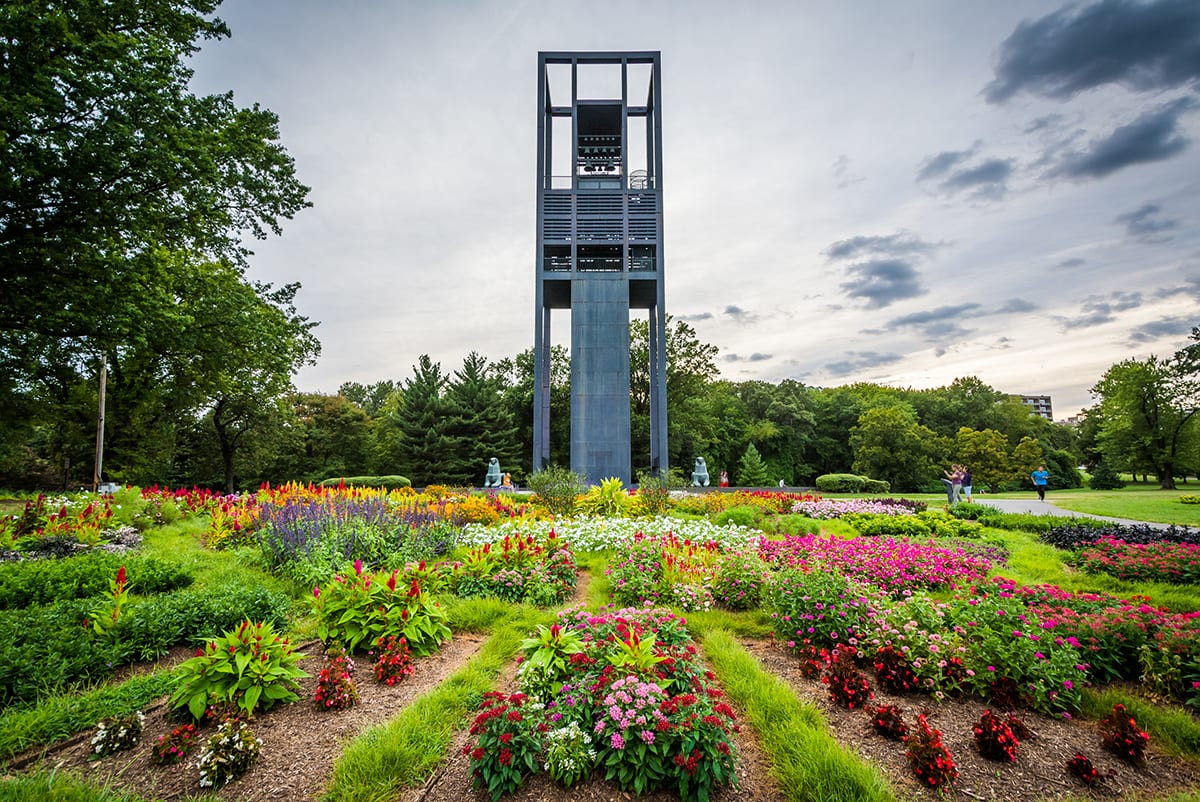 A Sign of Lasting Friendship
G. L. Verheul, a Dutch government official in The Hague, first advocated for a gift to symbolize Dutch-American friendship. The concept took shape, and a fundraising campaign to cast the bells met with a generous response in the Netherlands. Queen Juliana endorsed the project, and on April 4, 1952, she visited the United States to present a small silver bell to President Truman as a token of the carillon to come. In ceremonies at Meridian Hill Park in Washington, DC, the queen spoke of the importance of the small bells of the carillon:
"To achieve real harmony, justice should be done also to the small and tiny voices, which are not supported by the might of their weight. Mankind could learn from this. So many voices in our troubled world are still unheard. Let that be an incentive for all of us when we hear the bells ringing."
Two years later 49 bells arrived and were installed in a temporary tower in West Potomac Park, where they were formally accepted by the United States. A permanent tower was built near the United States Marine Corps War Memorial, the bells were installed, and an official dedication was held on May 5, 1960—the 15th anniversary of the liberation of the Netherlands from the Nazis.
Design and Construction
The 50 bells of the carillon were cast using a bronze alloy of approximately four-fifths copper and one-fifth tin. The total weight of the bells is approximately 30 tons (61,403 pounds). The largest bell or "bourdon" is 6 feet, 9 inches in diameter and weighs 12,654 pounds. The smallest bell or "treble" is 8 inches in diameter and weighs 35 pounds. Each bell includes an emblem signifying a group within Dutch society. The smallest bells represent the youth of the Netherlands. Inscriptions cast on the bells were composed by the Dutch poet, Ben van Eysselsteijn.
The tower housing the carillon was designed by Joost W. C. Boks, a leading Dutch architect. It is an open steel structure reinforced by steel plates. The tower is approximately 127 feet high, 25 feet deep, and 36 feet wide. It stands on a quartzite plaza 93 feet square and is enclosed by a low, lava stone wall. Two bronze lions, designed by Dutch sculptor Paul Koning, guard the plaza steps. A rectangular staircase leads to an observatory platform from which a small circular staircase winds up to the glass-enclosed playing cabin 83 feet above the ground. Planted on the surrounding grounds are thousands of flowers, including tulip bulbs in the springtime.
SOURCE: National Parks Service