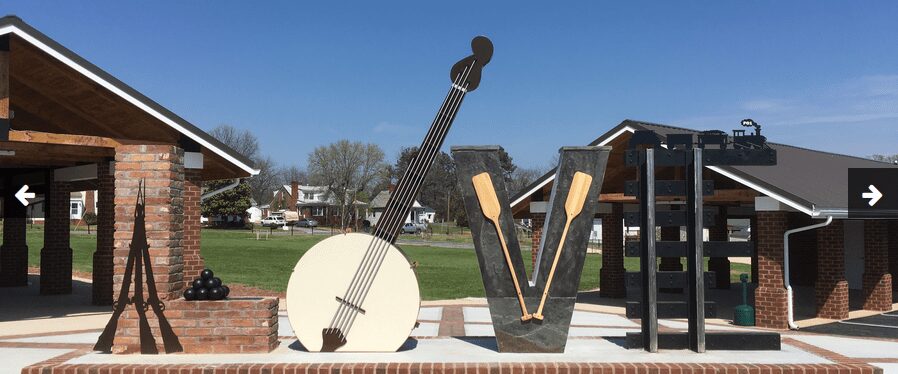 The LOVEwork is mounted on a cement slab with bricks which is representative of the image that is associated with Appomattox, the McLean House. It was in the here that Generals Lee and Grant laid the groundwork for peace and restoration.
L – Constructed of brick from the "original" wall, dating back to the 1800s, that surrounds the historic courthouse square.
Stacking of the Arms (Created and donated by Virginia Metal Fab) & Cannonballs (donated by Moore's Machine Shop) – Recognizes Appomattox and its role in the ending of the American Civil War, the three muskets mimic the "Stacking of the Arms" symbolizing "Peace".
O – Represents the Joel Sweeney Banjo, a local man who crafted and popularized the traditional African instrument by adding a 5th string.
V – (labor donated by Ryan Atkins) The Stone and Oars Represent the James River, Holliday Lake, and High Bridge Trail State Parks, which are located in Appomattox.
E – The train silhouette represents the historical significance of the Railroads' location, the role it played to the surrender and reunification of a new nation pre-, during and post the American Civil War, and the future development of the Town. (Created and donated by Virginia Metal Fab)
SOURCE: Virginia is for Lovers