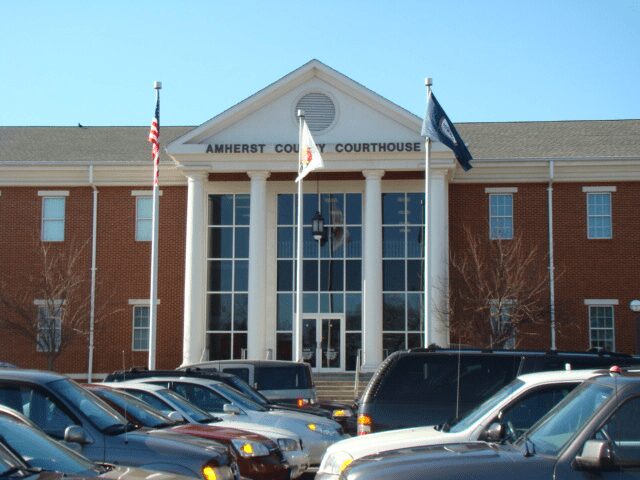 Location: 113 Taylor Street / 2nd Street
Built: 1996 – 1997
Style: Modern
Architect: Hancock-Fuqua-Robertson Inc. of Lynchburg
Contractor: Sandy Pearce of Amherst
Description
The building faces east and is a two story red colored brick and concrete structure. The building is located on landscaped grounds in the center of Amherst. The east front has a large portico in the center supported by four large white colored columns rising to a pediment at the roof line. Behind the columns is a glass wall. The north and south wings project from the main building. The roof line is flat. The building houses the County Circuit Court, County General District Court and County Juvenile and Domestic Relations Court of the 24th Judicial Circuit. The old courthouse is attached on the west side. A further addition was constructed in 1977.
Note
The railing from the original courthouse was removed and installed on the second floor of the new courthouse. It has a prominent place in front of the large window. As you look out the window notice in the left section of the railing. It has a number of notches, which are believed to represent the number of hangings. There are eight notches.