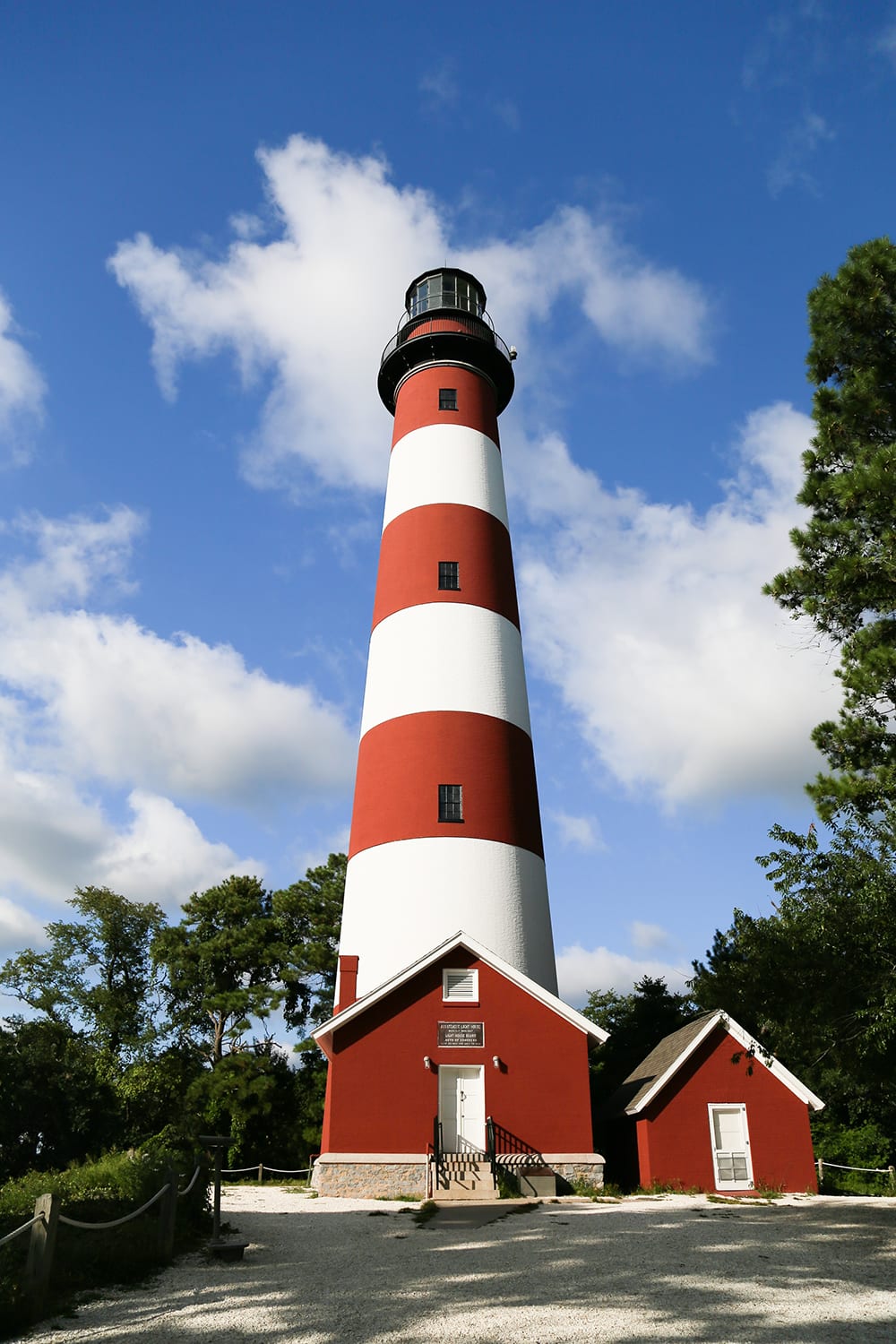 The historic Assateague Lighthouse was built in 1867 on a natural bluff 22 feet above sea level, providing more height and visibility. Originally the lighthouse stood adjacent to the open sea at the Chincoteague Inlet. Due to the natural shifting sand southward on Assateague Island since 1850 the lighthouse now stands almost 5 miles from the Chincoteague Inlet.
The Assateague lighthouse was built, along with many others along the Atlantic Coast, to combat the alarming number of shipwrecks that were occurring as coastal shipping commerce grew.
The first light was an oil-burning, fixed Fresnel lens, visible for up to 18 miles. This Fresnel lens is now located in the Museum of Chincoteague Island. In 1961, it was replaced by the DCB-36 rotating beacon which is still in use today and is visible for 22 miles. Inside the brick tower, a cast iron staircase leads up to the lens tower.
Each lighthouse along the East coast has a unique color pattern, used by mariners during the day to identify the lighthouse. Likewise, each lighthouse flashes a unique pattern at night, which mariners use to identify the lighthouse at night.
The Assateague Island lighthouse is listed on the National Register of Historic Places. In 2008, restoration of the lighthouse began to preserve this historic treasure. The Assateague Lighthouse is open for visitors to climb from April through November. Take the lighthouse tour and get a bird's eye view from the top of the Assateague Lighthouse.
The lighthouse tour is Free to the Public. The lighthouse can be accessed from the first parking lot on the right after entering Assateague Island.
SOURCE: www.chincoteague.com