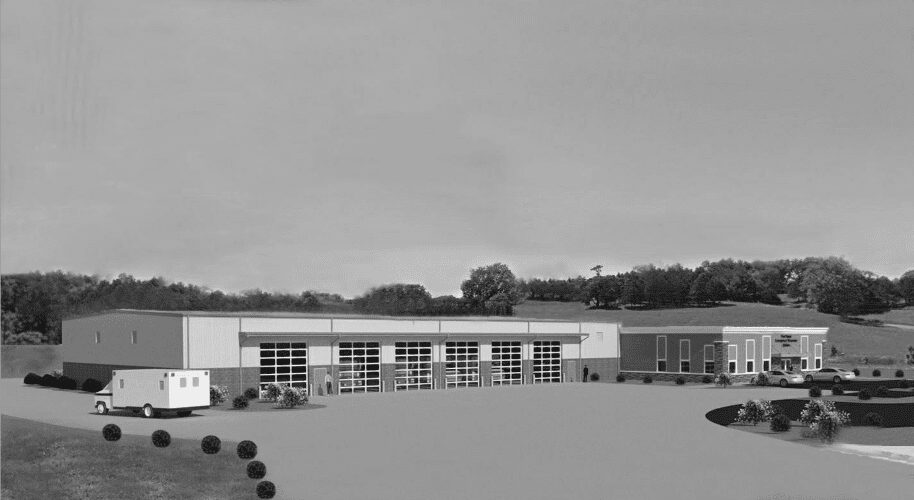 Rendering of Rockingham County's future emergency response station at 2654 Port Republic Road
Virginia Resources Authority (VRA) wants to first thank all local government public servants, including first responders, for their tireless work in responding to the COVID-19 pandemic.  As the Commonwealth's municipal bond bank, VRA shares the same public service motivation, which is more important now than ever.
Before this public health emergency, communities have long relied on local government first responders to provide emergency response.  VRA is pleased to have had a role in the recent financing of a 501(c)(3) fire and rescue station in Rockingham County.  On November 20, 2019 the County received approximately $4.5 million in bond proceeds from VRA's Virginia Pooled Financing Program, borrowing for 15 years with an all-in True Interest Cost of 2.36%. 
The total project includes the design and construction of a new 25,323 square foot pre-engineered metal building to include a garage/emergency services building, office space, living and bunk area and community hall.  The building will house seven paid staff and up to four volunteers at a time.  This new station will be serving an area that has seen tremendous growth over the past 10 years and is essential to serve the growing area. 
Rockingham County Administrator Stephen King said, "Rockingham County has utilized VRA financing for a number of projects over the past 20 plus years.  The ease of the application, approval, and award process along with favorable loan terms continues to make VRA the County's preferred option for funding projects such as this critical emergency services facility."
"VRA is pleased to have partnered with Rockingham County on this infrastructure project and seeks to provide financial market access to all local governments in Virginia.  VRA understands that local governments continue to have financing needs during periods of market disruption and remains committed to assisting localities with their infrastructure financing needs," said Stephanie Hamlett, VRA Executive Director.
Happy Public Service Recognition Week from all of us at Virginia Resources Authority!