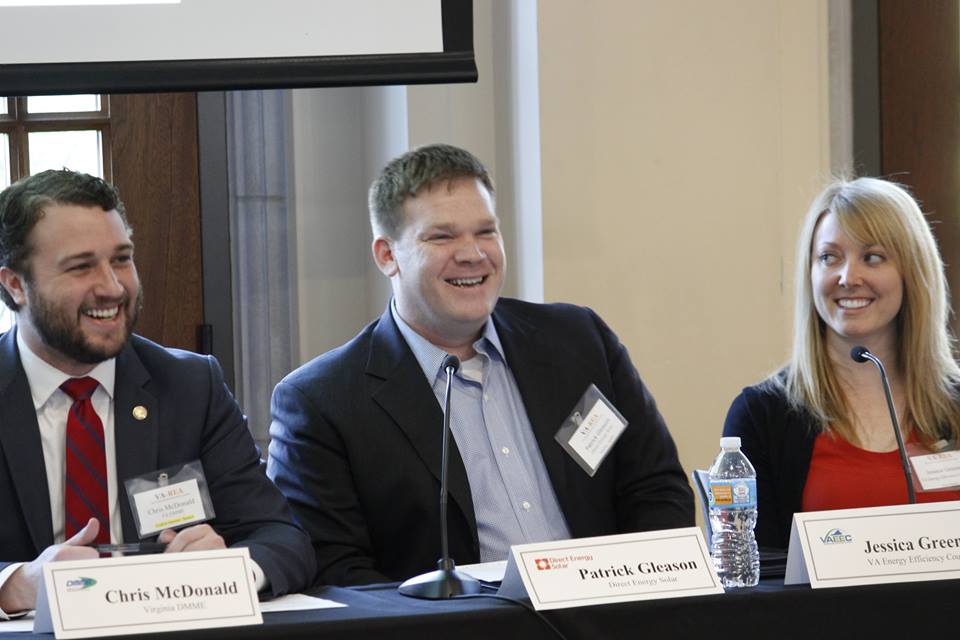 VACo's Chris McDonald (left) was a speaker at a past VA-REA event. VACo's Joe Lerch is a confirmed speaker this year.
VA-REA is kicking off its 2018 Leadership in Energy Advancement and Development (LEAD) series on Thursday, April 26 with a one-day event that will cover recent legislative and executive branch catalysts for renewable energy in Virginia, the current and future regulatory landscape for renewable energy in the Commonwealth, and how Virginia's renewable energy industry can partner with localities to increase wind and solar adoption.
Date: Thursday, April 26, 2018   |   Time: 10am – 2:30pm
Location: McGuireWoods Consulting, Richmond, Virginia. (800 E Canal St, Richmond, VA 23219)
Event Registration: Registration is just $25 ($15 for students). More information can be found on VA-REA's website.
Confirmed Speakers 
Joe Lerch, Virginia Association of Counties
Angela Navarro, Office of Virginia Governor Northam
Bill Murray, Dominion Energy
Brooke Beaver, Apex Clean Energy
Cliona Robb, Christian & Barton LLP
Dan Holmes, Piedmont Environmental Council
Heather Stevenson, McGuireWoods Consulting
Matthew Meares, Virginia Solar
Will Cleveland, Southern Environmental Law Center
Event Agenda
Morning panel – Recent legislative and executive branch catalysts for renewables in Virginia (10:15 – 11:45am)
Lunch & keynote speaker – Virginia's current and future regulatory landscape for renewable energy (12 – 1pm)
Afternoon panel – Putting the pieces together: How can Virginia's renewable energy industry partner with localities to increase wind and solar adoption? (1 – 2:30 pm)
Strengthen professional connections and business opportunities by interacting with industry, utility, policy and financing leaders within the Virginia renewable energy market