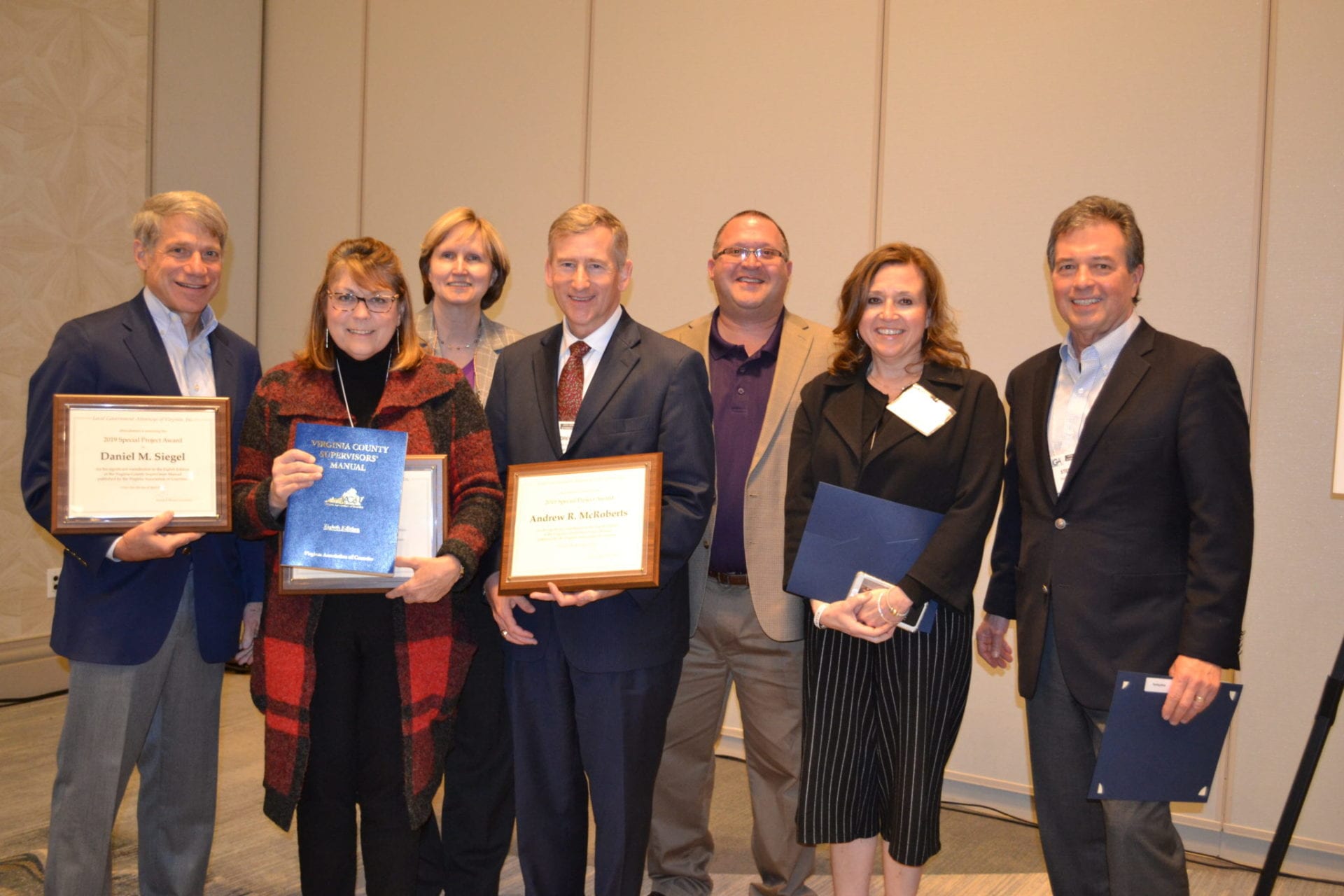 The LGA Special Projects Award recognizes attorneys who have contributed to an LGA project or other project of particular importance to LGA or local government generally. Its purpose is to encourage greater service to LGA or local government and to honor members whose projects have proven to be especially effective and successful. For Spring 2019, LGA is pleased to present the Special Project Award to the 45 local government attorneys who participated in producing the Eighth Edition of the Virginia County Supervisors Manual published by VACo.
Local officials have an increasingly difficult job that requires knowledge and understanding of many different issues in order to fulfill the duties of the office. Providing these local officials with the tools to understand these issues is an important task. One extremely helpful tool for local officials is the Virginia County Supervisors Manual published by VACo. This manual is used by local public officials throughout the Commonwealth as a guidebook or encyclopedia of local government.
The manual is designed to assist county supervisors and other local officials with the performance of their duties by focusing on the most important topics that pertain to local government governance. The manual includes 20 topical areas and over 400 pages of information providing an overview of the powers and duties of local officials in Virginia.
This Eighth Edition was a revision of an edition published in 2006 and includes the work of 45 local government attorneys. Many changes have taken place in the 13 years since the last volume was published and countless hours were spent by these attorneys to research and write the current edition.
Phyllis Errico of VACo, and Dan Siegel and Andrew McRoberts of Sands Anderson PC, coordinated the update of the manual and spent many hours making this project happen over the course of this past year.  Joining them in this effort was the local government group of Sands Anderson PC, in conjunction with an additional 24 dedicated members of the Local Government Attorneys of Virginia.  The contributors are listed below, and this monumental project could not have been completed without the contributions of these attorneys who gave of their time to produce this important reference manual for local government officials.
Sands Anderson PC contributors
Faith A. Alejandro, Esq.
Jesse Bausch, Esq.
Lee Byrd, Esq.
Michael D. Bedsaul, Esq.
Reid Broughton, Esq.
Nicole S. Cheuk, Esq.
Stephen V. Durbin, Esq.
Michael DeCamps, Esq.
Benjamin W. Emerson, Esq.
Jeffrey H. Geiger, Esq.
William A. Gray, Esq.
Margaret F. Hardy, Esq.
Paul C. Jacobson, Esq.
Bradford A. King, Esq.
Christopher M. Mackenzie, Esq.
Debra L. Mallory, Esq.
Andrew R. McRoberts, Esq.
Brian G. Muse, Esq.
Mary F. Russell
Daniel M. Siegel, Esq.
Cullen D. Seltzer, Esq.
Local Government Attorney contributors
Kevin R. Appel, Legal Counsel, Treasurers' Association of Virginia
Haskell Brown, Deputy City Attorney, Richmond Virginia
Andrea G. Erard, Town Attorney, Town of Ashland and Town of West Point
Phyllis Errico, General Counsel Virginia Association of Counties
Walter Erwin, City Attorney, Lynchburg
Heather Ferguson, Assistant City Attorney, Roanoke
Vivian Seay Giles, County Administrator/Attorney, Cumberland County
Jeff Gore, Hefty Wiley & Gore
Eric Gregory, Hefty, Wiley & Gore
Adam R. Kinsman, County Attorney, James City County
Denise Letendre, Assistant County Attorney, Henrico County
Mary McGowan, School Board Attorney, Prince William County
Martin M. McMahon, County Attorney, Montgomery County
Ryan Murphy, Assistant County Attorney, Henrico County
Jeffrey L. Mincks, County Attorney, Chesterfield County
Sharon Pandak, Greehan, Taves & Pandak, PLLC
Lucy E. Phillips, County Attorney, Washington County
Chris Pomeroy, AquaLaw PLC
Mark Popovich, County Attorney, Isle of Wight
Joseph Rapisarda, County Attorney Henrico
Sterling Rives, County Attorney Hanover
Leo Rogers, County Attorney Loudoun
Jeff Schaarf, Taxing Authority Consulting Services, PC
Dan Whitten, County Attorney Warren County