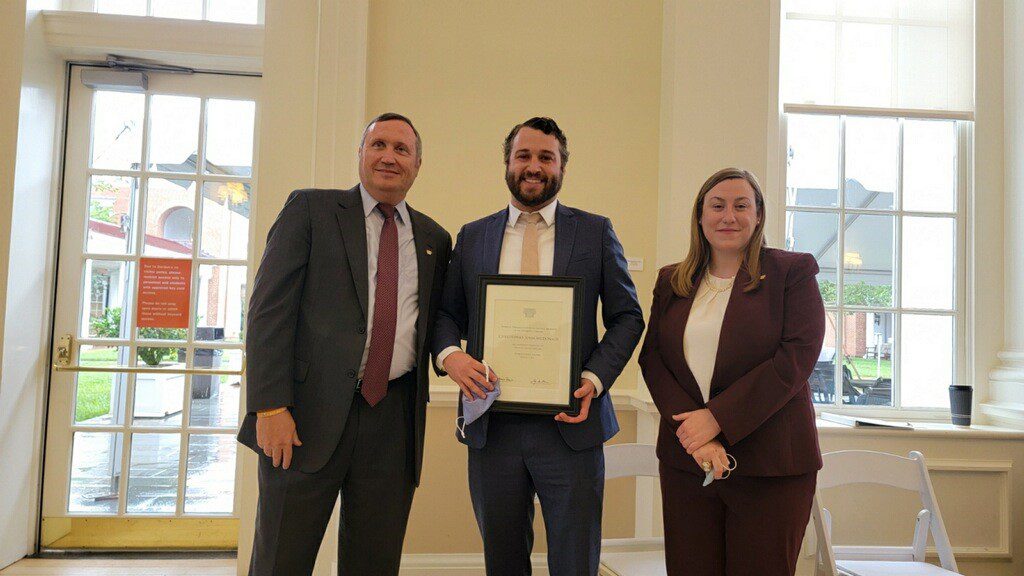 Pictured – Larry Roberts (Director, Sorensen Institute), Chris McDonald, and Lauren Gilbert (Associate Director and Director of Programs, Sorensen institute).
After nearly two years of coursework, classroom instruction, meetings, and travel across the Commonwealth, VACo Director of Government Relations Chris McDonald graduated from The Sorensen Institute for Political Leadership.
The Sorensen Institute, an initiative of the University of Virginia and the Weldon Cooper Center for Public Service, was first founded in 1993 with a mission of bringing together diverse individuals from varying backgrounds who all had a passion for politics and public service.  Through the Institute's various programs, they seek to "strengthen and enhance the quality of government at all levels throughout Virginia."
The Political Leaders Program (PLP), which McDonald completed, is Sorensen's flagship program and is aimed at Virginians already engaged in government and politics.  The program further develops participants' "skills, knowledge, experiences, and professional relationships to enable them to: 1) participate more effectively in public service; 2) have a greater impact on public policy in the Commonwealth of Virginia; 3) work with people across the partisan aisle or from different regions of the Commonwealth; or 4) better understand the interplay between their current positions and politics and government in Virginia."
Ordinarily, the Political Leaders Program lasts for 9 months, but due to the COVID-19 pandemic, the 2020 PLP Class remained in the program for nearly 18 months.  In this time, McDonald and his classmates crisscrossed the Commonwealth, meeting almost monthly in different locations (or, as pandemic restrictions required, virtually) to discuss political affairs, public policy, economic development, ethics in government, and more.
In graduating from The Sorensen Institute, McDonald joins an impressive network of alumni that includes 27 current members of the Virginia General Assembly, Governor Ralph Northam, and Congresswoman Elaine Luria.  Numerous other alumni serve as mayors, council members, supervisors and other elected and appointed positions.
At his graduation ceremony in Charlottesville, McDonald was named by his fellow classmates as "Most Likely To Work Across the Aisle."  In his graduation speech, he noted that Sorensen's greatest strength was in humanizing fellow participants and encouraging them to strive to find common ground, regardless of political or philosophical beliefs.  In closing, McDonald reminded classmates of the importance of the adage, "Be curious, not judgmental," pledging to keep this as his creed as a tribute to his time in Sorensen.