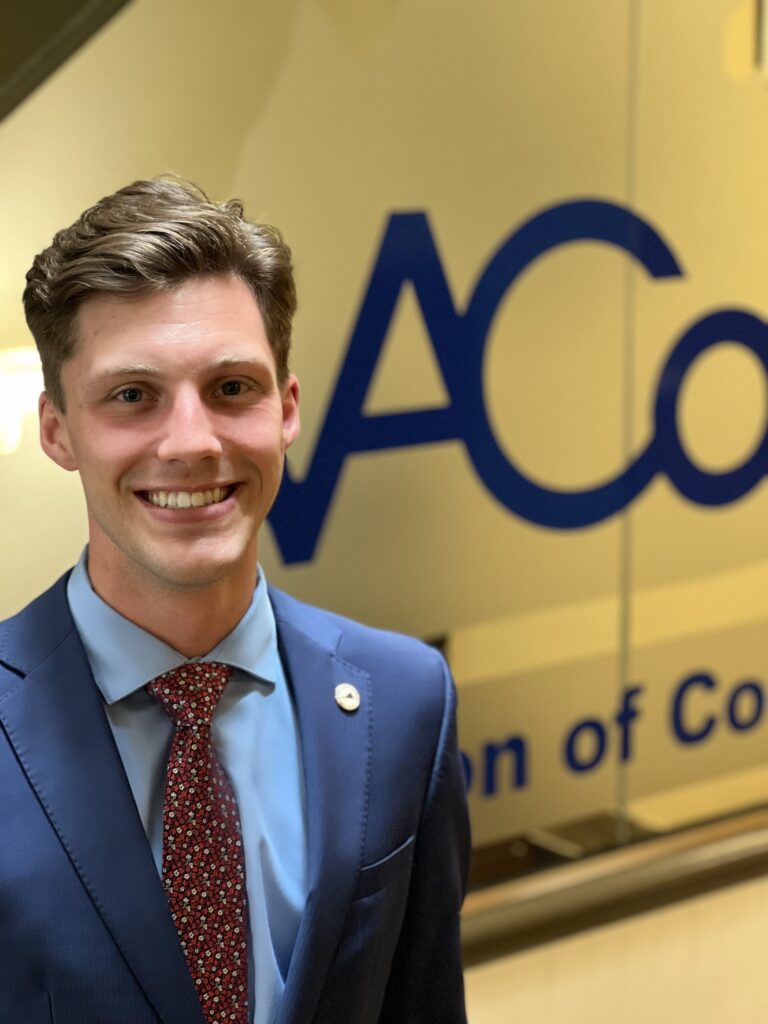 RICHMOND (June 15, 2022)—The Virginia Association of Counties is pleased to announce that James Hutzler will join the team on July 1 as Government Relations Associate. Hutzler is currently serving as an adjunct professor at Rappahannock Community College teaching US Government & Politics and State & Local Politics. Hutzler is also pursuing his Master of Public Administration at Virginia Commonwealth University.
"I'm so excited to work for an organization I wholeheartedly believe in while also working with and for my fellow Virginians," Hutzler said.
VACo exists to support county officials and to effectively represent, promote and protect the interests of counties to better serve the people of Virginia.
"We have a talented and experienced team at VACo, and we feel James will fit right in and will be a great asset to the legislative team," VACo Executive Director Dean Lynch said. "We're excited to welcome James, and cannot wait for our members to meet him."
VACo members will soon experience Hutzler's passion for Virginia and her history. Growing up – Hutzler adored learning about history and social studies. This deep love for the state where he was raised makes him suited to serve counties.
"There is no better place to grow up learning about history and civic education than the Commonwealth of Virginia," Hutzler said. "When you think of the historical titans of this country, George Washington, Thomas Jefferson, James Madison, Patrick Henry, they all are Virginians. The founding of Jamestown in 1607 tied in with the Surrender at Yorktown in 1781, exhibit a poetic start and finish to the long and arduous journey that was to create our nation.  What left such an imprint on me is that these events happened only 10 miles from where I grew up in Gloucester County.  I love how deeply entwined Virginia and Virginians are when discussing the history of our country.  I also love how, today, the Commonwealth is so diverse.  From urban pockets of fun and excitement to vast stretches of scenic and rural experiences, we really do have it all in Virginia."
Hutzler will join the VACo Legislative Team and focus and advocate on environment and agriculture as well as transportation issues. To say he's excited to start is an understatement.
"I want to be an advocate for good governance and support every one of Virginia's 95 counties," Hutzler said. "I want to work side-by-side with county leaders and help them in any way to deliver the necessary services to their constituents all the while promoting the values of good public service. Good local government can and will enhance the ability of counties to fulfill their unique mission to their constituents, and I am excited to play a part in this.  I am ever more excited to learn about what makes each county so unique and special."