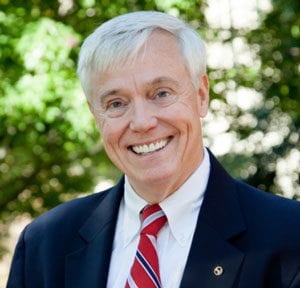 RICHMOND—The Virginia Association of Counties will present its most prestigious award to former Virginia House of Delegates Speaker William J. Howell on November 10 during VACo's 85th Annual Conference in Bath County.
"Bill has been a long-time friend and ally to VACo and Virginia's Counties," VACo Executive Director Dean Lynch said. "We are honored to present the Jefferson Cup to a man who devoted 30 years to serving the Commonwealth in the House of Delegates. Bill was Speaker from 2003 to 2018, making him one of the longest-serving Speakers in Virginia history. Bill is well-deserving of our association's highest honor."
Virginia recorded 10 budget surpluses totaling $2.5 billion during Howell's tenure as Speaker of the House of Delegates. He was instrumental in the General Assembly's strategic investment in education, economic development, and mental health services. One of Howell's notable legislative achievements, HB 2313 in 2013, was a major transportation initiative passed with bipartisan support. Howell helped preserve several state parks through his passion and support of land conservation.
Howell was first elected to the Virginia House of Delegates in 1987 and represented his Stafford-based district for 30 years. He was Co-Chair of the House Courts of Justice Committee in 2000 and became Chairman in 2002.
Currently, Howell is a senior advisor with McGuireWoods Consulting LLC specializing in a range of strategic and policy issues. He and his wife, Cessie, have been married for 53 years.
"I am honored to receive VACo's Jefferson Cup," Howell said. "I've always respected local leaders and learned so much by listening to them. To receive this award is truly special. I've always enjoyed my time with VACo whether it be at the Capitol or at an event or in my office. My door was always open for VACo and its members."
Howell is the first Jefferson Cup recipient since 2017 when former VACo Executive Director James D. Campbell was honored.