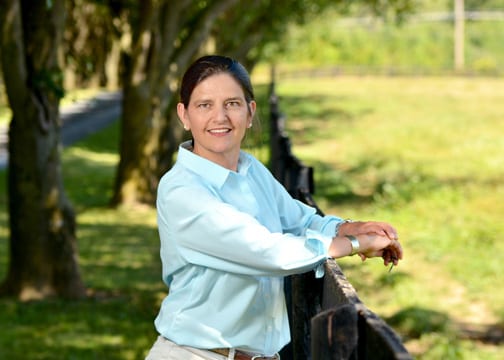 Q1. You're serving your first term on the Board of Supervisors in Clarke County. What sparked your interest in serving in an elected capacity? Was there anything that surprised you about serving on the Board?
Terri Catlett: Serving on the Board of Supervisors in Clarke County or any elected office was not something that I thought I would do when I graduated from veterinary school. My interest in serving sparked from experiencing the Clarke County community. It is a wonderful place to live, work, and raise a family. If you value something you need to support it. Surprises? No big surprises, just a greater appreciation. First and foremost for the talent, effort, and time that Clarke County employees put into their work. And a better appreciation for local government and how it functions.
Q2. You're a veterinarian who specializes in treating large animals and practices in a rural community. There is a lot of concern about a shortage of providers like yourself and the problems that a lack of veterinarians in rural areas poses for agriculture. Do you see any promising approaches to addressing that issue?
TC: Yes, I am a large animal veterinarian (Dr. Trimble) and when I moved to Marshall, Virginia for my first job I worked at a mixed animal practice in a rural community. I did treat all animals at that time. Over the years my practice focus changed to horses and I live close to Northern Virginia, so I am not the large animal veterinarian that the question addresses but it is an important question! Yes, there is a shortage of large animal veterinarians in some rural areas of Virginia. The driver of the shortage is economics. From the high student debt load of graduating veterinarians (average debt of graduating veterinarians in 2017 was $166,714, source AVMA), to salaries of vets in rural areas to practice economics. The American Veterinary Medical Association and veterinary colleges are working to address the shortage. The vet schools set aside a certain number of seats for incoming students enrolled in animal science programs and they are working to diversify their enrollment. The AVMA is working to recruit, train, and support veterinarians in areas of need. And there are programs to help with student loan forgiveness. Hopefully these approaches will help an important need.
Q3. Expanding access to broadband is one of your top priorities. What have been some of your successes in this area? Are there any "lessons learned" that can be shared with other communities?
TC: Clarke County recently received a $209,513 grant through the Virginia Telecommunications Initiative (VATI). Comcast is matching the VATI funds with $119,463 of its own. The project will bring high-speed internet to around 97 home and businesses in the White Post area. This success is just a piece of what is needed in Clarke County! We have been working to be a county that is ready to partner with the different vendors. We paid a consultant to do a study and we have a separate website, Clarkeconnect, for citizens and vendors to get up to date information. We formed a Broadband Implementation Committee to develop projects and help expand broadband.
Q4. In your view, what are the major challenges and opportunities facing Clarke County in the next ten years?
TC: Clarke County's challenges are like many counties, how to provide for increasing needs with limited resources. Providing for emergency services is one of the needs.
Q5. What are the "must-do" activities for a first-time visitor to Clarke County?
TC: Must do activities in Clarke County are many for a small county. Check out the Barns at Rose Hill in Berryville for a concert, art show, or community event. Stop by the village of Millwood for lunch and a visit to the Burwell Mill. You may get to see millers grind corn or see the amazing art show that is there in the spring and fall. Go to Blandy, the State Arboretum of Virginia, for a stroll through 172 acres of beauty. And there is always the Shenandoah River for a float as well as a hike on the Appalachian Trail!
VACo Contact: Katie Boyle