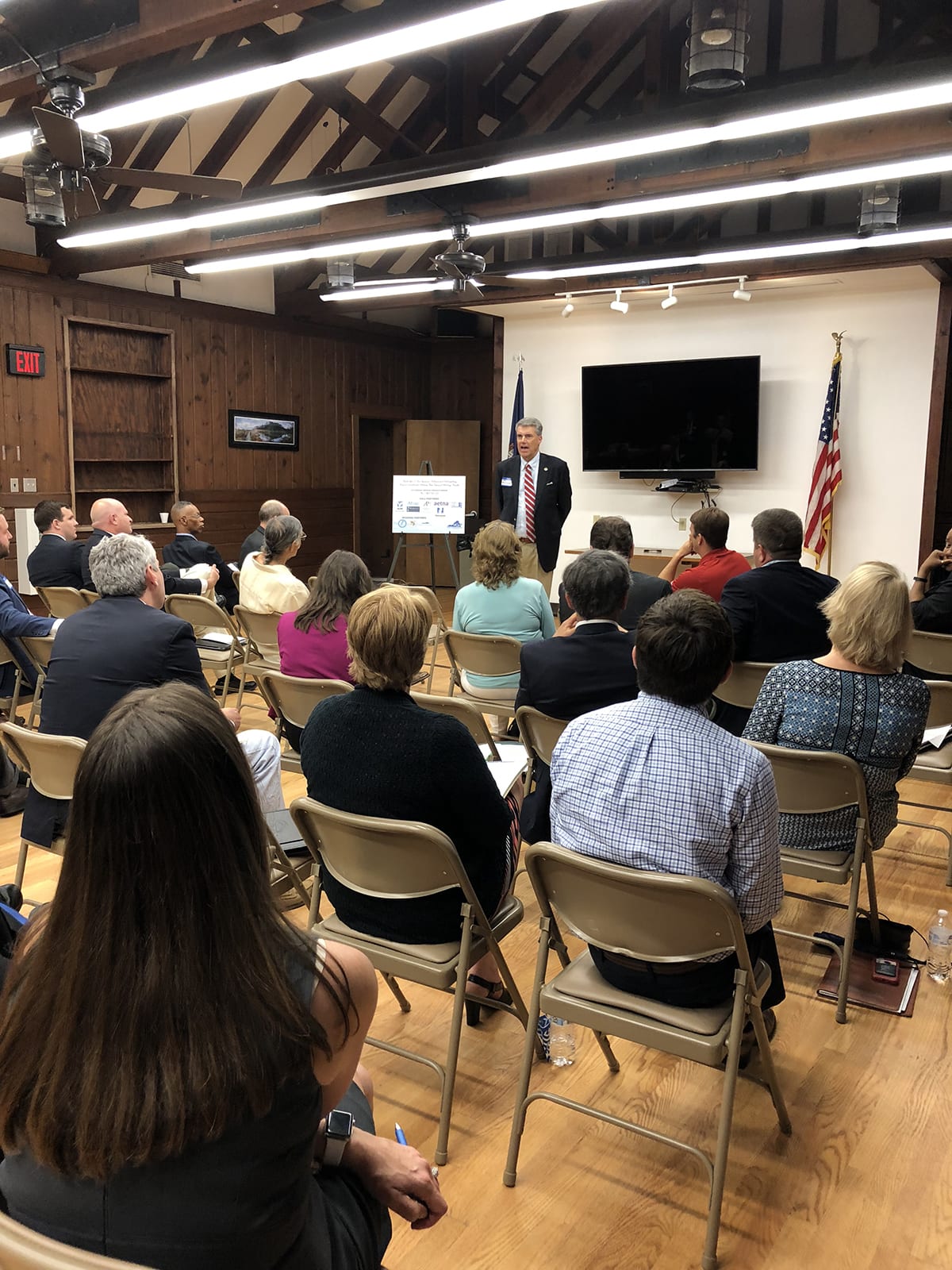 Close to 50 county officials kicked off the start of VACo's regional meeting schedule at Westmoreland State Park on the evening of May 22. Rob Jones with the recently formed Virginia Rural Broadband Coalition and King and Queen County administrator Tom Swartzwelder led an interactive discussion on overcoming the obstacles to providing affordable, high-speed internet access to citizens in areas where service is unavailable or unreliable. Where telecommunications and cable companies do not provide service, counties are creating public-private partnerships to get what are known as the "last mile" customers connected to the information superhighway. The benefits to counties include the recruitment and retention of businesses who depend on reliable internet access. Additionally, access to the internet is necessary for both education and workforce development. One example is the King and Queen County Wireless Service Authority that utilizes existing County infrastructure consisting of four public safety radio towers to "backhaul" data to and from the internet via wireless connections to homes and businesses.
VACo, in partnership with the Rural Broadband Coalition, will be asking for additional state funds for eligible projects with the capacity to scale up services beyond current federal minimum high-speed internet standards. Additionally, both organizations will also seek to address a problematic Federal Communications Commission (FCC) reporting requirement that overstates service provided by commercial carriers. Specifically, Virginia needs to provide a more accurate definition of unserved or underserved areas so that state and federal grants and loans will be made available to eligible geographic areas. These definitions translate into more accurate mapping of broadband availability that reflects both available Internet speeds and access service across the state.
Attendees also discussed other top issues and priorities including economic development, state assistance for education funding, unfunded mandates, and the need to loosen existing state rules on conditional rezonings (aka the "proffer law") for counties to adequately address impacts to public facilities by new residential development.
Also highlighted were recent changes in state law that allow counties on the Northern Neck, Middle Peninsula and the Eastern Shore greater flexibility in administering stormwater regulations so as to reduce the costs to both local government and business while still maintaining and improving water quality.
VACo Contact: Joe Lerch, AICP