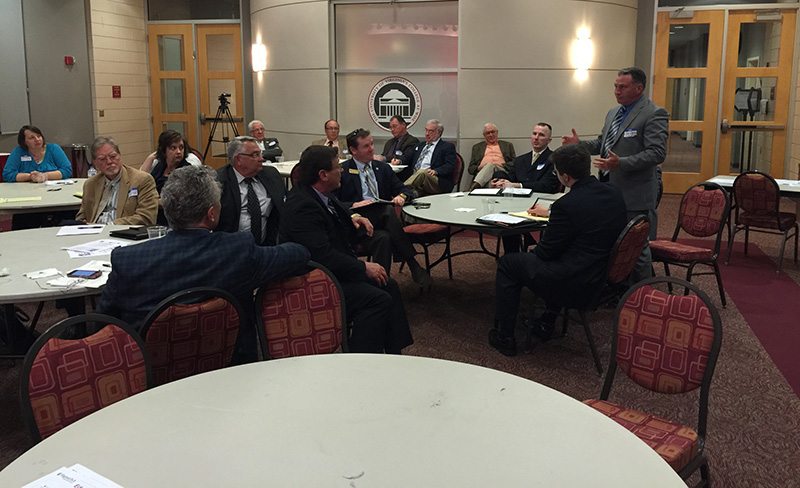 VACo Members discuss their issues at the 2015 Region 13 Meeting in Wise County.
Few events last year were more eye-opening for VACo's legislative team than visits we made to different regions of Virginia. VACo members participated in regional meetings that provided county officials with valuable opportunities to engage in constructive discussions not only with VACo legislative team, but also members of the General Assembly, representatives from various regional entities including planning districts and key state agency representatives.
For example, when we visited with county officials in both Southwestern and Southside regions, we heard many comments by county officials about the importance of workforce development as a major part of regional economic development efforts. After listening to members, VACo subsequently adopted a position statement in its 2016 Legislative Program and Policy Statements supporting changes in public school curriculums that would increase the emphasis on career and technical training.
Our work did not stop there. In the months leading up to the legislative session, VACo representatives met several times with members of the Governor's policy team about workforce development and the role public schools could play in matching the skills learned by students to the needs of prospective employers.
The result? The overwhelming passage of several bills that enjoyed widespread support in the recently completed legislative session to improve Virginia's career and technical educational programs both in public schools and in higher education. Among these measures were companion bills HB 895 (Greason) and SB 336 (Miller) that require the Board of Education to develop a "Profile of a Virginia Graduate." The purpose of this Profile is to identify the knowledge and skills that students should attain during high school in order to be successful contributors to the economy of the Commonwealth. The legislation emphasizes "development of core skills in the early years of high school" that would include "multiple paths toward college and career readiness," involving "internships, externships and credentialing."
Another example of the productivity of regional meetings was the Shenandoah County-hosted meeting where VACo's team, along with key members of the Department of Environmental Quality's staff in the presence of several General Assembly members, heard many concerns expressed by county officials about stormwater regulations, which led to significant amendments to comprehensive stormwater legislation passed by the 2016 General Assembly.
In 2016, VACo plans another round of regional meetings for county officials in as many regions as possible. The meeting schedule will be advertised in County Connections, emails, VACo's website and other media. Currently, the Region 5 meeting will be held May 24 and the Region 3 meeting will take place on July 14. Please stay tuned.