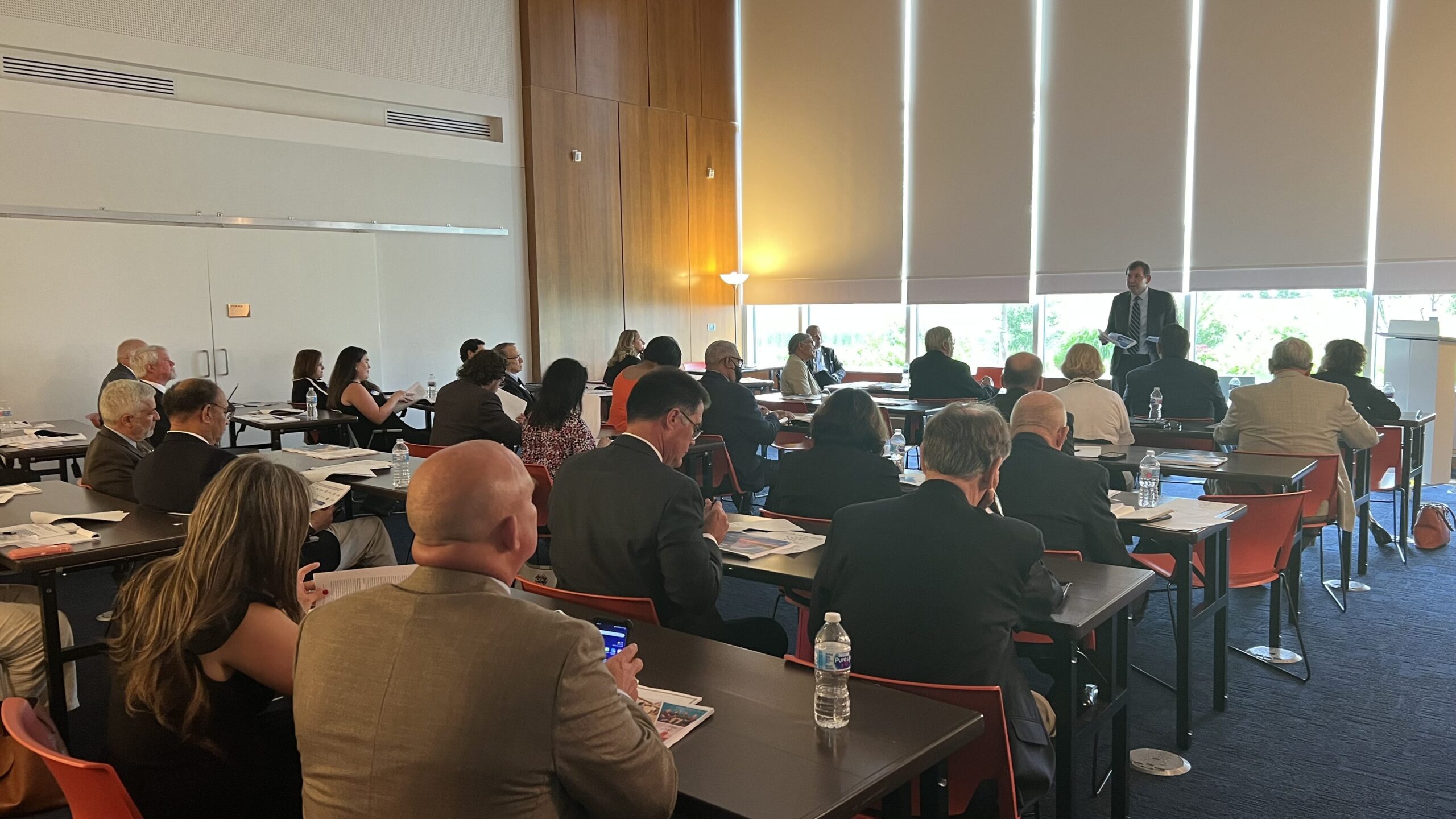 VACo Kicks Off 2022 Regional Meetings with Visit to Henrico County for Regions 2 and 3
VACo returned to in-person regional meetings for the first time since 2019 with a well-attended meeting of Regions 2 and 3 on May 23.  Henrico County Supervisor Patricia S. O'Bannon welcomed attendees on behalf of Henrico County and shared some information about the host venue, Libbie Mill Library, which features solar panels that reduce the facility's energy costs.
VACo was pleased to be joined by Senator Ghazala Hashmi, who updated attendees on the General Assembly's planned return to Richmond June 1 to vote on a state budget compromise.  She discussed several of her priorities for the months ahead, including making community college more accessible as a way to tackle workforce needs, as well as continuing efforts to provide better state support for the K-12 Standards of Quality and behavioral health needs within schools.  Delegate Rodney Willett's Legislative Assistant, Colleen Grady, attended the meeting on his behalf.
Mike Rolband, Director of the Department of Environmental Quality (DEQ), presented his priorities for the agency (view his presentation here).  He discussed four main initiatives at DEQ:
"One DEQ": This effort is intended to balance workloads among the six regional offices and central office and support and develop staff in order to improve staff retention.
Permitting Enhancement and Evaluation Platform: This project will create a system that allows tracking of permits requested from the agency so that applicants and the public can view the progress of the permit.
Clarification of stormwater program regulatory requirements: DEQ will be creating a stakeholder group to create a consolidated manual that will clarify current, conflicting provisions in various manuals, guidance documents, and technical bulletins, and that can be updated over time.
Commodity trading program for mitigation: DEQ will be developing a trading platform for water-related commodities to provide transparency for permittees with regard to prices, as well as supply and demand.
County representatives then spoke about top issues in their localities.  Several issues emerged as common areas of concern, including education funding, strains on the mental health system and the need for a holistic approach to improvements, economic development (including broadband and water and sewer infrastructure), and transportation funding.  VACo staff captured the full range of issues raised, which will help to inform the development of VACo's legislative platform later this year.
Jason El Koubi, President and CEO of the Virginia Economic Development Partnership (VEDP), presented on the state of the Virginia economy and top priorities for VEDP (view his presentation here).  Major responsibilities of VEDP include supporting the expansion of existing companies; assisting Virginia companies with growing their export businesses; and understanding and improving the linkage between education and workforce outcomes.  He discussed Virginia's economic performance; the state has yet to recoup 171,000 jobs to return to pre-pandemic levels (jobs are projected to be recovered by the end of calendar year 2022), and he is concerned that the state ranks 47th in jobs recovered post-pandemic.  Virginia's drop in the labor force participation rate during the pandemic is concerning as well, and is not fully understood.  Virginia has a number of strengths, including a strong talent pool, logistics infrastructure, strong workforce incentives, and a competitive and stable business climate.  In building on these strengths, VEDP focuses economic development efforts on a set of target industries, including the automotive sector, life sciences, data centers, food and beverage processing, and offshore wind, among others.  Mr. El Koubi's presentation is available at this link.
VACo is grateful to the members, speakers, General Assembly representatives, and business partners who participated in the meeting, and extends its appreciation to Henrico County for hosting the event.
VACo Contact:  Katie Boyle