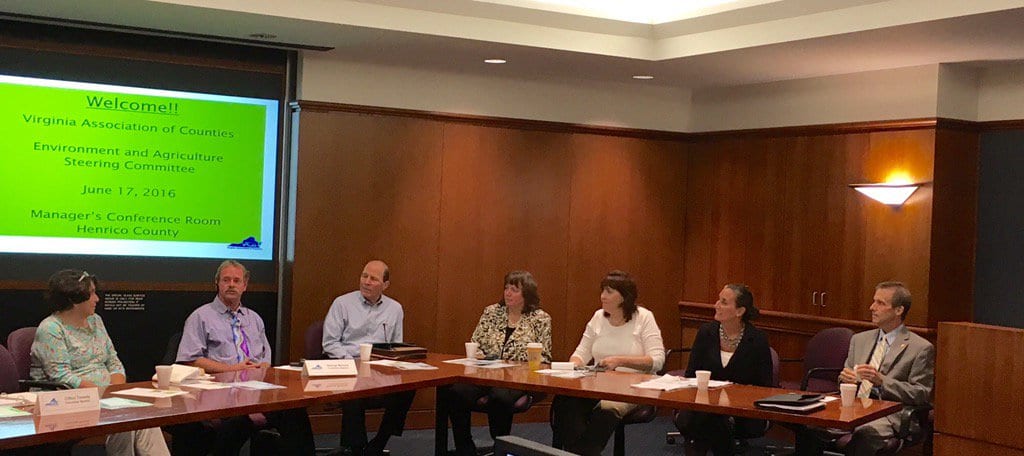 On June 17, VACo's Environment and Agriculture Steering Committee held its first meeting of the year.  The chief purposes of the meeting were for committee members to be updated on major actions by the 2016 General Assembly and to receive a status report by representatives from the Department of Environmental Quality (DEQ) on ongoing studies of Virginia's stormwater programs.
The Committee also heard remarks by Nicholas DiPasquale, EPA Director of the Chesapeake Bay Program. DiPasquale informed committee members of the progress that has been made over the past 30 years in efforts to improve water quality in the Chesapeake Bay. He also provided information about the upcoming Chesapeake Bay Mid-Point assessment.  Under this assessment, by the end of 2018 Virginia will be required to submit to EPA a final "Phase 3 Watershed Implementation Plan" (WIP) that should demonstrate how Virginia will meet certain pollution reduction goals for the Chesapeake Bay will by the year 2015.  The development of this WIP will require extensive analysis of land use information for Virginia's portion of the Chesapeake Bay watershed, approximately 60 percent of the Commonwealth's land mass.
VACo's Environment and Agriculture Steering Committee is chaired by Wythe County Supervisor Tim Reeves. The Committee Vice Chair is Pittsylvania County Supervisor Jessie Barksdale.
VACo Contact: Larry Land, CAE