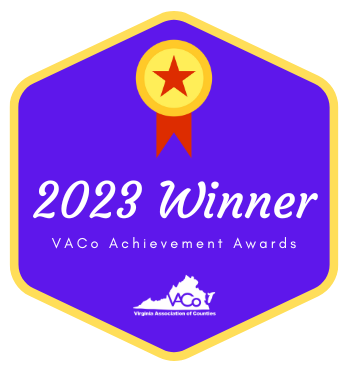 Dear VACo Members –  
It's time for the 2023 Achievement Awards Program. Any county department is eligible to compete so ENTER NOW!
Achievement Awards Submission Form
All entries are required to be submitted in electronic form. No paper copy submissions are necessary. The electronic copy should be a PDF or WORD file. Email entries to Gage Harter at gharter@vaco.org. Submissions must be received by July 5, 2023.
Last year, we processed 100 entries and selected 29 winners from 22 Counties. VACo presented awards at 22 Board of Supervisors Meetings, recognized winners at the 88th Annual Conference, and issued a news release to statewide media.
The judges for the 2023 Achievement Awards will be announced soon.
VACo has received close to 1,000 entries over the past decade. Last year's Best Achievement winner was Chesterfield County for its "Connecting All Community Residents to Public Schools" program.
VACo encourages all Counties, big and small, to enter the 2023 Achievement Awards Program. Please contact gharter@vaco.org with questions or for more information.
Achievement Awards Submission Form | Achievement Awards Website
2022 Achievement Awards Press Release | Past Achievement Award Winners