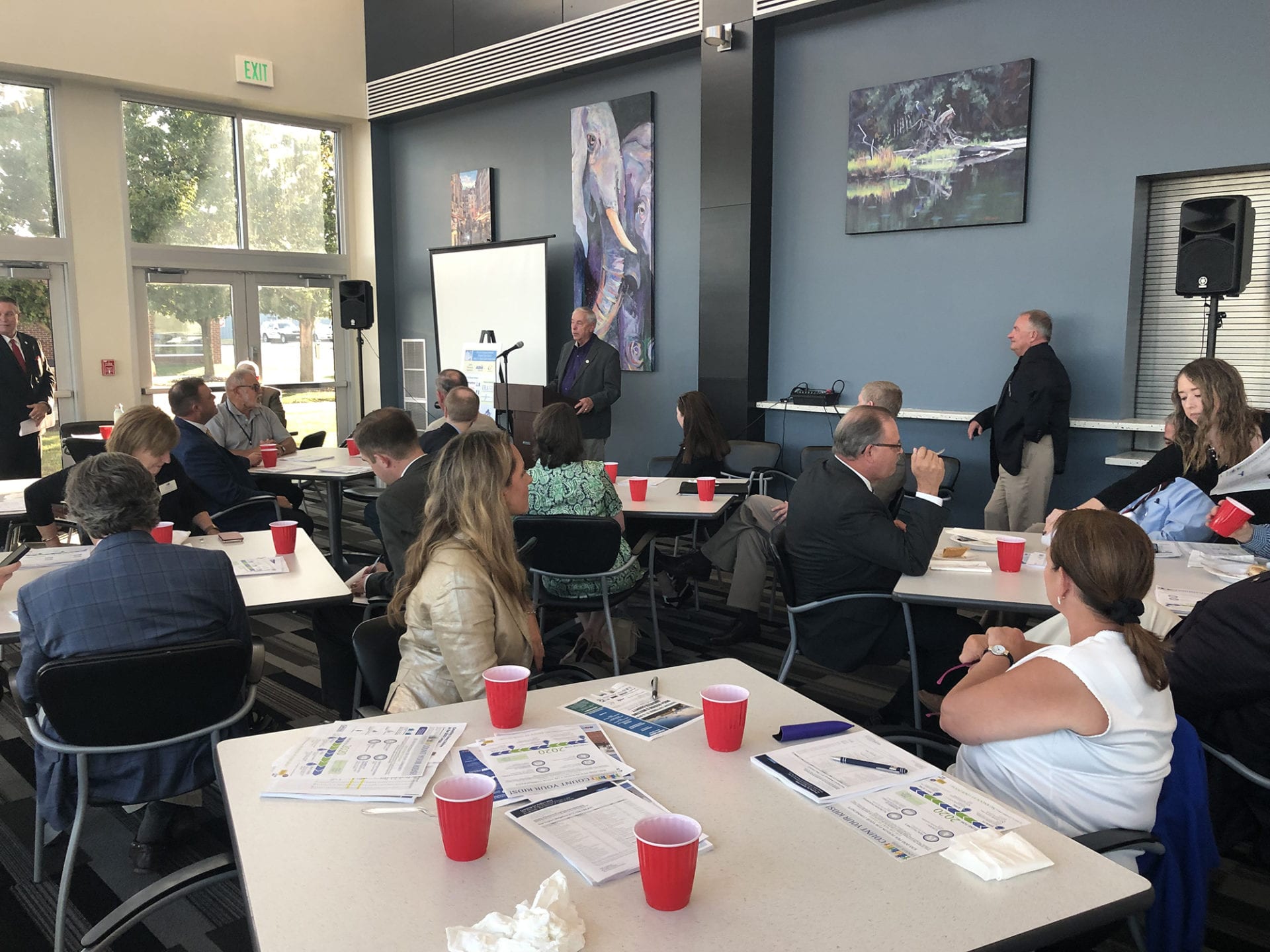 The sun set both literally and figuratively on the 2019 Regional Meeting Season, as folks from VACo's Region 9 gathered at the Shenandoah Valley Regional Airport on September 19. At this, our last Regional Meeting of the year, county officials enjoyed delicious local BBQ, discussed the challenges of their respective communities, and even took a moment to gaze through the airport's huge glass windows to witness the beauty of a fall sunset in the Valley.
Thank you Delegate Tony Wilt for participating the entire evening. During the conversation with Delegate Wilt, the discussion bounced from transportation, to improvements and increased funding for I81, to broadband access and innovation, and to workforce development.
Attendees then shared their challenges – issues of population, broadband expansion, trust in institutions, and the impact of the upcoming 2020 Census.
The 2020 Census was mentioned several times during the group discussion segment, which was timely given that the educational portion of the evening was entirely devoted to this topic. During the last component of the meeting, Kathleen O'Connell of the US Census Bureau, Lauren Snellings of Voices for Virginia's Children, and Bradford R.R. Dyjak of Rockingham County, each shared their unique perspective as to how the U.S. Census will impact Virginia's counties and how their organizations or communities are preparing to ensure a complete count within the Commonwealth.
VACo is grateful for those who made the trip to Augusta County for the meeting. As we conclude this season of travel and discussion, we look forward to taking all that we have learned from our members and utilizing that information to craft our legislative priorities for the coming year. VACo thanks all of our members who have attended one or more of these meetings and who have contributed to a successful VACo Regional Meeting Season.
VACo Contact: Angela Inglett