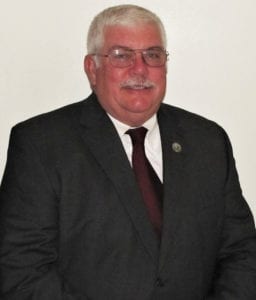 The membership of the Virginia Association of Counties elected Wythe County Supervisor Timothy A. Reeves, Sr., as 2018-2019 President during VACo's 84th Annual Conference in Bath County. Reeves and other newly elected officers started their terms at VACo's Annual Business Meeting on November 13.
Reeves succeeds King and Queen County Supervisor Sherrin C. Alsop and becomes the second President from Wythe County. A.L. Porter served as VACo President in 1955. Reeves also is the first President from VACo's Region 12 since 1995, when William H.H. Blevins of Smyth County was at the helm.
"I am truly humbled and honored to be elected VACo President and to have the opportunity to serve the association," Reeves said. "I was born in Grayson County and have lived in Wythe County since 1979. I love my area of the Commonwealth, and I believe this is an important and hopeful time for Southwest Virginia. For us to succeed, we will need all Virginia counties to work together to meet our challenges."
Reeves was first elected to the Wythe County Board of Supervisors in 2011 as the Supervisor-At-Large. He has served as Chairman of the board since 2014. Reeves has served on the VACo Board of Directors for the past five years.
Reeves joined the U.S. Army after high school and became a paratrooper in the 82nd Airborne Division. He was honorably discharged from the Army with the rank of sergeant. Reeves then settled in Wythe County and attended Wytheville Community College. During this time, he also worked in manufacturing.
In 1985, Reeves joined the Virginia Department of Corrections as a correctional officer and narcotics dog handler until his retirement in 2009. While in retirement, Reeves worked part-time with the Wythe County Sheriff's Department and managed his own beef cattle operation.
Reeves has been married to Debra Reeves for 35 years and together they have two sons –Timothy, a U.S. Naval Officer who is a graduate of the U.S. Naval Academy and is currently serving as the Chief Engineering Officer of the USS Paul Ignatius, DDG117, and their youngest son Robert, a field representative with Boone Tractor/New Holland in Wythe County, VA.
"Over the past few years, VACo has emphasized meeting its members where they live and work," Reeves said. "VACo's regional meetings are one example. I've learned so much by listening to what other counties are facing and how they worked to solve their issues. I plan to focus much of my attention on equal taxing authority, K-12 education funding, and economic development. I feel Virginia counties will benefit greatly as we make strides on these three issues."
"Tim is an even-keeled leader who has lived and experienced many of the issues Southwest Virginia faces today," VACo Executive Director Dean Lynch said. "He has a good grasp on the pulse of the region. Tim understands the importance of uniting all Virginia counties to work for the common good. We are excited to have Tim as our next President."
Click here to view New Members of the Executive Committee and the Board of Directors