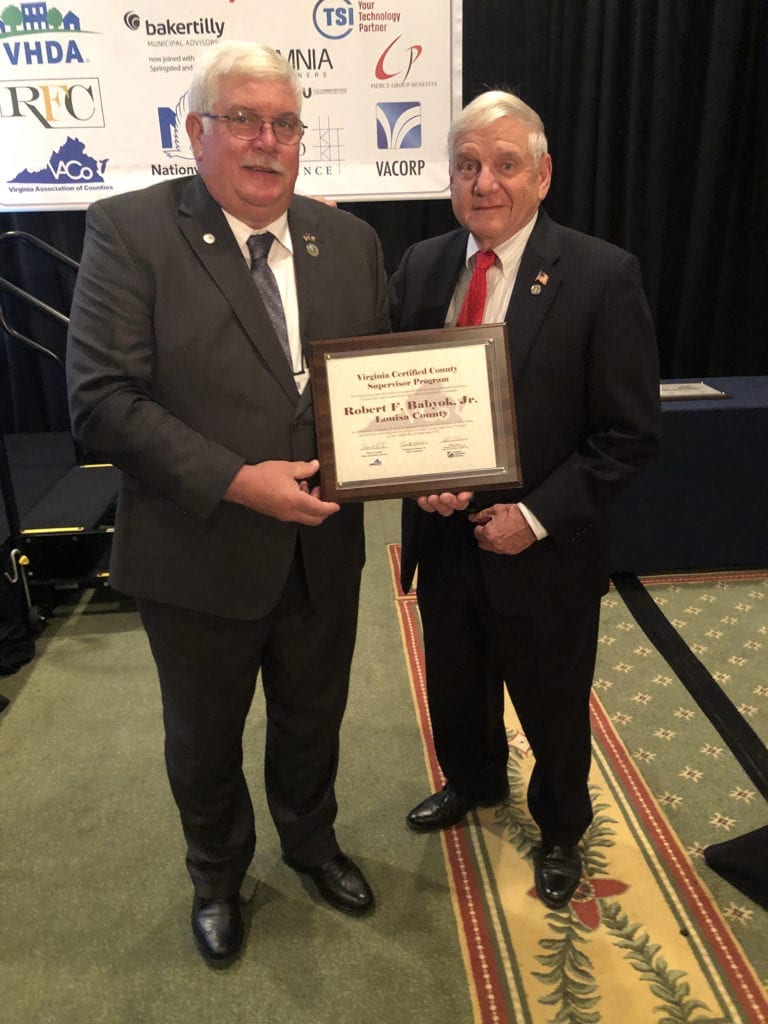 By Bob Babyok | Supervisor | Louisa County
Supervisors' Certification Graduate | Class of 2019
My definition of Professional Certification. A person accredited by a professional organization after demonstrating the knowledge, qualifications and skills for competent performance exhibited by completion of that organization's qualified program of study.   
As a recent graduate, I can attest that VACo's Virginia Certified County Supervisors' Program is all those words above and much more. The quality of the structure, content and delivery of this program is of the highest relevance for any Virginia Supervisor.
Consider the following breakdown.
Combination of classroom interaction, reading and writing assignments derived from the most relevant thought-provoking articles and books, all aligned with the new VACo Supervisors' Manual.
Consider the five courses in the curriculum – The Role of Leadership; Community Planning; Budgeting; Purpose Driven Policy, Deliberation, and Decision Making; and Understanding Your Powers, Duties and Responsibilities. These subjects directly apply no matter the size or location of any County.
Program instructors include a cadre of local government officials – current and former County Administrators, current and former Boards of Supervisors members, and faculty members from Virginia Tech, including Professor Emeritus Michael Chandler.
Course Duration? It does take 18 months to complete this master's degree level program. It's to minimize interference with your Supervisor and community responsibilities. Also, if you have a conflict, there's flexibility for you to make up the work when that course subject repeats.
Distance to travel? The course locations alternate between Richmond and Charlottesville making it more equitable from the state perspective.
Cost? Very affordable at $350 a course including all the materials/books and the VACo Supervisors' Manual and lunch.
Class size? It varies between 15-20 Supervisors. Some are veterans of many years while others are first timers. The hidden benefit there is the sharing of past victories, defeats, current problems, and delicate issues that are discussed during classroom time or casual conversation. This spirit of camaraderie in the frank, challenging discussions help provide some potential solutions as well as developing a fraternal like bond for future involvement and engagement. In short – we all become friends and respected resources for each other.
Another definition…What is value? Anyone who has taken this program will freely express how much it has helped them gain a broader perspective of their responsibilities and duties. All will attest that it provides a deeper insight and understanding of potential solutions. All will tell you that the reference materials are invaluable and continue to aid their future endeavors.  Being a Supervisor is challenging. This program removes some of those obstacles by its multifaceted educational approach to effective and efficient governance.
I considered this course as the most important investment of my time to help enable me to better represent my constituents in fulfilling the serious oath of office I swore to uphold. I hope you, too, will entertain this opportunity to engage and gain all the benefits. Taking this program demonstrates a serious commitment to your professional development.
Feel free to contact me with any questions – rbabyokjr@yahoo.com