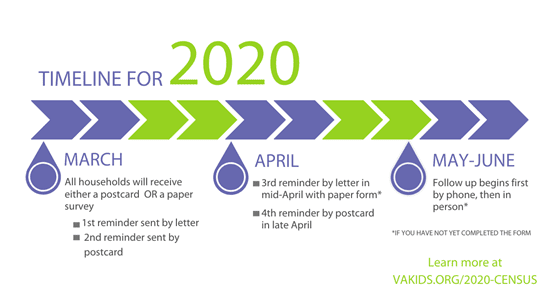 A message from VACo Partner – Voices for Virginia's Children. Contact Lauren Snellings for more information.
The 2020 Census is just around the corner. The self-response website goes live on March 12, and invitations to participate will start arriving at households across the country. It is important that each person in your community is counted in the Census. Results inform BILLIONS in funding allocated to states to support services that our communities need to thrive such as WIC & SNAP. Results also inform voting districts, and even where we plan to build schools, roads, health clinics and so much more!
This is our one chance for the next 10 years to get it right and count each person living in our community. 2020 is unique because not every household will get a paper survey. The Census Bureau is pushing to have people fill out their form online or over the phone, but remember, it only takes 10 minutes! Make sure to encourage your residents to fill it out as soon as they can, so the Census Bureau doesn't have to show up in person in May!
Our ask is small. Please share this timeline and the importance of the 2020 Census with your community & make sure to fill out your form this spring. With so much at stake, we can't afford to miss a single person.
To learn more about the importance of the Census, what populations are missed, and what you can do about it, make sure to check out Voices for Virginia's Children website vakids.org/2020-census or contact Research Director, Lauren Snellings lauren@vakids.org with any questions!