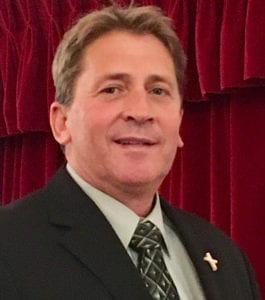 RICHMOND (November 14, 2019)—The membership of the Virginia Association of Counties elected Nottoway County Chairman Stephen W. Bowen as 2019-2020 President during VACo's 85th Annual Conference in Bath County. Bowen and other newly elected officers started their terms at VACo's Annual Business Meeting on November 12.
Bowen succeeds Wythe County Chairman Timothy A. Reeves, Sr., and becomes the second President from Nottoway County. C.S. Hooper, Jr., served as VACo President in 1970.
"I am humbled and honored to be elected VACo President and to have the opportunity to serve the association," Bowen said. "I was born and raised in Nottoway County on a tobacco farm where I developed a passion for mechanics. I graduated from Newport News Shipbuilding Apprentice School as a Journeyman Welder and later became a Master HVAC and Plumber Technician. I like working with my hands and fixing things. This will be my approach as VACo President."
Bowen parlayed his technical skills into a career in hospital facility operations. During his more than 30-year tenure at Piedmont Geriatric Hospital, Bowen learned the importance of government decisions and how they impact hospitals and health care for Virginians.
Bowen was first elected to the Nottoway County Board of Supervisors in 2008 to represent the Burkeville area where U.S. Route 360 meets U.S. Route 460 – the "Crossroads of Virginia."
Bowen also serves on the Nottoway County Planning Commission, the Nottoway County Planning Council, the Piedmont Geriatric Association, and the Piedmont Regional Jail Authority. Bowen actively supports VACo's mission and is a proud graduate of the 2012 Certified County Supervisors' program. He has served as Chairman of the VACo Nominating Committee and the VACo Economic Development and Planning Steering Committee.
Bowen enjoys his church, Pisgah Baptist, and has served many years as Chairman of the Deacons, Sunday School Director and President of the Lunenburg/Nottoway Gideons. Bowen loves working on the family farm with his three adult children, wife of 31 years and granddaughter.
"These are exciting and challenging times for Virginia's Counties," Bowen said. "Legislatively, we are fighting to get equal taxing authority, more state education funding, and connecting underserved and unserved areas with broadband. I will continue to fight for these necessary and vital goals. I look forward to this opportunity and can't wait to get started."
"Steve has a passion for public service and understands the different governing dynamics around the state," VACo Executive Director Dean Lynch said. "He has a strong understanding of County issues and believes in our legislative program. We are excited to have Steve Bowen as our next President."
VACo 2019-20 Executive Committee
President: Stephen W. Bowen | Nottoway County
President-Elect: Jeff C. McKay | Fairfax County
First Vice President: Meg Bohmke | Stafford County
Second Vice President: Jason D. Bellows | Lancaster County
Secretary-Treasurer: Donald L. Hart, Jr. | Accomack County
Immediate Past-President: Sherrin C. Alsop | King and Queen County
VACo 2019-20 Board Directors
In addition to the VACo Executive Committee and Past Presidents, the Board of Directors consists of 24 supervisors representing 13 regions of the state, and a NACo Delegate. The terms are on a two-year cycle and the number of directors, per region, is based on the population.
This year, representatives were selected in regions 2, 3, 4, 7, 8, 9, 10, 11, 13
(Click here for a regional map)
VACo 2019-20 new board members include:
Region 2: Ruth Larson | James City County
Region 3: W. Canova Peterson | Hanover County
Region 3: James Holland | Chesterfield County
Region 4: Daniel D. Lee | Dinwiddie County
Region 7: Jeffrey S. Black | Caroline County
Region 8: Victor S. Angry | Prince William County
Region 8: Jeanine M. Lawson | Prince William County
Region 8: Kathy L. Smith | Fairfax County
Region 9: James M. Griffith | Alleghany County
Region 10: Jerry W. Boothe | Floyd County
Region 10: April DeMotts | Montgomery County
Region 11: Billy W. Martin, Sr. | Botetourt County
Region 13: Larry Mosley | Lee County
Past Presidents: Mary W. Biggs | Montgomery County; Judy S. Lyttle | Surry County; Penelope A. Gross | Fairfax County
NACo Delegate: William B. Kyger, Jr. | Rockingham County