While solar jobs numbers declined nationally in the last year, solar employment continues to surge in Virginia, according to the recently released National Solar Jobs Census 2018.
The Solar Jobs Census, published on February 12, is an annual report from the Solar Foundation on employment and workforce trends in the U.S. solar industry. For just the second time in the history of the Census, the Solar Foundation reports that the industry experienced a decline in employment from 2017, a 3.2 percent drop that represents approximately 8,000 jobs. Interestingly, this is the second year in a row that the overall solar jobs number has experienced a decline.
Despite this overall drop, Virginia still saw a 9 percent growth in its solar industry related jobs, from 3,565 jobs in 2017 to 3,890 jobs in 2018. This places Virginia 20th in the nation in overall solar jobs and 34th in the nation in solar jobs per capita. This is particularly notable given the opposite trend seen in Virginia's neighbors. North Carolina saw a 12 percent decline in solar jobs over the last year, while Maryland saw a 15 percent decline in jobs.
It is also interesting to note the growth – or decline – in specific job sectors within the solar industry. While there have been occasionally periods of moderate, year-to-year growth in manufacturing jobs and wholesale trade and distribution jobs, unsurprisingly, the greatest area for growth has been in installation and project development. Since 2010, this job sector has experienced a growth of 138.1 percent and now represents 155,157 solar jobs, or approximately 64 percent of all solar jobs. Despite this overall growth trend, like the other types of solar jobs, installation and project development jobs also have experienced a recent downturn, declining 6.1 percent from 2017-2018.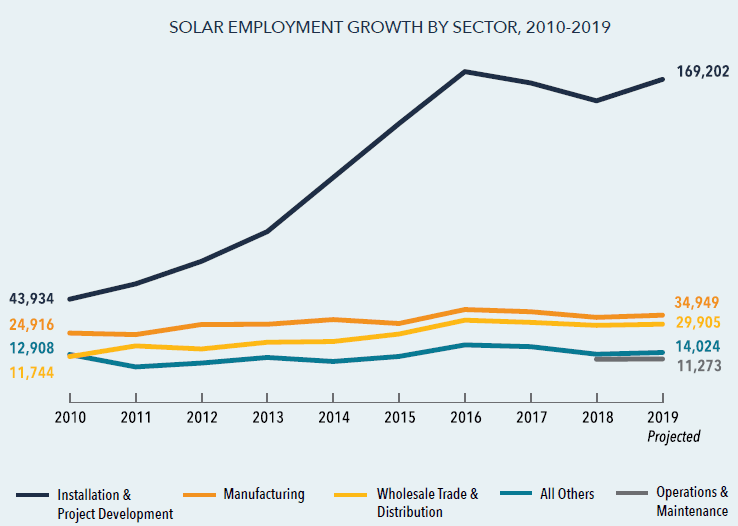 https://www.thesolarfoundation.org/national
Beyond these raw numbers, the Census also examines and highlights several trends in the solar industry. Specifically, the Census notes that utility-scale solar suffered in 2018 due to the concerns about tariffs on solar modules and cells. The authors note that since hardware costs represent a greater proportion of total costs in utility-scale solar than they do in small-scale solar (residential and non-residential), the uncertainty about tariffs and their impacts delayed the start of a number of utility-scale projects. The utility-scale segment is expected to recover, however, though the Census predicts a market decline in growth in Virginia. This is likely due to the lack of completion of several major, utility-scale projects in 2018 and a significant projected decrease in such projects in 2019.
Another growing sector of the industry, and one with which many officials within the General Assembly and the Administration are pursuing, is the energy storage industry. While energy storage may not command the same excitement or same number of headlines as solar facilities themselves, storage is an important component of the solar industry. In particular, storage is critically important for improving electrical grid resiliency, stabilizing (and making more consistent) the flow of electricity onto the grid, and reducing electricity costs. Storage deployment is a rapidly growing sector of the industry, accounting for approximately 3,900 jobs across the country. These numbers were not considered or included in the overall solar jobs assessment, however, as they are only now freshly being tracked.
Overall, while solar jobs may have declined in each of the last two years, the industry still looks strong, both in Virginia and nationwide. As costs for hardware continue to rapidly decrease, and as battery storage continues to improve and expand, solar is becoming increasingly cost-competitive with traditional fuels. Moreover, as major corporations, politicians, and citizens all continue to clamor for increased renewable energy resources, it's clear that the sun is not setting on this industry anytime soon.
VACo Contact: Chris McDonald, Esq.