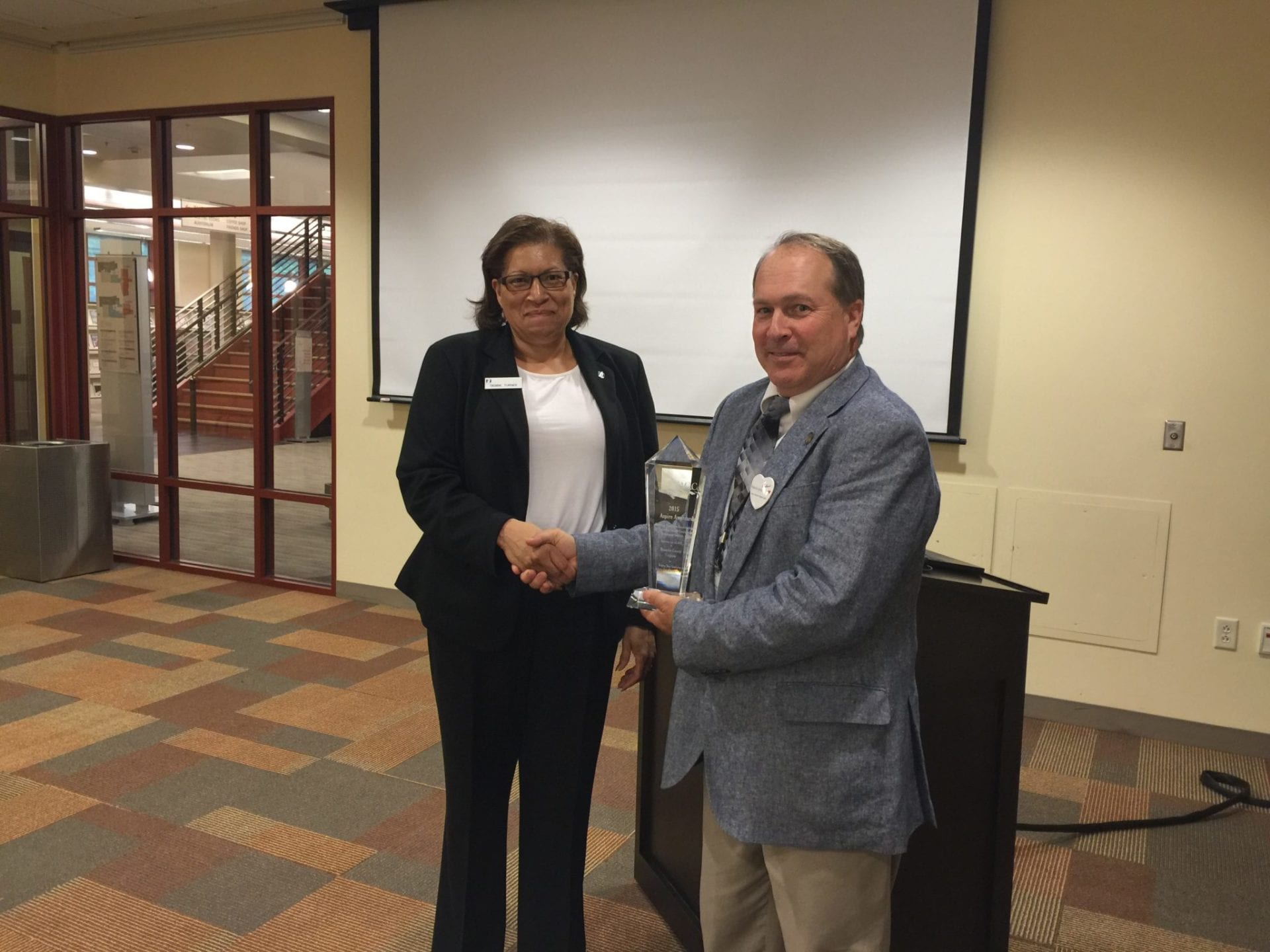 Nationwide's Debbie Turner presents the Aspire Award to Roanoke County Assistant County Administrator Dan O'Donnell
Roanoke County received a national award from Nationwide on June 6 at the VACo Region 11 Meeting. Roanoke County and Sonoma County, Calif., are the inaugural winners of the 2015 NACo Deferred Compensation Retirement Program's Aspire Award: Honoring Innovations in Promoting County Employee Retirement Savings.
The Aspire Award was cre­ated in 2015 to honor the 35-year NACo Deferred Compensation Program, administered by Nation­wide, to recognize county plan sponsors that have gone above and beyond in empowering their employees for retirement success.
The award ceremony kicked off the regional meeting that featured an educational presentation on wireless communications by Jean Plymale, Broadband Project Manager for the Center of Innovative Technology.
Also Senator David Suetterlein and Delegate Sam Rasoul spoke about regional issues and shared the floor with local leaders. The conversation swayed from economic development to taxes to broadband.
Counties then took turns to express what's going on in their communities. Many spoke on the strength of the region and how it can compete with other parts of the Commonwealth.
Roanoke County's award-winning program, "Helping Employees Achieve Their Retirement Goals After the Economic Downturn," demonstrated a commitment to helping employees understand how personal savings can complement other income sources during retirement. Roanoke County has participated in the NACo Deferred Compensation Program for more than 20 years. The County encourages its employees to participate by offering a $25 per pay match.
Today, Roanoke County enjoys an 83 percent participation rate within the plan.
"We are excited to present Roanoke County with the Aspire Award and have the opportunity to help its employees prepare for their hard-earned retirement," said Jeff Francis, regional vice president of public-sector retirement plan sales for Nationwide. "The Roanoke plan is successful because everyone is working together to ensure plan participants have the retirement tools and services they need to make informed retirement decisions."
Click here to watch the event video.
VACo Contact: Larry Land, CAE