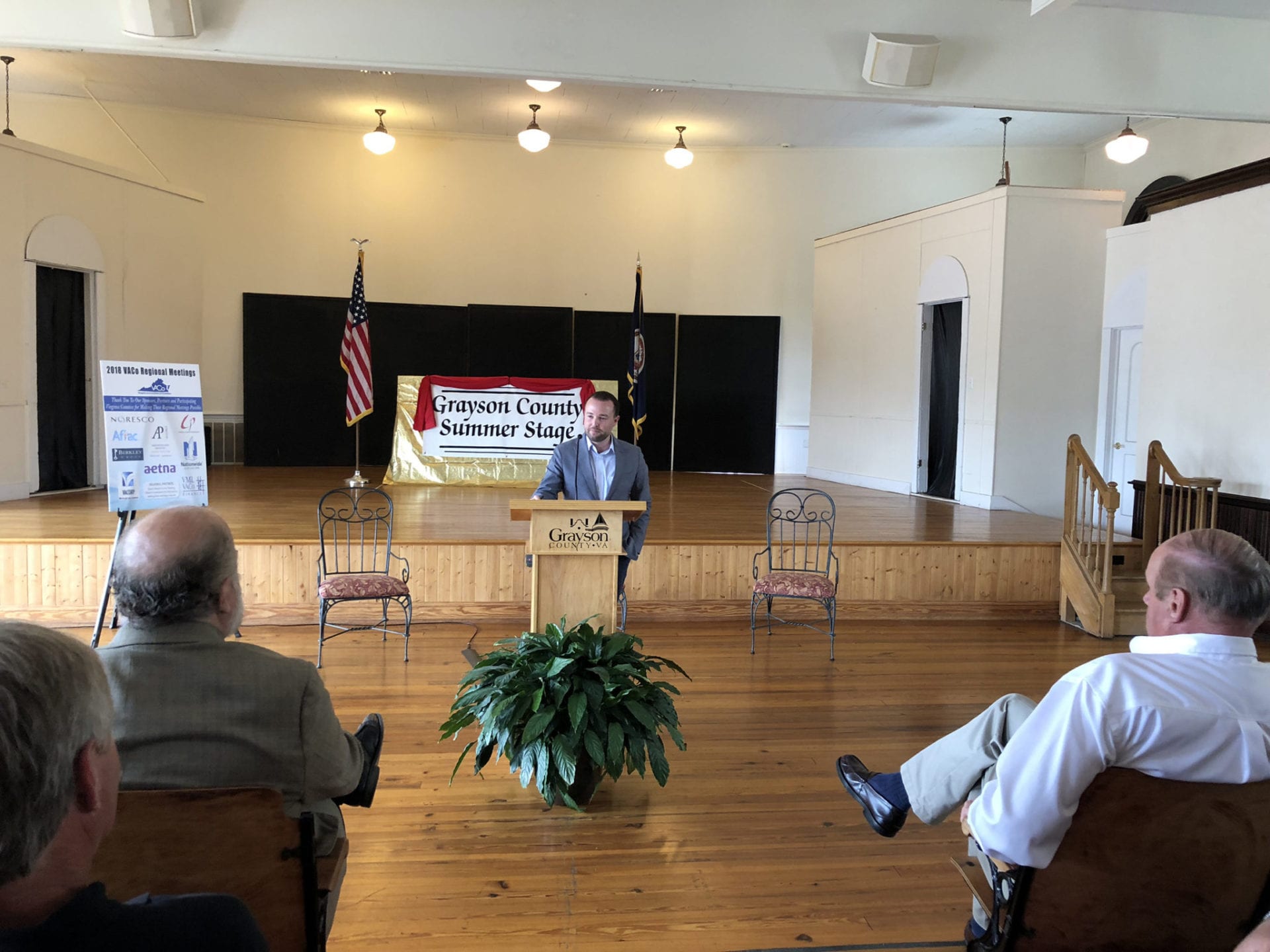 State and local leaders met on June 21 in Grayson County to discuss issues ranging from K-12 funding and lack of connectivity to disincentives in state economic development dollars.
Delegate Will Morefield led a robust discussion on the changes made to the Commonwealth's Development Opportunity Fund HB 222 (Morefield)/SB 883 (Stanley). Working with Delegate Lashrecse Aird, the bills opened up funding eligibility to certain localities experiencing an aging population and decreasing average wage: the counties of Accomack, Alleghany, Amelia, Appomattox, Bland, Brunswick, Buchanan, Buckingham, Caroline, Carroll, Charlotte, Craig, Cumberland, Dickenson, Dinwiddie, Essex, Giles, Gloucester, Grayson, Halifax, Henry, King and Queen, King William, Lancaster, Lee, Lunenburg, Mathews, Mecklenburg, Middlesex, Northampton, Northumberland, Nottoway, Patrick, Pittsylvania, Prince Edward, Richmond, Russell, Scott, Smyth, Tazewell, Washington, Westmoreland, Wise, and Wythe; and, the cities of Bristol, Danville, Galax, Martinsville, Norton, and Petersburg. The bills also incentivize foreign markets to invest in these localities through a corporate tax exemption modeled after the contract between PepsiCo and Wythe County for a Gatorade facility. VACo thanks Delegate Morefield for sharing legislative updates from the 2018 session and for his advocacy on behalf of localities.
Carrying on the theme of economic development, local elected officials from the counties of Bland, Carroll, Grayson, and Wythe emphasized the need for regional partnerships. Officials discussed how to incentivize smaller startup and rural broadband projects in Southwest, and challenges with local match rates and partnership requirements for accessing GO VA funding. More accessible and flexible funding is critical to regional development in Southwest.
Another central economic development issue in the region is the impending closure of the Southwestern Virginia Training Center in Carroll County scheduled for June 30. The Center employed about 300 people and housed nearly 100 residents. One approach discussed was to use the facility to provide services to certain children utilizing Children's Services Act funds, aiming to cut costs that account for 4 percent of the local budget for transporting less than a handful of students over county lines. Other K-12 funding issues focused on school safety, specifically to address the need for new money to update school design, and increase the presence of School Resource Officers (SROs) and guidance counselors.
VACo staff provided updates on local match rates for GO VA funds, progress made on rural broadband, and updates on K-12 funding.
Thank you, Grayson Board Chair Brenda Sutherland, VACo President-Elect Tim Reeves, and everyone else who made it out to the Historic 1908 Courthouse in Grayson County.
VACo Contact: Khaki LaRiviere