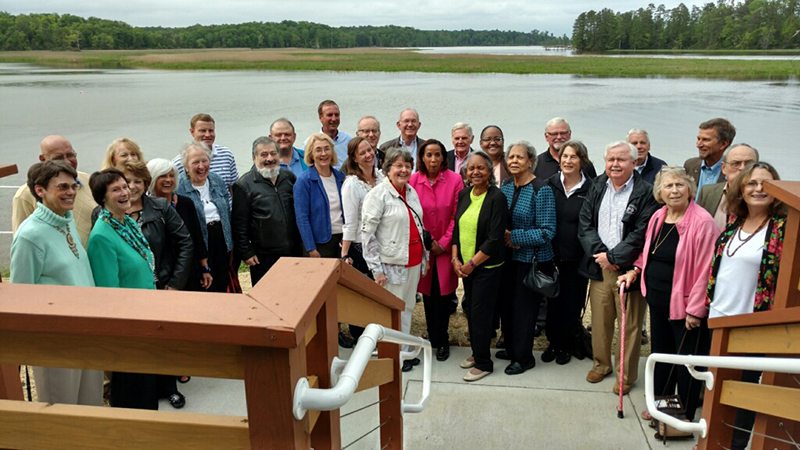 A couple of weeks ago, Fairfax County Supervisor and VACo Immediate Past President Penny Gross attended the association's quarterly Board Meeting in Isle of Wight County. Gross was one of several dozen Board Members to visit the area – a long standing tradition to flock to the home of the current president. VACo President Judy Lyttle hails from Surry County.
"The closest hotel accommodations were in Smithfield, so our formal meeting was in Smithfield, and the afternoon and evening were spent 'Savoring the Secrets of Surry,'" Gross wrote in her column "Penny for Your Thoughts" that is published in the Falls Church News-Press.
Gross noted that Surry County was established in 1652 and has a population of less than 7,000. The county budget is about $23 million with $12 million transferred to schools.
VACo Board Members toured and experienced Surry County's economic development projects and drivers. They first visited Surry Nuclear Power Plant, owned and operated by Dominion Power since 1972. The plant is located on the James River.
"When our group toured on Saturday, we noted the absence of the big cooling towers usually associated with a nuclear plant," Gross wrote. "The manager explained that the plant draws its cooling water directly from the James River, eliminating the need for the familiar towers."
Surry County collects about $12 million in taxes from the plant, which is the same amount as the school transfer.
Board Members also visited two new economic development projects in Surry County – the Hampton Roads Winery, which debuted just weeks before, and the marina and restaurant on Grays Creek, designed to attract boaters, fishermen and ecotourism. Surry County purchased the land for the marina and restaurant, and leased it to private operators.
"If the dinner we had on Saturday at the Surry Seafood Company is any indication, folks will flock to Grays Creek for the food and nature vistas very soon," Gross wrote.
VACo conducts a quarterly Board Meeting at the President's home area because of the unique perspectives gained by elected officials who visit. Gross is no stranger to this experience but still the trip left an impression.
"Why tell you about a weekend trip to Surry? The 30 or so VACo Board members hail from all over the state, but our similarities are so much greater than our differences," Gross wrote. "All county boards grapple with budgets, school transfers, tax rates, public safety, parks, libraries, and general governance. With few exceptions, constituents want safe streets, clean air and water, good schools, a community to live, work, play, learn, and grow old together. It's the same in Accomack, Hanover, King and Queen, Louisa, or Wythe Counties. Admittedly, the pace may be slower in other counties, but the real difference is simply the scale. Whether NOVA or ROVA (Rest of Virginia), it's helpful to see, and understand, the breadth and depth of this vast Commonwealth we all share."