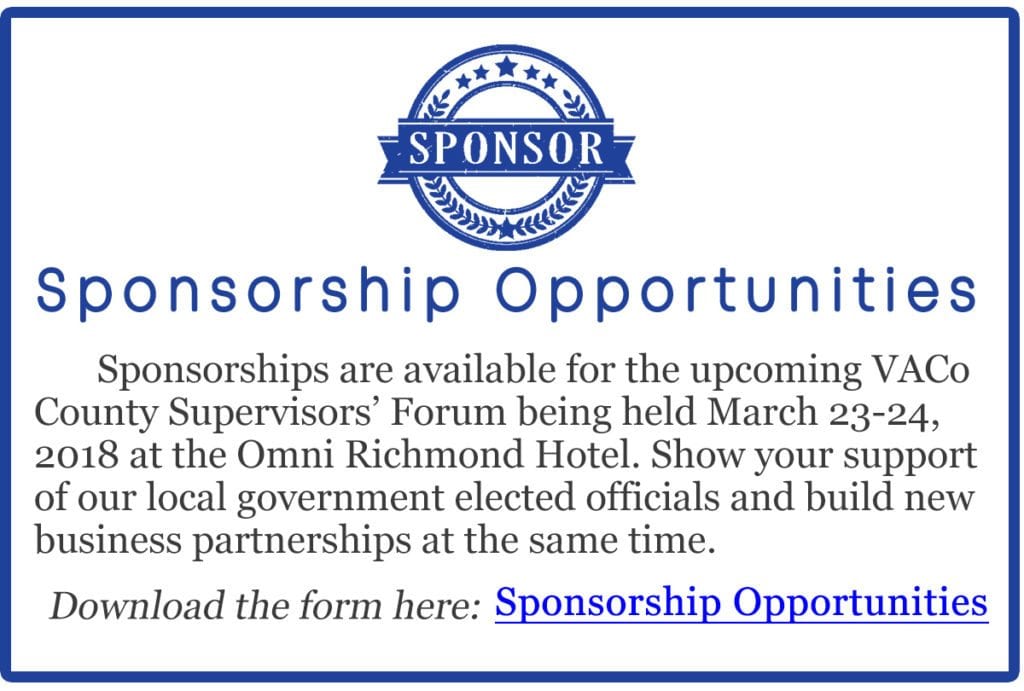 Here at VACo we are excited to be gearing up for the upcoming 2018 Supervisor's Forum, to take place on March 23rd and 24th, at the Richmond Omni Hotel. This biannual event is the perfect introduction to the duties, challenges, and opportunities inherent in the role of County Supervisor.
VACo will welcome over 60 County Supervisors, Administrators, and various other county officials to Richmond, and will share in their education on important topics facing counties today.
Attendees will hear from numerous experts as they discuss county budgeting processes and its role in the duties of the County Supervisor, the importance of healthy, respectful relationships between County Boards of Supervisors and County School Boards, the importance of economic development and of taking advantage of Virginia's resources, and the role of land use planning in county government.
Among the speakers slated for the Forum, are Senator Barbara Favola, Delegate Bob Thomas, Carl Ayers, Director of Family Services at the Virginia Department of Social Services, and Sherrin C. Alsop, current VACo President and King and Queen County Supervisor.  We are excited to hear the wisdom and experience that these and our many other speakers will be sharing.
We hope that you have planned to join us for this incredible educational opportunity! If you can't make this event, however, keep in mind that VACo will continue to host other educational programs during 2018.  Among these opportunities is the VACo Supervisors' Certification program, a series of local government education courses held throughout the year. These courses provide the insight, perspective, and confidence needed to address the issues and opportunities that constitute the challenges of local governance. Review course options and sign up here.
VACo Contact: Angela Inglett