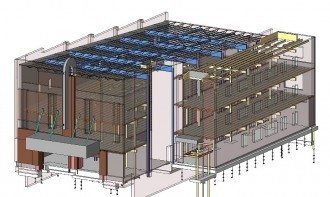 Story courtesy of Virginia Business Magazine
Building Information Modeling image courtesy of Draper Aden Associates
Draper Aden Associates (DAA) has been recognized with an award for the top engineering project in Virginia in 2015. The American Council of Engineering Cos. of Virginia awarded its highest honor to DAA for the End Theater redevelopment in Richmond's historic Church Hill neighborhood.
The Pinnacle Award, announced at a gala earlier this month, recognizes the best and most innovative engineering projects in the state.
The $4 million East End Theater redevelopment preserved and expanded a neighborhood landmark that had been neglected for years. Located two blocks from St. John's Episcopal Church, the 19,000-squre-foot, mixed-use community now offers apartments plus a new restaurant, Liberty Public House, that's scheduled to open soon on the first floor. The developer was Richmond-based Sterling Bilder LLC.
"The East End Theater has been restored to its original glory," Josh Bilder, who developed the property, said in a statement.  "… It's a great gathering spot for neighbors and friends rather than a dilapidated eyesore."
The redevelopment of the theater took a building that had been vacant for decades and transformed it into apartments that are almost fully occupied.
When Bilder first proposed his vision for the theater, the building was overgrown with vegetation and missing a roof. Recognizing the need for an innovative solution to the building's challenges, Bilder hired DAA to handle the structural design and engineering. The firm, which has four offices in Virginia and two in North Carolina, provides engineering, surveying, and environmental services.
DAA faced a number of challenges on the theater renovation, including designing the second and third floors to be self-supporting, adding new foundational support to the building and incorporating an addition that would connect to the original theater, all while retaining the theatre's original shell and character.
Since no documentation was available for the building, the Draper Aden Virtual Construction team used interactive technology and survey scanning to create an interactive building information model (BIM) for the structure. According to DAA's website, the scanning technology was critical to the project because it showed that, while the roof was gone, the roof framing could still be used for the project, saving the developer $100,000 and making the renovation more feasible.
"We were thrilled with the result of this project," Les Jeter, structural engineering program manager for DAA, said in a statement. "Leveraging a number of innovative structural engineering techniques we helped to deliver this renovation and expansion on time and on budget while retaining its unique and historic character."