The General Assembly's "money committees" held their annual pre-session retreats last week, with the House Appropriations and House Finance Committees convening in Richmond on November 14 and the Senate Finance and Appropriations Committee meeting in Tysons from November 15-17.  The Senate Finance and Appropriations Committee extended its usual meeting schedule to provide additional orientation briefings on the state budget process, Virginia's major revenue sources, transportation funding mechanisms, and debt capacity, among other topics, for the benefit of newly-elected Senators.  Traditionally, these events feature staff's revenue projections and briefings on topics of interest in advance of the upcoming legislative session, and often signal members' priorities for budget deliberations.
Both House Appropriations Committee (HAC) and Senate Finance and Appropriations Committee (SFAC) staff underscored the importance of structural balance, noting that the 2022-2024 biennium budget relied on balances, but also focused largely on one-time spending and tax policy items.  Although balances are expected to be available in the upcoming biennium to supplement underlying revenue growth, the large balances experienced in the last two biennia are not expected to play the same role in future years.  SFAC staff summarized the situation in this fashion: "Mandatory budget pressures will consume most or all ongoing revenue in this biennium; however, carry-forward balances from FY 2024 will be available for some one-time spending.  Going forward, to achieve structural balance, revenue and spending will need to be closer aligned as economic uncertainty makes forecasting revenues difficult."  HAC staff director Anne Oman stated, "The concern about structural imbalance expressed the past few years is finally here."
October General Fund revenue report
Secretary of Finance Stephen E. Cummings reported to the House Appropriations Committee that FY 2024 General Fund (GF) revenues are ahead of projections included in the forecast adopted in the budget passed in September 2023 (Chapter 1).  On an unadjusted basis, GF revenue collections are up 12.1 percent year-to-date (ahead of the expected 5.5 percent decline); withholding collections are up 1 percent (ahead of the forecasted decline of 0.7 percent), and sales tax collections are up 0.3 percent (outpacing the forecasted 6.7 percent decline), although sales tax revenues have slowed each month after a better-than-expected July, in line with a slowdown expected in the Chapter 1 forecast.  Secretary Cummings characterized the October revenue report as "reasonably good news," with revenues largely aligned with expectations, although the timing of payments and refunds associated with the new Pass-Through Entity Tax makes it challenging to interpret non-withholding income tax collections.  However, Secretary Cummings highlighted a series of macroeconomic risks, including geopolitical tensions, weakening in the Chinese economy, and the effects of persistently high interest rates, and signaled that a conservative budget outlook can be expected as the Governor develops the budget forecast that will be included with his biennium budget proposal in December.
House Appropriations Committee outlook
House Appropriations Committee staff expect revenue growth to slow in the near future, but to outpace the Chapter 1 forecast, which was intentionally conservative, to allow a "cushion" for uncertainties in forecasting.  Staff predict 0.8 percent growth in FY 2024, 0.9 percent growth in FY 2025, and more robust growth of 3.3 percent in FY 2026.  In addition to growth in the Commonwealth's key revenue sources of $3.3 billion over the biennium, staff suggest several potential sources of budget savings or balances that could be used to supplement the revenue growth, including the repurposing of certain balances and a return to the standard practice of limiting combined deposits to the Revenue Stabilization Fund and the Revenue Reserve Fund to 15 percent of the average of the prior three years' General Fund revenues, in accordance with statutory language.  Currently, budget language overrides this restriction, and balances are expected to reach almost 19 percent of the three-year average of GF revenues by the end of FY 2024.  If that budget language were removed, staff expect approximately $738 million from reserves would be available for use.
House Appropriations Committee staff calculate that the upcoming biennium budget will require approximately $944.5 million in FY 2025 and $1.36 billion in FY 2026 in additional mandatory spending over the base budget, including $714 million for the Medicaid forecast (an amount that is expected to grow, as Virginia Health Care Fund revenue, which is used as part of the state's Medicaid match, is projected to decline significantly in FY 2024 and over the next biennium), and a preliminary estimate of $1.3 billion for rebenchmarking of the Standards of Quality.
As illustrated in the HAC summary slide below, after factoring in the estimated revenue increase, potential budget savings that could be used in FY 2024 or FY 2025, base budget needs, and mandatory spending, House Appropriations Committee staff estimate a net of $878.1 million over the biennium remaining to meet other spending needs.  High priority spending items are estimated at $1.5 billion over the biennium; these needs include items such as higher education tuition moderation; behavioral health requests; and additional Medicaid developmental disability waiver slots.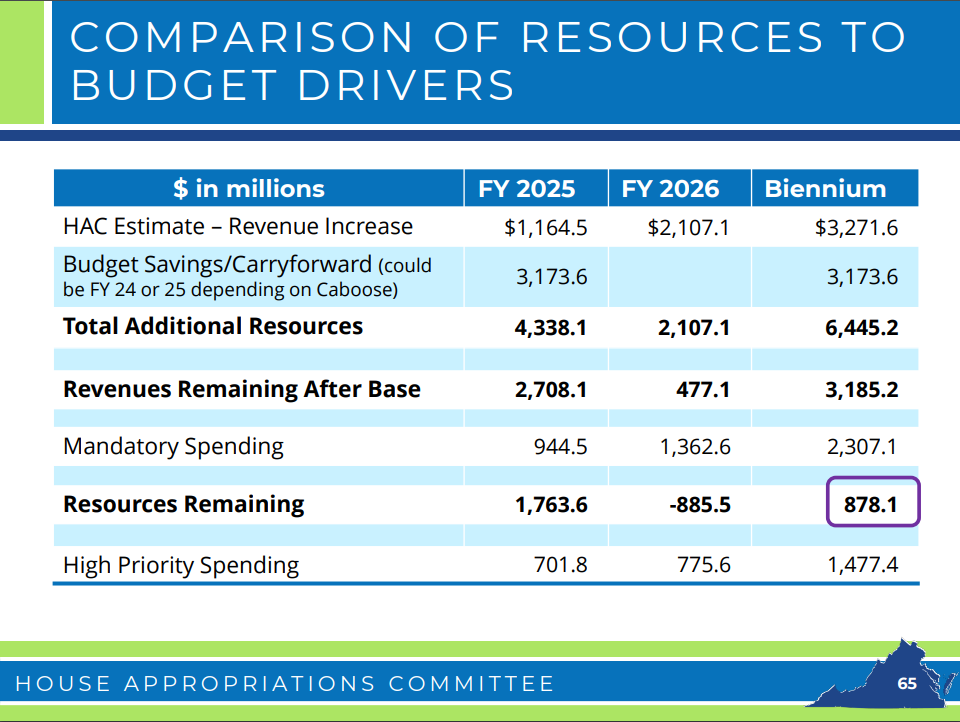 Senate Finance and Appropriations Committee outlook
Similar to their House Appropriations counterparts, Senate Finance and Appropriations staff forecast a slowdown in revenue growth, but expect revenues to outperform the Chapter 1 forecast.  The SFAC forecast projects a decline of 0.5 percent in General Fund revenues in FY 2024, rather than the official forecast (adopted in September 2023 as part of Chapter 1) of a 5.5 percent drop.  Staff project 3 percent growth in FY 2025 and 3.8 percent growth in FY 2026, generating a projected $678.8 million in resources above the base budget over the biennium.  As outlined in the slides below, mandatory new spending identified by SFAC staff includes the Medicaid forecast and shortfall in the Virginia Health Care Fund discussed above and a preliminary estimate of $416.3 million over the biennium for SOQ rebenchmarking, as well as the Children's Services Act and child welfare forecast, and $44 million in other mandatory pressures or commitments identified by SFAC staff.  These mandatory items would outstrip the additional resources generated by economic growth by an estimated $1.1 billion; however, with the addition of $2 billion in projected FY 2024 unappropriated balances, a net of $904.6 million would be available over the biennium for other potential commitments.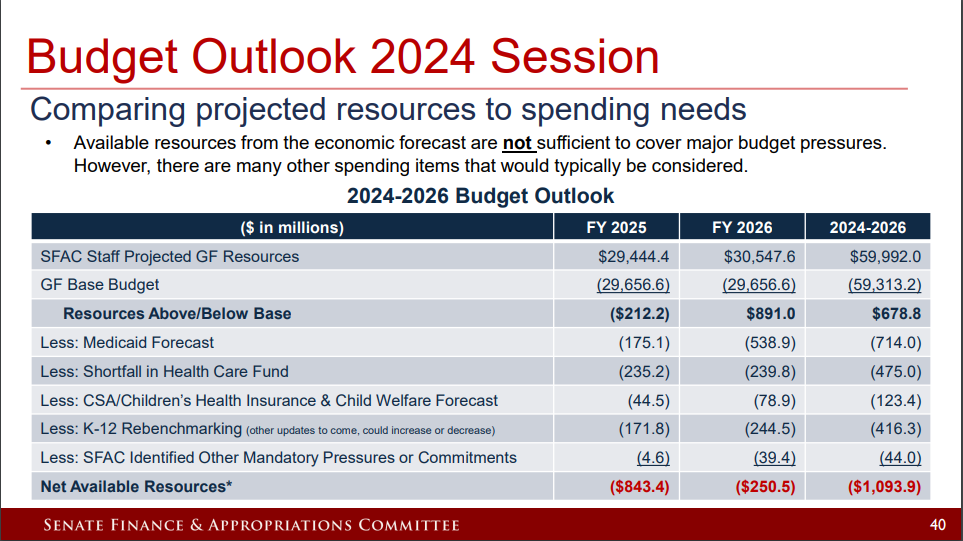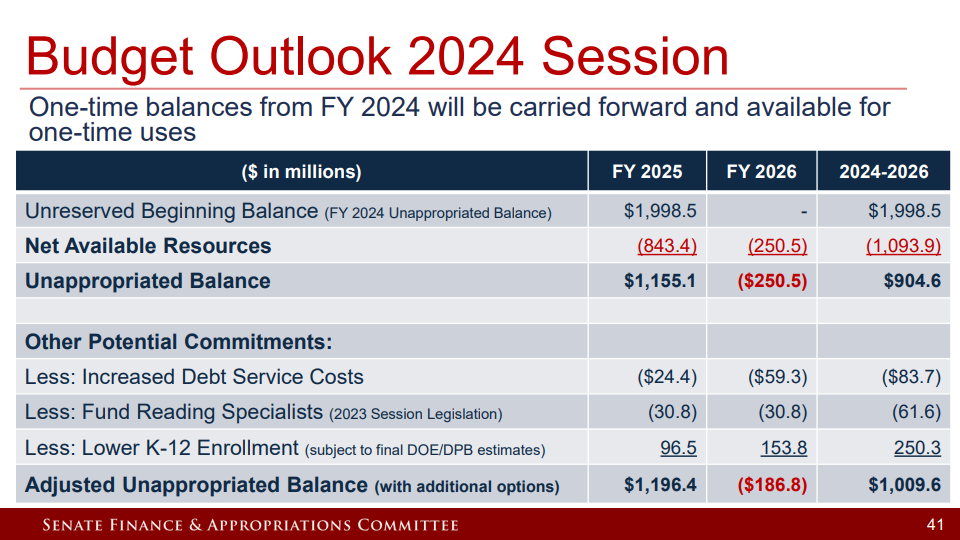 The HAC budget outlook is available at this link, and the SFAC outlook is available at this link.  Other presentations to the House Appropriations Committee retreat may be found at this link and Senate Finance and Appropriations Committee presentations may be found at this link.
VACo Contact:  Katie Boyle