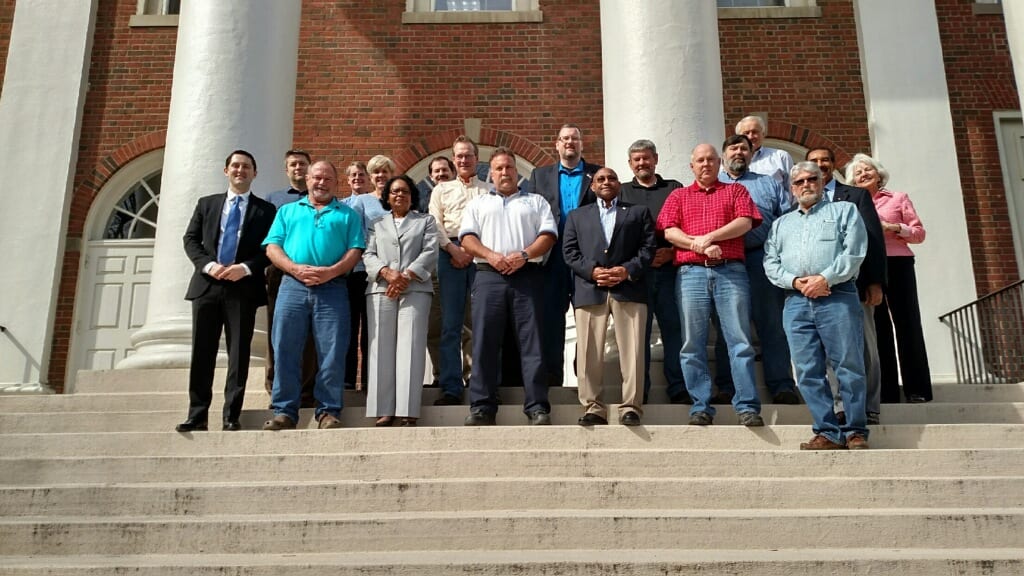 Pictured from Left to Right – Beau Blevins (VACo), Keith Guzy (Page County), Steve Wilkerson (Bedford County), Rick Randolph (Albemarle), Meg Bohmke (Stafford County), Claudia Lundy (Mecklenburg County), Larry Nordvig (Powhatan County), William Martin (Greene County), Joel Acree (Isle of Wight County), William McCarty (Isle of Wight County), Keith Blowe (Sussex County), Rex Hill (Carroll County), Rick Blevins (Smyth County), Robert McCraw (Carroll County), Mike Chandler (Virginia Tech), James Griffith (Alleghany County), Jessie Barksdale (Pittsylvania County) and Martha Walker (Virginia Cooperative Extension).
Not Pictured – Nick Asbury (Bland County), Allison Mays (Washington County), Saul Hernandez (Washington County) and Laura Sellers (Stafford County).
---
On March 11, county leaders met in Albemarle County for the Virginia Certified County Supervisors' Program. During the class session, titled "Making a Governance Difference: The Role of Purpose Driven Policy, Deliberation and Decision Making," the class examine legal principles established by the U.S. and Virginia Constitutions, the Dillon Rule, as well as other ordinances and regulations that influence policy making and decision making. Class participants explored how they can work effectively across boundaries as well as apply strategic thinking strategies and the six thinking hats methodology. The class will meet again on April 22 to complete this session of the program.
The VACo Education event features a five-course curriculum. The format used with each course is designed to maximize learning as well as student engagement. Each course begins with a six-hour classroom session that is topically driven and reflective of the subject matter being covered. Following the classroom session is an eight-week home study session. Each course participant is assigned relevant articles and books and completes assignments drawn from the readings on a weekly basis. One or more essays are also assigned during this portion of the course. The third and final course component of each course is a concluding six-hour classroom session.
For more information on the Certified County Supervisors' Program and any of VACo Education Programs – contact Beau Blevins at
bblevins@vaco.org.
VACo Contact: Beau Blevins