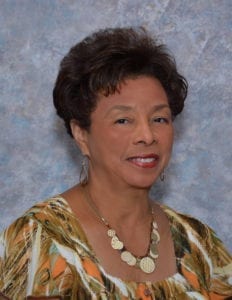 When Louise Stokes started working for York County in 1975 as a buyer, she was a one woman show. "It was a new position in the Accounting Office," she said. "I worked closely with the County Administrator and Finance Director to purchase all goods and services for the County. The departments were very small in number and I compiled procedures for processing requisitions and purchases."
Being a one woman show wasn't the only challenge she encountered: Louise is the longest tenured African American female professional. She retired June 29 after 43 years of employment. "When I was hired at the County, I did not see anyone in the office that looked like me," she recalled. "The atmosphere was quiet and dim for a period, but after a while things changed and people became a little warmer. There were only four other employees of color at the time and they were in our janitorial services area."
Growing up in the Bethel District, Louise attended James Weldon Johnson School System through the eighth grade. "After desegregation laws were passed, I attended York High School and graduated in 1970," she said. She worked a short stint at Newport News Shipyard before joining the County workforce. Since that time, the County offices have become more diverse. And, Louise says, "I hope my legacy has helped others in just a small way."
Louise worked for eight County Administrators and many Board of Supervisors members and has witnessed many changes over the years, including the huge impact advancing technology has had to the operations of the County. "In the early years, I had to hand type stacks of purchase orders every morning that needed to be processed and mailed," she said. "Then the County moved to a couple of different computer systems. And eight years after I was hired, the office expanded to add a Purchasing Agent and a secretary. We were on the move then! Later we assumed responsibility for purchasing school division items and we became a centralized function."
As she looks back on four decades of service, she is extremely proud of the positive customer service she was able to provide to the County departments and agencies and also to the community overall. "I worked hard to earn the confidence that I could meet the deadlines that the departments had and assist in making the process come full circle," she stated. "I look back and think of the items I've been responsible for acquiring: fire trucks, vehicles, playground equipment, furnishings for the Finance Building, York-Poquoson Courthouse, and both libraries – too many things to list!"
She will return in late summer/early fall 2019 when her last big item, the new Fire Station 1, is opened. After that project is completed, the expansion of the Yorktown Library will be on the County's plate, with Louise's work behind it all.
"I might not be there putting down the bricks and mortar," she said laughingly, "but I'm there in the contracts and services that brought about these buildings, which will serve the community for many, many years."
As she gets ready to leave, Louise can't help but look back at the many activities in which she's been involved while working for York County. "We had a softball team, bowling team, March of Dimes, talent shows – it was a blast! The best part of it all has been the coworkers, the extended families you spend time with more than your actual family," she said. Next on her list? "I may write a book – 'Shadows of Yorktown.'" Knowing Louise, she'll shop for the best publisher with the best printing price you can find, saving you money when you purchase and read the book. It's sure to be a bestseller!
Some of Louise's certifications, awards, and achievements
Certification
Universal Public Procurement Certification Council (UPPCC), Expiration April 1, 2020
Awards
2011 National Association of Negro Professional & Business Women's Club, Newport News "Most Spirited" award
2009 Hometown Achievement Award – African American Cultural Society, Yorktown
1999 Employee Advisory Committee, Values Team Vice Chair
1996 Professional Buyer of the Year (VAGP) of Virginia
1993 Public Services Award Employee of the Year, Exchange Club of York
1990 Certified Professional Public Buyer, April (VAGP)
Memberships
2008 National Association of Negro Professional & Business Women's Club, Newport News Chapter (present)
2008 Southeastern Virginia Public Fleet Consortium (SVPFC)
1979 National Association of Governmental Purchasing (NIGP) (present)
1979 Tidewater Chapter of Governmental Purchasing, Charter Member (TCGP)
1978 Virginia Association of Governmental Purchasing (VAGP) (present)