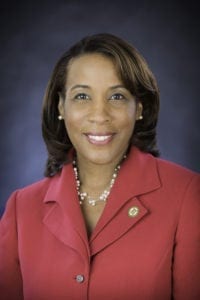 Loudoun County Board of Supervisors Chair Phyllis J. Randall has been selected to participate in the Women in Government Leadership Program Class of 2019, which is hosted by Governing magazine. Chair Randall is the only Board member from Virginia to join a cohort of 24 other women from around the country.
The 2019 program includes women from 20 states who were elected to a state or local public office and are not currently on a ballot during the program year. The leadership program aims to broaden participants' leadership, in part, through a network of women who mentor and inspire other women to run for office.
"I am honored to have been recognized by Governing magazine, but would be remiss not to acknowledge all the women who have paved the way for me to serve in Loudoun," said Chair Randall. "Counties and communities are electing women across the nation to tackle today's most pressing issues and I am looking forward to joining these forward-thinking women from across the country to identify real-world solutions that can improve our government's performance for future generations."
Participants for the program are typically nominated by their peers, program alumnae and government officials. Chair Randall was nominated by Governing magazine and selected by the Governing Institute based on criteria, such as career and educational accomplishments, personal recommendations and a commitment to actively participate.
Program participants will hold monthly conference calls and attend three leadership development retreats with travel and accommodations provided by the Governing Institute. The program's agenda is designed to develop women leaders, promote problem solving through leadership, demonstrate how to make a difference in the communities they serve and teach crucial skills for governing.
The 25 members of the Class of 2019 will be profiled in the February 2019 issue of Governing magazine. More information on the Women in Government Leadership Program is online at www.governing.com/gov-institute/wig.