PRESENTED 2021 A. ROBERT CHERIN AWARD FOR OUTSTANDING DEPUTY OR ASSISTANT LOCAL GOVERNMENT ATTORNEY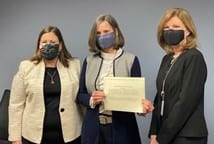 Erin C. Ward (center), pictured with LGA President Lola Rodriguez Perkins (left) and Fairfax County Attorney Elizabeth D. Teare (right).
Erin C. Ward, Fairfax Deputy County Attorney, was selected for the prestigious Local Government Attorneys of Virginia (LGA) A. Robert Cherin Award in recognition of her "distinguished public service that reflects a personal commitment to the highest ethical and professional principles and enhances the image of local government attorneys in the Commonwealth."
Ms. Ward has served with the highest distinction in the Fairfax County Attorney's Office for approximately 25 years. Her subject matter expertise is substantial and varied, ranging from lofty questions about legislative, election, and constitutional issues to more practical concerns about animal sheltering and solid waste collection. Her service to local government law has been extensive. Ms. Ward served on the LGA Board of Directors for four years. After several years on the Virginia State Bar Local Government Section Board of Governors, she was elected Chair of the section for 2013. While serving on the board, she helped establish the Local Government Fellowship program which provides a monetary grant to law students who spend the summer working at a local government attorney's office.
LGA promotes common interests and an exchange of information among its members on legal issues that are particularly relevant to Virginia's counties, cities, and towns. The LGA's member services include conferences, a legal handbook, a monthly newsletter, and other services intended to inform and enhance the practice of local government.
---
LOCAL GOVERNMENT ATTORNEYS ASSOCIATION ELECTS NEW OFFICERS
The Local Government Attorneys of Virginia, Inc. (LGA) recently elected new officers and members of the board of directors. LGA has over 250 organizational members, represented by more than 800 attorneys from Virginia localities, private law firms, and other entities that specialize in local government matters, and by members of the judiciary.
The following officers and directors will lead LGA for the 2021-22 year, beginning September 1, 2021:
For a one-year term as officer:
President, Michelle R. Robl, County of Prince William
Vice President, Mark C. Popovich, City of Covington
Treasurer, Lesa J. Yeatts, Town of Herndon
Secretary, Andrew H. Herrick, County of Albemarle
For an initial two-year term as director:
Tyler C. Southall, County of Dinwiddie
Alan B. Spencer, City of Danville
For a second two-year term as director:
George Lyle, County of Henry
Courtney R. Sydnor, County of Loudoun
These newly elected LGA leaders will join sitting directors Michael H. Abbott (County of Wise), Kelley J. Lackey (City of Chesapeake), Rebecca B. Randolph (County of Hanover), Ryan C. Samuel (County of Arlington), and Lola R. Perkins (City of Hampton), who will be the immediate past LGA president.
LGA supports common interests and an exchange of information among members on legal issues that are particularly relevant to Virginia's counties, cities, and towns. LGA's member services include two conferences and a regional seminar each year, which present in-depth analyses of legal issues related to local government. Mandatory Continuing Legal Education credit can be earned by attorneys attending LGA's conferences and seminars.
Other member services include:
The annual LGA Handbook of Virginia Local Government Law, authored by Virginia attorneys with specialized expertise in the areas of law addressed.
A monthly newsletter, the Bill of Particulars, summarizing recent federal and state court cases.
Amicus curiae briefs filed periodically in cases involving issues important to local government.
An ethics committee that works closely with the Virginia State Bar on ethics issues of significance to local government attorneys.
Practice groups that focus on social services, local taxation, eminent domain, employment law, procurement, housing law, and younger local government attorneys.
A group forum/email service that allows members to exchange legal inquiries and information.
A website library of legal documents and related materials.
For more information on LGA and its programs, visit the LGA website at lgava.org.