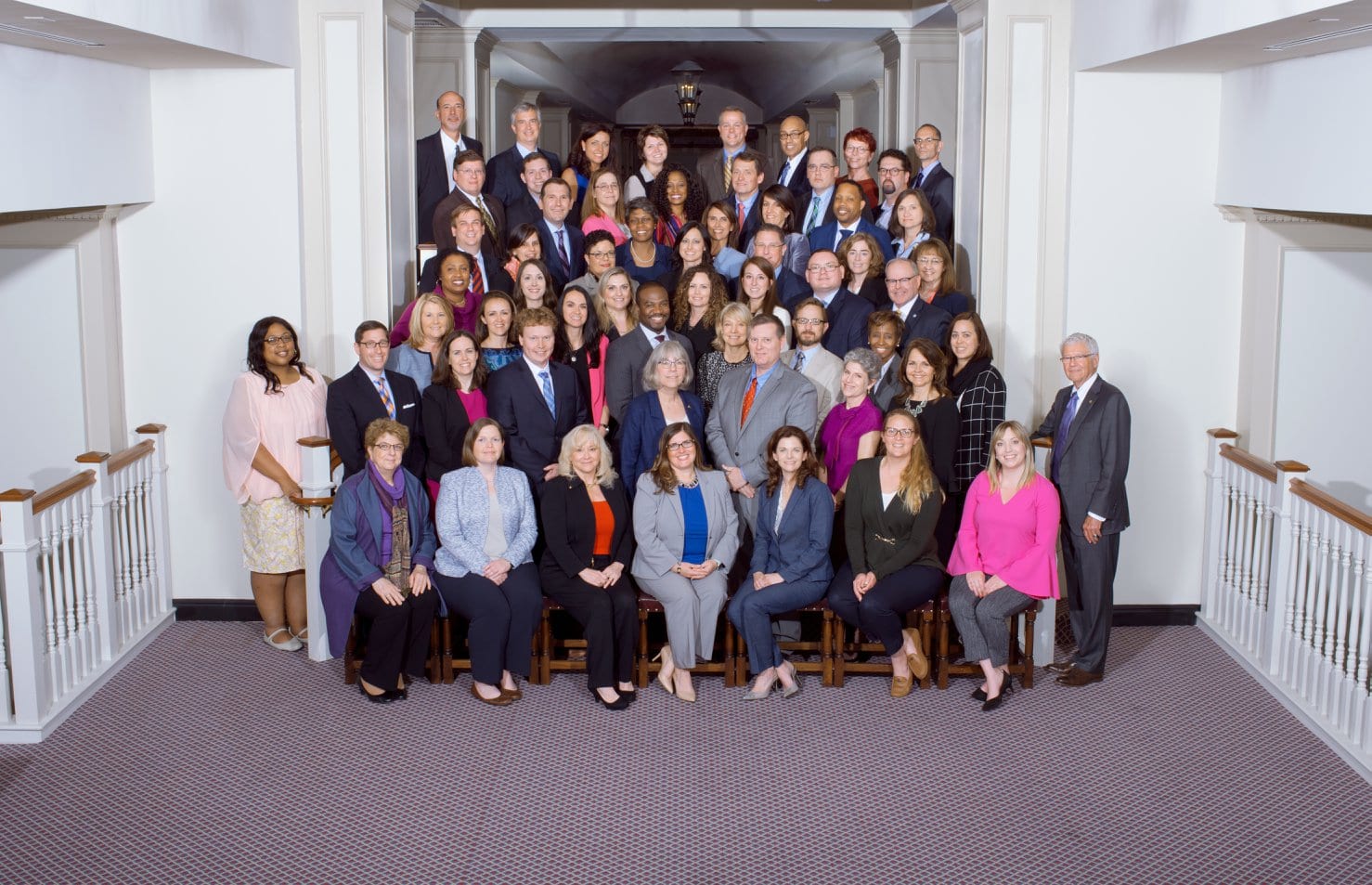 Lead Virginia, the statewide leadership program now entering its fourteenth year of educating Virginia's leaders about the issues most relevant to the Commonwealth, has announced its 2018 class members. VACo's Director of Government Affairs Katie Boyle (second row, third from the left) is a member of the 2018 class.
The 55 class participants are senior-level executives in business, education, non-profit and government agencies throughout the Commonwealth. They are experienced, recognized leaders within their professions who are seeking to bolster a shared vision of active community involvement and stewardship across Virginia. A complete list of the class participants is enclosed.
Lead Virginia's 2018 curriculum centers on the key themes of economy, education, and health and cultivates a statewide perspective by examining the technology, economic development, demographics, transportation/growth management, and quality of life issues impacting the Commonwealth in each of the regional sessions.
Lead Virginia kicked off its 2018 Program with a successful Opening Session, a three-day event held in Williamsburg, Virginia in mid-April. The Class also just completed its first regional session, exploring Southern Virginia on May 17 – 19, 2018.
"Each year Lead Virginia draws an impressive brain trust of talent and expertise to its program," says Lead Virginia's President and CEO Susan Horne, "As class members explore the diversity of the Commonwealth and discover how relationships build valuable social capital, a deeper appreciation for Virginia's leadership challenges and mutuality of interests begins to emerge.  The Commonwealth of Virginia is better served by leaders who understand the landscape in which they live and work."
The 2018 schedule will consist of seven sessions throughout the state. The leaders participating will visit Southern Virginia, the Roanoke Valley, Northern Virginia, Southwest Virginia, Hampton Roads, and Central Virginia in upcoming months. The class program will conclude with a final session and graduation dinner and awards program in Richmond, November 15-17, 2018.
About LEAD VIRGINIA  
Lead Virginia was incorporated as a charitable and educational organization in March 2005.  The organization is patterned after similar models of statewide leadership programs across the nation. Led by a board of directors composed of business, education, government, non-profit and community leaders from across Virginia, Lead Virginia uses a proven model for developing a statewide network of leaders by engaging academic, business, civic and government advisors to educate class members on the wide range of key issues in Virginia. 2018 Lead Virginia sustaining sponsors include Altria, Bon Secours Richmond Health System, Newport News Shipbuilding, and Washington Gas. Additional major supporters include Cox Communications, Dominion, Union Bank & Trust, Claude Moore Foundation, Mary Morton Parsons Foundation, Virginia Business, Columbia Gas, and Wells Fargo. For more information, visit www.leadvirginia.org.