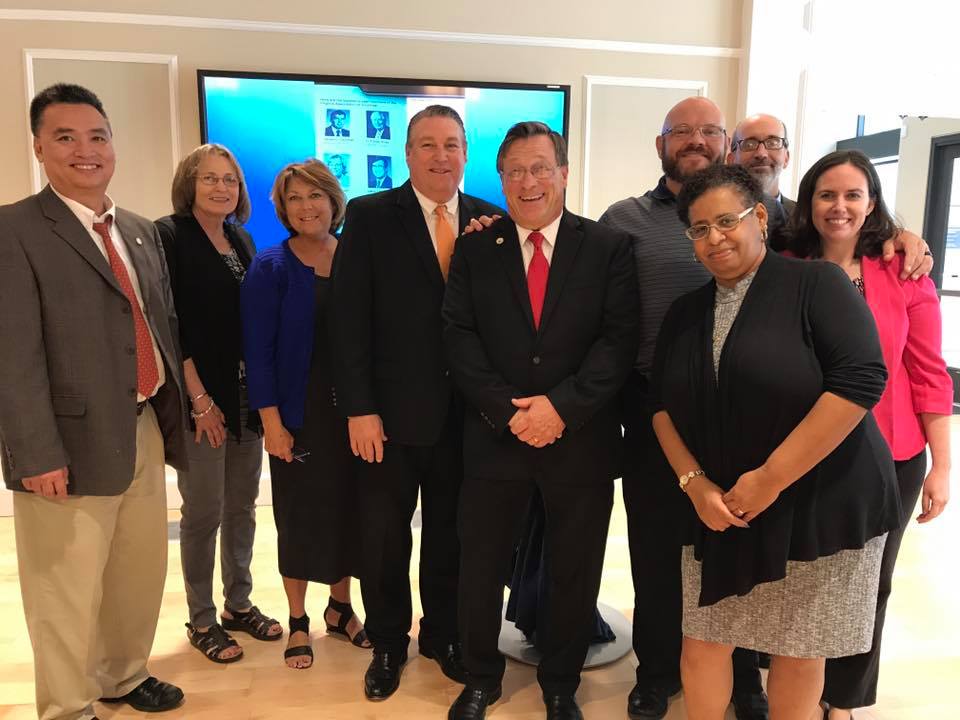 When bad ideas are proposed at the power centers of state government, I hate to think how much more difficult life might be for local officials if energetic and articulate advocates are never present to explain how governance at the local level might be adversely affected. That doesn't mean we at VACo can always prevent undesirable policy outcomes. In Richmond's sausage factory, otherwise known as the Virginia General Assembly, we've often had to settle for making bad proposals more palatable than they would have been without our intervention. That's simply the nature of legislative battle. But win, lose, or compromise, it is a battle from which local governments, acting collaboratively, must never retreat. And the collaborative engagement in those battles is difficult to imagine without the efforts of the Virginia Association of Counties acting in partnership with our friends at the Virginia Municipal League.
When major legislation is considered either at the state or federal level, the concerns of local governments must never be minimized, nor should they be dismissed simply as those of another "special interest." Because local governments bear the lion's share of responsibility for delivering the most critical and necessary services expected by the public, the role VACo plays in the legislative process is essential. It is a role that is distinct from roles played by other lobbying organizations. The quality of Virginia's educational system depends upon the financial and administrative ability of managers at the local level to hire and retain an adequate number of capable teachers. Most law enforcement activities and first responder services provided in emergencies are administered locally, requiring the recruitment and retention of qualified fire and rescue squads as well as law enforcement officers, all of which are very local functions. Many improvements to our natural environment, and protection of public health, are not possible unless local agencies are equipped with the legal authority, financial ability and technical expertise to assure the attainment of environmental standards by our wastewater treatment plants and water treatment facilities.
In our federal system, the three levels of government constitute a partnership, albeit one that's often hampered by natural tensions. But however fragile, it is a partnership that cannot be sustained in an atmosphere of ignorance where decision makers at state and federal levels have little or no understanding of the responsibilities, limitations, capabilities and resource needs of local agencies operating at ground level. That is precisely why communications and dialogue between state and local officials are so essential for basic services to be successfully provided. It is difficult to imagine how local government officials can be integral parts of that necessary dialogue if not for the presence of organizations like the Virginia Association of Counties, the Virginia Municipal League and others. By facilitating the exchange of information between counties and state government, VACo performs an important public service. Another public service provided by VACo is the growing number of our educational programs that are all meant to help local officials serve their constituents as effectively as possible.
And for the privilege of helping to provide those services over the past 29 years, I have nothing more to write than "thank you!" Thank you for allowing me to serve you, the county officials of Virginia. Each day of my time with VACo has been a learning experience. Each day has provided new and stimulating intellectual challenges. Each day has provided me with opportunities to make friends while working closely with a wonderful group of team members along with many other amazing people serving nonprofit organizations and state agencies.
On August 21 at the County Officials Summit I was honored to stand before many of you to express my appreciation and admiration for so many of you who, as county supervisors, offer your time and talents in service to your communities. Our system of government could not work without people like you who decide to run for public office.
I also wish to express my admiration and appreciation to many of you who serve your counties in key staff positions. Through the years I have been incredibly impressed with the professionalism and dedication I have witnessed in county managers, department directors, and so many others who have contributed their knowledge and expertise to VACo's educational programs and advocacy efforts. I have learned much from you. My hope for the future is that I will be able to apply my experiences and what I've learned from all of you in the most constructive ways possible.
So, to all of you, my final and parting message can only be a deeply and heart-felt Thank You!!