Protect Tax Revenue with SICPA Excise Tax Stamps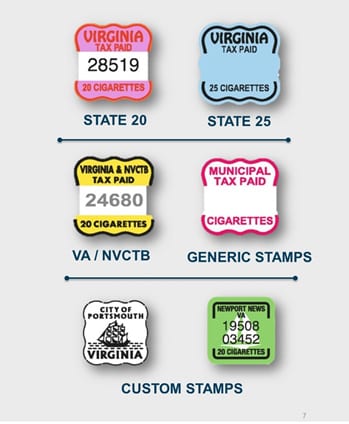 For nearly 100 years, SICPA has been a global leader in the security, traceability, and management of regulated products.
Today, SICPA-Meyercord Revenue provides secure tax stamps to 44 states and more than 160 local jurisdictions, including the current tax stamps used by:
Virginia Department of Taxation
The Northern Virginia Cigarette Tax Board (NVCTB)
100+ Virginia municipal entities
SICPA Product Security LLC is proud to maintain its U.S. headquarters in Springfield, Virginia. As a Commonwealth-based entity, SICPA works closely with the Department of Taxation, the Virginia Wholesale Distributors Association and local jurisdictions to ensure tax stamps are fully compliant with Code of Virginia Section § 58.1-3832.
We know how important tax revenue is to county budgets. SICPA-Meyercord is excited to join the Virginia Association of Counties as a Premier Partner and we look forward to working alongside you to implement robust tax stamping systems that meet the unique needs of the Commonwealth's counties.
Please contact Alex Spelman at alex.spelman@sicpa.com or 571.492.1308 for more information.
SICPA will present an educational webinar in early February that will explain how the tax stamp process works in localities and regional bodies.