The House Appropriations and Senate Finance and Appropriations Committees reported their respective budgets on Friday, September 25.  The House passed its budget on September 29, and the Senate approved its version on October 2, moving toward the appointment of a conference committee to resolve differences between the two proposals.  Both budgets applied savings strategies to enable restoration of certain spending items that had been unallotted (frozen) at the April reconvened session and subsequently proposed for elimination in the Governor's August budget, and to fund criminal justice legislation that has been passed by each chamber.  Similarly, both budgets propose additional spending, but condition this funding on revenues meeting certain targets.  Both budgets propose to direct the spending of federal Coronavirus Relief Fund dollars that were provided to the state in the CARES Act but not yet allocated by the Administration.
While both chambers reshaped the Governor's proposed budget, their priority spending items differ, as discussed below.  They also differ in their approach to contingent appropriations.  The House provides for approximately $20 million in contingent spending in FY 2021, provided the December revenue forecast is no more than $100 million below the August forecast.  An additional $187 million in spending would be authorized for specified items in FY 2022, provided that FY 2021 General Fund (GF) collections meet the revenue forecast.  The Senate includes a prioritized list of spending items for FY 2022 to be funded by revenue in excess of the FY 2021 forecast.
Charts provided below by the House Appropriations and Senate Finance and Appropriations Committees, respectively, outline the differing priorities for use of the remaining Coronavirus Relief Fund dollars.
---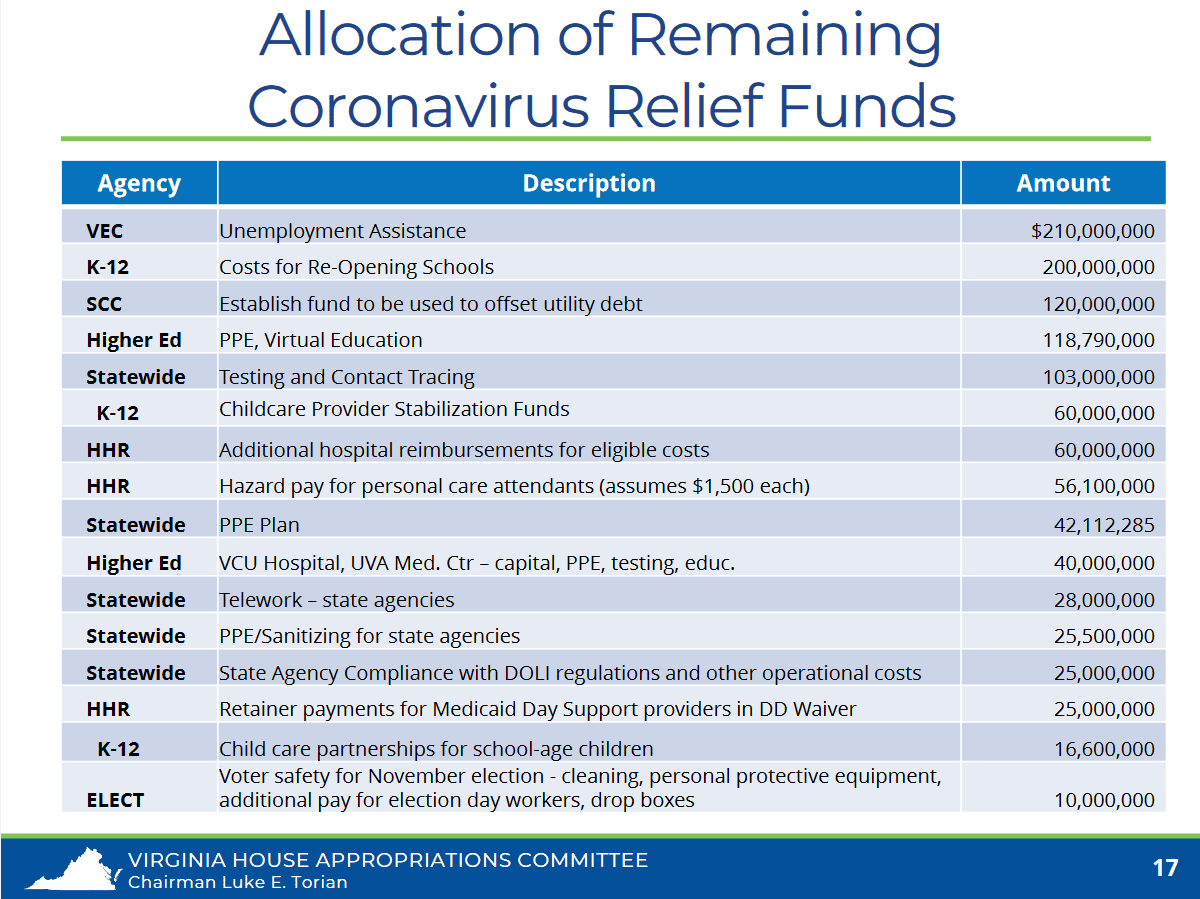 ---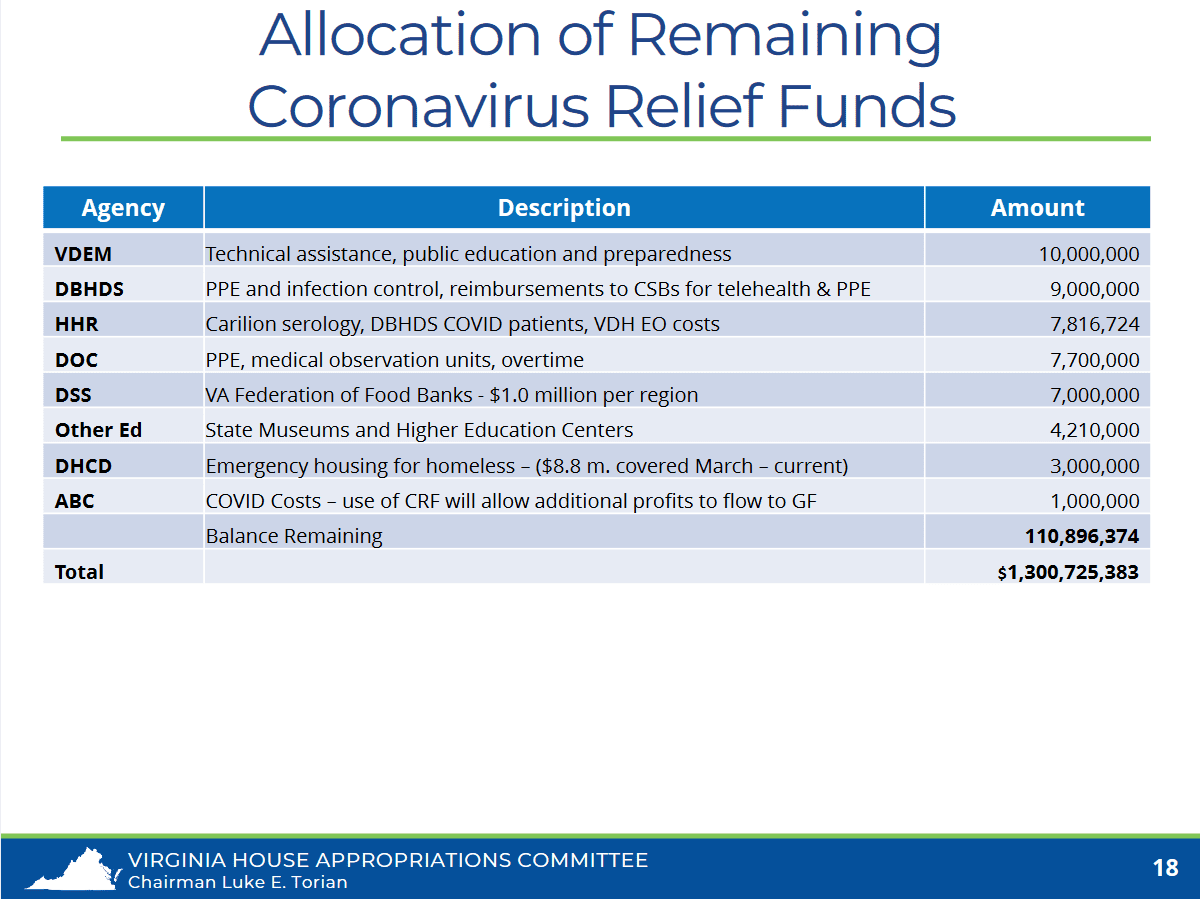 ---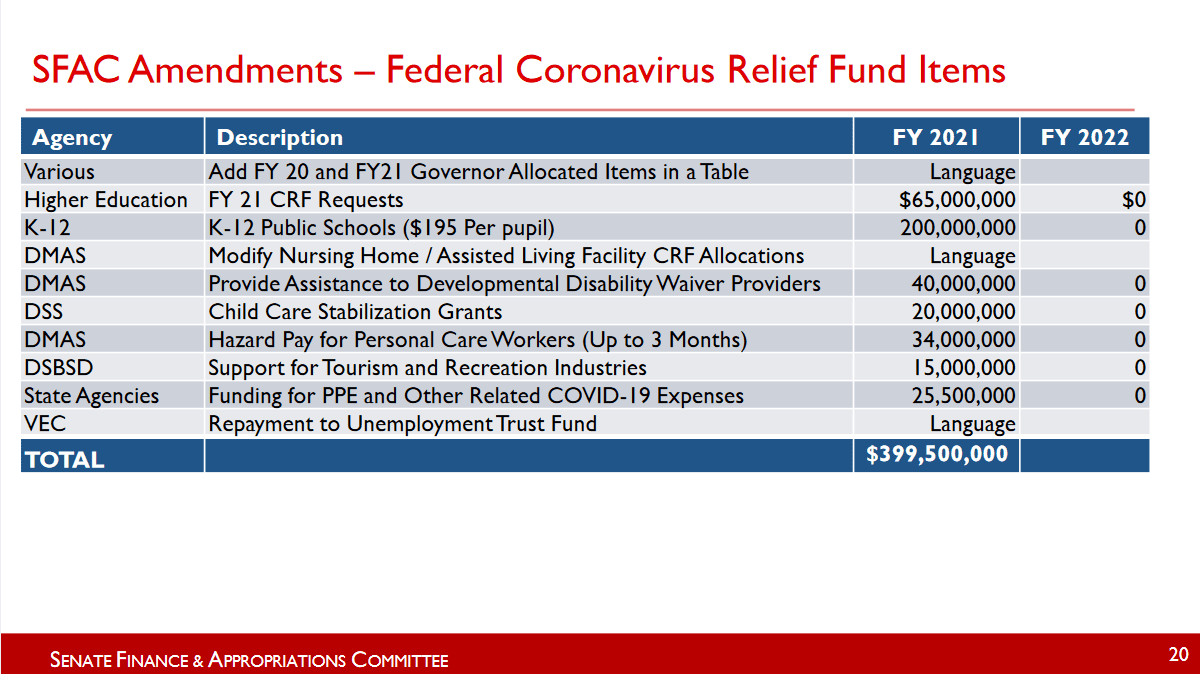 ---
Following is a comparison of the two budget proposals in areas of interest to local governments.
K-12 Education
House
Senate
Compensation
House
Senate
Judiciary/Public Safety
House
Senate
Elections
House
Senate
Economic Development/Workforce
House
Senate
Broadband
House
Housing
House
Senate
Aid to Local Public Libraries
House
Child Care/Early Childhood
House
Senate
Children's Services Act
Senate
Behavioral Health
House
Senate
Social Services
Senate
Natural Resources
House
Senate
Transportation
House
Reserves
House
Other
House
Senate
VACo Contact:  VACo Legislative Team