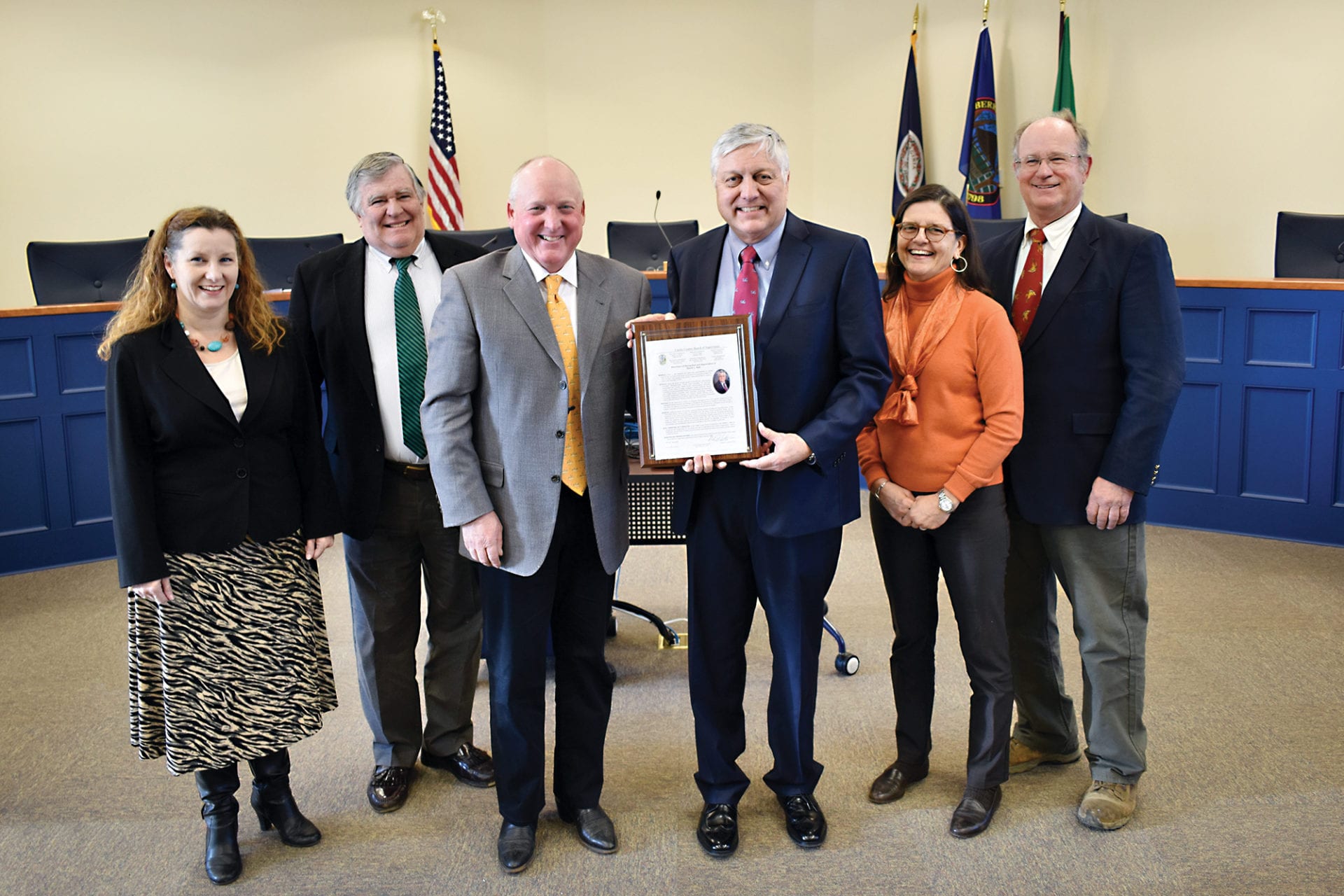 During its January 21 meeting, the Clarke County Board of Supervisors recognized David L. Ash and congratulated him for his service and dedication to the Board, county employees, and Clarke County residents.
Chair David Weiss read a "Resolution of Appreciation" that read in part:
David L. Ash assumed the duties and responsibilities of County Administrator and Clerk to the Clarke County Board of Supervisors on March 19, 1991, serving in that capacity – the second County Administrator in Clarke history – until December 2, 2019.
During his tenure, David Ash also served on the Berryville-Clarke County Government Center Joint Building Committee, the Berryville-Clarke County Joint Committee for Economic Development and Tourism, Clarke County Communications Committee, Coalition on the Effects of Illegal Immigration, Events Ordinance Review Committee, Housing Rehabilitation Board, Joint Administrative Services Board, Joint Budget Review Committee, Joint Information Technology Oversight Committee, Northwestern Regional Jail Authority, NSVRC Planning District Commission, Regional Airport Authority, Regional Water Committee, Shenandoah Valley Chief Local Elected Officials Consortium, and VACORP Board.
David Ash also acted as the Director of Emergency Management from 1991 until the creation of the Fire, Emergency Medical Services & Emergency Management Department in October 2014; and, in order to best serve the interests of Clarke County residents, he maintained his certifications as an Emergency Medical Technician and responded to emergency medical service calls as needed.
During his tenure, he oversaw numerous building projects, including the Berryville-Clarke County Government Center, the Clarke County Animal Shelter, and the Clarke County Convenience Center as well as the expansion of the Clarke County Recreation Center to include the Parks and Recreation administrative offices and the Clarke County Senior Center.
He also coordinated renovation projects at county government-owned facilities throughout the Town of Berryville, the County seat.
Following the formal presentation of the resolution on January 21, Supervisors, county employees, and others showered David Ash with gifts, including a rocking chair – engraved with the Clarke county seal – given by Brandon Davis, executive director of Northern Shenandoah Valley Regional Commission; Warren County Deputy County Administrator Robert Childress; Doug Stanley, County Administrator for Warren County; Berryville Town Manager Keith Dalton; and Clarke's new County Administrator, Chris Boies.