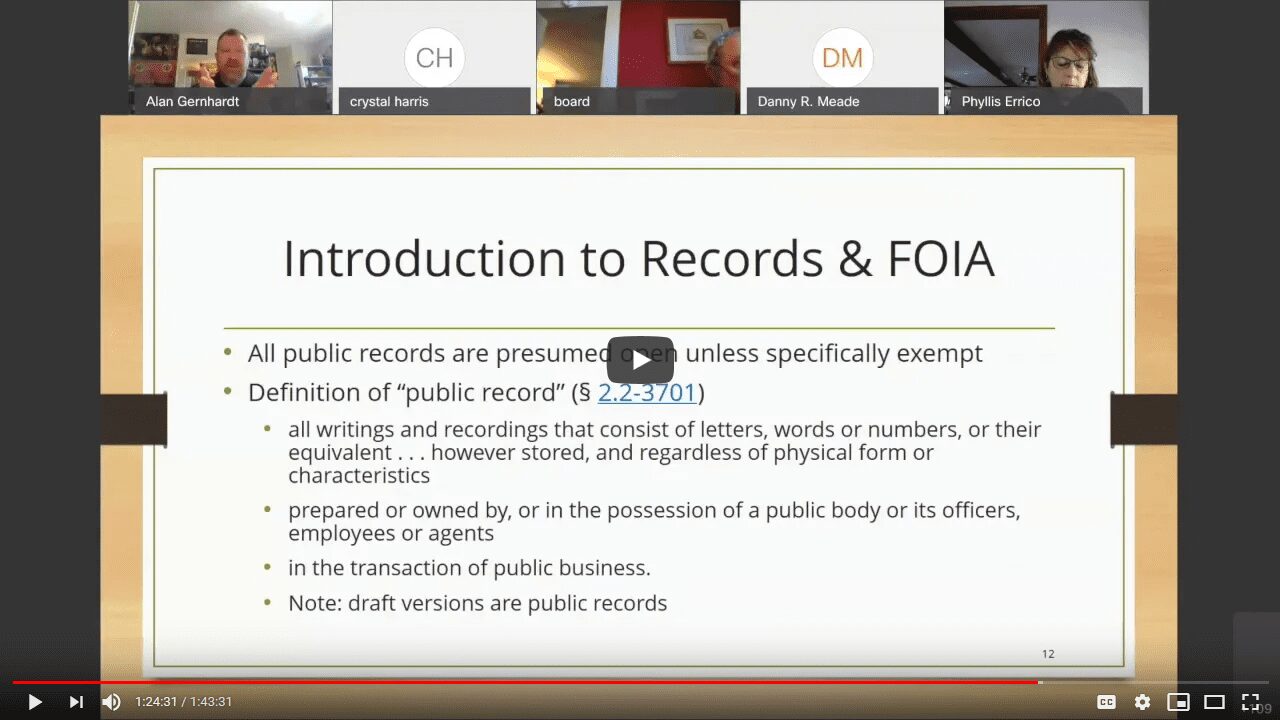 Freedom of Information Act Training and News
Over 140 people registered for FOIA training hosted by VACo and held on November 16. A new law that went into effect on July 1, 2020 requires certain local officials to take specific FOIA training every two years. Alan Gernhardt, Executive Director of the Virginia Freedom of Information Advisory Council, conducted the 2-hour virtual training session, answering a variety of questions from participants as the session went along. This session qualifies for the statutory mandatory training and can be viewed here.
2020 FOIA Subcommittees meet and advance recommendations to the full FOIA Council
The three ongoing FOIA subcommittees met this past week to look at recommendations to the full FOIA Council. The Phishing Subcommittee met to consider HJR 628 (2019) Heretick, the Criminal Incident Information Subcommittee considered HB 5090 Hurst and the Electronic Meetings subcommittee looked at two proposals seeking more flexibility for electronic participation by members of a Public Body HB 321 Levine and codification of electronic meetings provisions during an emergency. For more information please visit the Virginia Freedom of Information Act Advisory Council website.
Conflict of Interest and Ethics Advisory Council meets to consider Local Lobbying registration
On November 18, the Council met to consider SB 383 (McPike), which was referred to the Council after being passed by indefinitely in the Senate Local Government Committee in the 2020 regular session. Although not specifically endorsing the bill as drafted, the Council directed the staff to draft legislation for local lobbying similar to state lobbying requirements. The Council is not scheduled to meet again prior to the 2021 legislative session so it is unlikely we will see a bill in the upcoming session.
VACo Contact: Phyllis Errico, Esq.