To inform local officials of impending requirements relating to Chesapeake Bay cleanup efforts, the Virginia Department of Environmental Quality (DEQ) is continuing to schedule "outreach" meetings. These meetings are all part of the Chesapeake Bay Program's "mid point assessment." The mid point assessment's chief purpose is the coordination of a multi-state strategy for achieving specific improvements in the Chesapeake Bay's water quality by 2025.
Here is the most recent schedule of outreach meetings:
Middle Peninsula and Northern Neck region – May 4, 2017 at 1 p.m. at the King & Queen County Branch Library, 396 Newtown Road, St. Stephens Church, VA 23148
Hampton Roads area – TBD, May 2017
Lynchburg area – TBD, May/June 2017
The most up-to-date information on the meeting schedule is available here.
DEQ's most recent "outreach" meeting took place in Henrico County on April 17, where it was announced that U.S. EPA has extended several deadlines for certain critical functions to be performed by state and local governments. These are all functions U.S. EPA deems to be important to the mid-point assessment. For example, under the original schedule, states in the Chesapeake Bay watershed were expected to submit their final Watershed Improvement Plans (WIPs) to U.S. EPA by December 2018.  That deadline has been extended to April 15, 2019.
These key actions with revised deadlines are included in the chart below: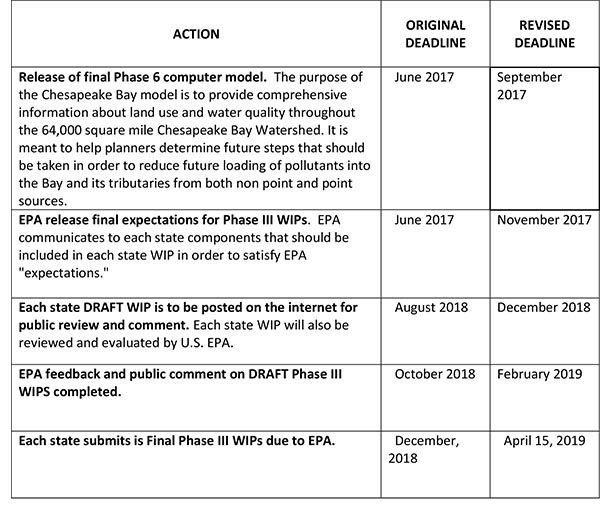 Because the budget recently proposed by President Trump would virtually eliminate its funding, there many questions surrounding the future of the Chesapeake Bay Program.  And because most requirements imposed upon states and localities for meeting water quality standards in the Chesapeake Bay are actually based in the Clean Water Act, the elimination of the Chesapeake Bay Program would not eliminate mandates upon states and localities to improve water quality.
The Chesapeake Bay Program was established in 1983 through an agreement reached among the states of Virginia, Maryland, Pennsylvania, the District of Columbia, and U.S. EPA.  EPA manages the Program from the Program office in Annapolis, MD. The Program is overseen by the Chesapeake Bay Executive Council, which now consists of the Governors of all states in the Bay's watershed (Virginia, Maryland, Pennsylvania, New York, Delaware, and West Virginia), the Mayor of Washington, D.C. and the EPA Administrator.
On matters affecting local governments, the Executive Council is advised by the 19 member Chesapeake Bay Local Government Advisory Committee (LGAC.)  LGAC is mostly comprised of elected officials from localities in the "Bay" states.  Members of Virginia's delegation to LGAC are Fairfax County Supervisor Penelope Gross, King George County Supervisor Ruby Brabo, Norfolk City Council member Andria McClellan, Harrisonburg City Council member Richard Baugh, and Larry Land, VACo's Director of Policy Development.
At LGAC's most recent meeting on March 23 and 24 in King George County, the President's budget proposal was discussed at great length. In response to concerns about elimination of the Program's funding, this letter was sent by LGAC to members of the Chesapeake Bay Executive Council.
VACo Contact: Larry Land, CAE