The Commonwealth Transportation Board (CTB) approved two contracts at its monthly meeting totaling $69.6 million for maintenance and construction projects in the Virginia Department of Transportation's (VDOT) Salem and Northern Virginia districts.
Safety improvements on Route 220 in Botetourt County will widen shoulders, realign intersections, add rumble strips and turning lanes
A design-build contract totaling $64.5 million was awarded to Faulconer Construction Company, Inc. of Charlottesville for safety improvements on an 8.9-mile stretch of Route 220 in VDOT's Salem District. The work will begin just south of Route 43 (Narrow Passage Road) and run to Route 727 (Farm Fork Road).
The project will widen shoulders, realign intersections, add turn lanes, create additional passing zones, and add raised centerline pavement markings as well as rumble strips in the center and on the edge-line of the road.
The three-phase project is expected to be complete by August 2021.
Bridges on Interstate 495 in Fairfax County will be repaired
A $5.1 million contract was awarded to Martins Construction Corp. of Falls Church to repair two bridges along the ramp from southbound I-495 (Outer Loop of the Capital Beltway) to northbound I-395 in the Northern Virginia District.
The bridge over northbound I-495 (the Inner Loop) will receive a new concrete overlay, work on the deck joints, new beam bearings, paint on the steel superstructure, and repairs to the concrete piers and abutments. The bridge was built in 1975.
Repairs to ramps over the Norfolk Southern Railroad will include replacing the concrete bridge deck and beam bearings, repairing the pre-stressed concrete beams, concrete piers and abutments, and pavement on the approach to the bridge. This section was built in 1959.
The project is expected to be complete in June 2018. The following chart tracks the dollar amount of major contracts the CTB has awarded in calendar year 2017:
In advance of each CTB meeting, VDOT Commissioner Charles Kilpatrick also approves contracts up to $5 million in value. From the February 22, 2017 bid letting, the commissioner approved 56 contracts worth an approximate total of 103.5 million for construction and maintenance projects on Virginia's interstates and primary and secondary roads.
Appointed by the governor, the 17-member CTB establishes the administrative policies for Virginia's transportation system. The CTB allocates highway funding to specific projects, locates routes and provides funding for airports, seaports and public transportation. The board normally meets on the third Wednesday of the month in months when action meetings are scheduled.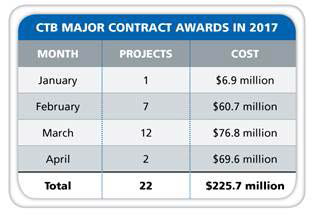 For more information
Final bid results and projects: http://www.virginiadot.org/business/const/bidresults-list.asp
CTB meeting, times and locations: http://www.ctb.virginia.gov/public_meetings/schedule_overview/default.asp
VACo Contact: Larry Land, CAE