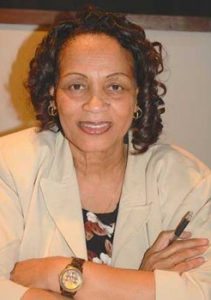 The history started years ago, even though Pattie Cooper-Jones may not have realized it. Cooper-Jones moved to Farmville and the Prince Edward County area on August 23, 1983. She was hired to manage an apartment complex, but this wasn't just any ordinary neighborhood where fixing a tenant's air conditioning was the biggest issue. This was a bad place.
"There was a lot of crime when I first came to the apartment complex," Cooper-Jones said. "But I was not afraid. If I saw someone commit a crime. I filed a police report."
Cooper-Jones said the support of the Town of Farmville – Town Manager Gerry Spate, the late Commonwealth's Attorney Bill Watkins, the late Chief of Police Otto Overton, and the late Judge William P. Hayes – gave her the courage to fight back because she knew they had her back.
"They were very instrumental in turning that place around," Cooper-Jones said. "The local government really helped me."
Then in 2003, Cooper-Jones was visited by an influential member of the community who had been watching her progress with the apartment complex. This meeting would change her life and was another step toward making Prince Edward County history 15 years later.
Mary Stokes had been the long-time Supervisor for District 801 Farmville when she knocked on Cooper-Jones' door to ask a question.
"She was retiring and made the trip to ask me to run for her Supervisor seat," Cooper-Jones said. "Mrs. Stokes and Carl U. Eggleston told me that anyone who could turn around and manage that apartment complex, should be helping more of the community, as a Supervisor. I said, 'Let me do one thing first. Let me talk to my husband (Stanley O'Neal Jones) and son (Taikein).' I knew how much time being a Supervisor would take from my family."
But her husband encouraged her to run. Be all you can be, he said. So she did. And she won.
Cooper-Jones has now won four elections – giving up her seat once to run for Treasurer. Then on Tuesday, January 9, as the Prince Edward County Board of Supervisors convened for its first meeting of the year – history was made.
Cooper-Jones was appointed Chair by her peers, becoming the first African-American and the first woman to hold that position in Prince Edward County. She made history with little fanfare. But that's how she likes it.
Cooper-Jones told her loved ones, "We don't have to make a lot of noise to be important. I feel blessed and humble. I'm going to continue to do my job and treat people fairly. I truly enjoy serving on the Board, and I thank God for the opportunity. Without him, I would be nothing."
Her first order of business as Chair was to recognize junior Da'Mya Harris, a Prince Edward County High School junior, who has scored more than 1,000 points in her varsity career.
"I love to recognize any students for their accomplishments, whether they are academic or in sports," Cooper-Jones said. "I think it's important for our young people to see they do make a difference."
Cooper-Jones said she's going to be busy as Chair this year. Prince Edward County is working to renovate its courthouse. Cooper-Jones hopes to bring the Greyhound Bus Lines back to Prince Edward County.
"We have a transportation committee considering it," Cooper-Jones said. "We have two colleges here. It would be nice for them to use the bus to go to Richmond, D.C. or Maryland instead of having to find a ride out of to catch a bus. I believe this is an important service we can give back to our residents."
Cooper-Jones also has advice for other Supervisors who either are just starting or are veterans.
"When I was first elected, I told myself that if I'm going to do this, I needed to give it my all," Cooper-Jones said. "That's why I enrolled in the VACo Supervisors' Certification Program.
"My advice to other Supervisors is simple – if you are planning to serve more than one term, you need to complete the VACo certification course. I had trouble understanding planning and zoning, but once I took the class, l learned so much and I had so many references available to me. I can call up (instructor) Mike Chandler any time for advice. This knowledge is a valuable tool to have. I learned a lot and it has helped me do a better job."
And Cooper-Jones is doing a great job and being recognized for it. Just a couple of weeks ago she was named the Farmville Police Department's Citizen of the Year.
"I get a lot of my courage and strength from my Daddy, James Cooper," Cooper-Jones said. "Growing up there were nine of us. He taught us all that if you believe in something, stand up for it. I am thankful for my family."