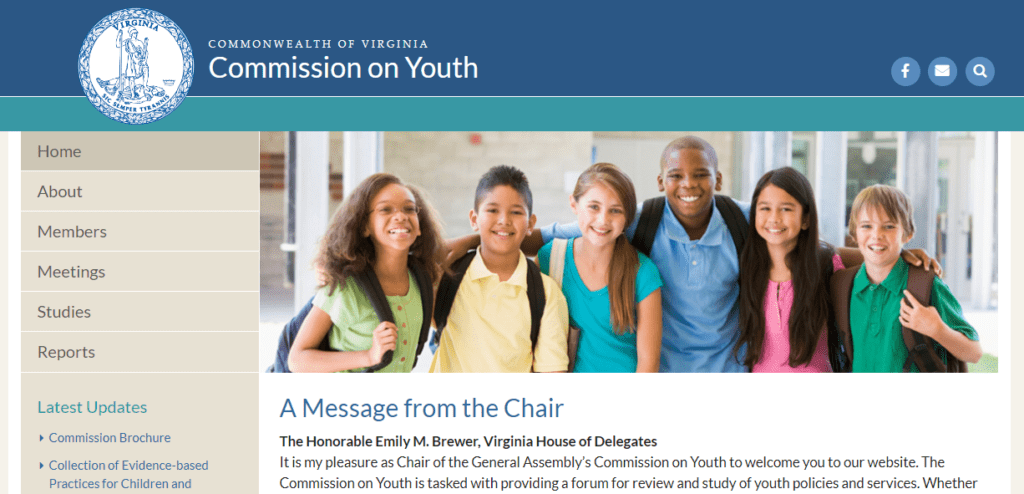 The Virginia Commission on Youth adopted its plan of work for the remainder of 2023 at its May 15 meeting, agreeing on a study of the state's foster care system, a review of legislation referred to the Commission from the 2023 General Assembly regarding the age of consent for minors' admission to a mental health facility, and the development of a new edition of a critical resource document for children and adolescents with mental health treatment needs.
Improving foster care in Virginia:  The Commission agreed to a planned study that would build upon earlier efforts to improve the foster care system in Virginia.  Staff recommended the creation of several workgroups that would focus on key areas, including workforce retention, liability insurance for foster care agencies, and recruitment and retention of foster families.  Staff also recommended participation in related efforts underway, including work in the Department of Social Services to support foster youth in securing drivers' licenses, the study of legal representation in child dependency cases being conducted by the Office of the Children's Ombudsman, and the implementation of previous initiatives, such as the establishment of points of contact for foster youth at institutions of higher education and the enhancement of workforce programs for foster youth.
Admission of minors to a mental health facility for inpatient treatment:  The Commission agreed to a review of legislation which was referred to the Commission by letter from the House Courts of Justice Committee.  The bill would have increased from 14 to 16 the minimum age for a minor to consent to admission to a mental health facility for inpatient treatment and added addiction as a reason for a minor to be admitted to a mental health facility for inpatient treatment.  The bill's patron, Delegate Anne Ferrell Tata, who also serves on the Commission on Youth, explained that she sought to address situations in which a minor who is 14 or 15 years of age refuses to consent to inpatient treatment that the parent feels is necessary, and to address issues of substance use disorder among youth.  Delegate Tata indicated that her aim is to find a pathway for youth in this scenario to receive treatment, and that she is open to other approaches.
Collection of Evidence-Based Practices for Children and Adolescents with Mental Health Treatment Needs:  The Commission is required to revise this document on a biennial basis, and as part of updating the 8th edition (which was published in 2021), staff plans to include a new section on the effect of the COVID-19 pandemic on youth mental health, as well as updating a recently-added section on implementation of the Family First Prevention Services Act.
The next meeting of the full Commission is scheduled for September 19.
VACo Contact:  Katie Boyle