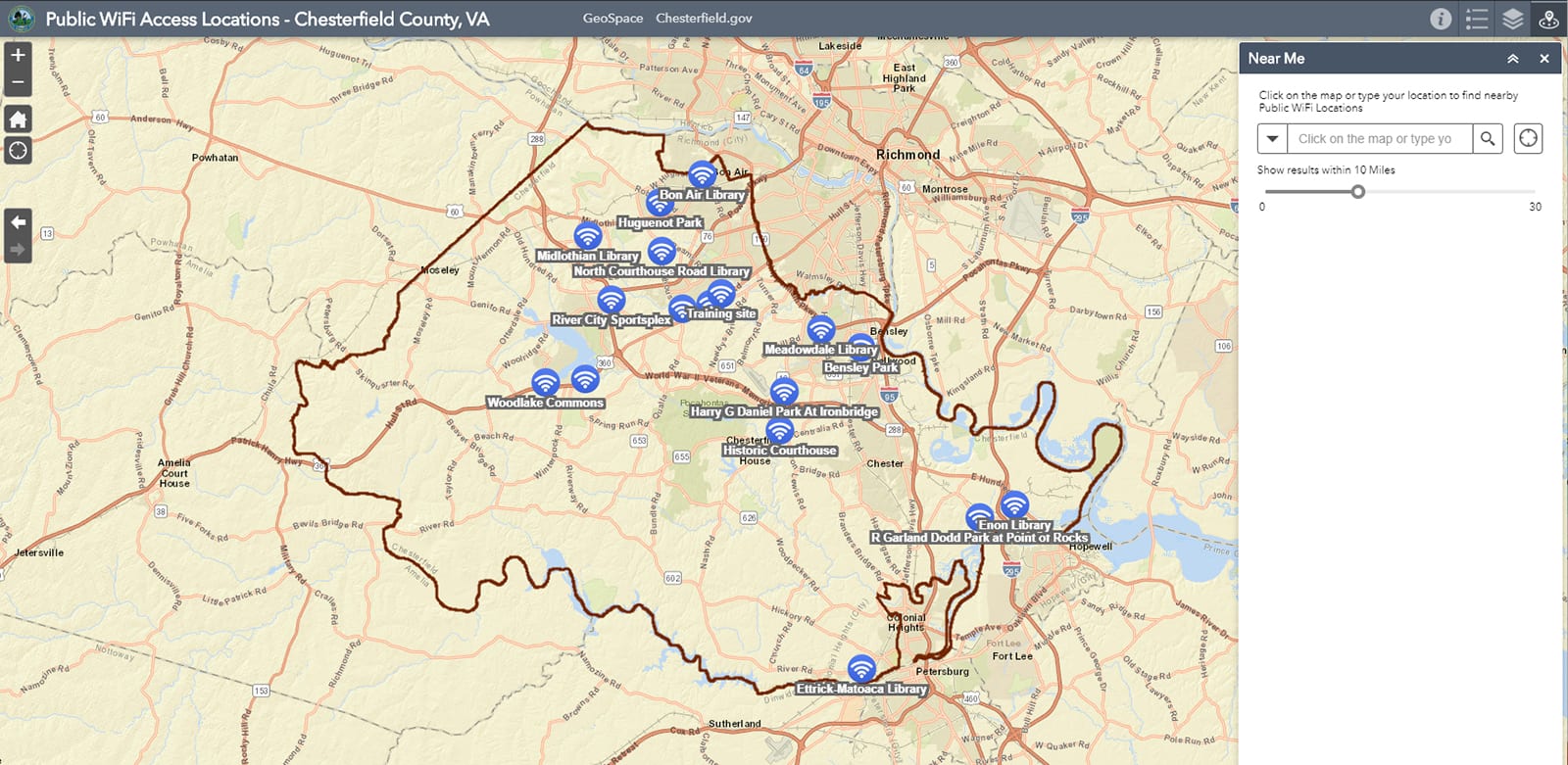 Chesterfield County has developed a new website designed to help citizens locate publicly-accessible, county-owned WiFi locations throughout Chesterfield. Featuring an interactive map, the Public WiFi Access Locations website allows visitors to pinpoint nearby WiFi spots and provides a link to Google Maps directions to each location.
To find a nearby WiFi location, citizens type in an address or click directly on the map to pinpoint a user-defined area of up to a 30-mile radius from that designated point. This defined area is represented by a large, blue circle on the map, which helps to identify the available WiFi locations within that range.
As the COVID-19 pandemic has increased many residents' reliance on reliable internet access, the new website was designed to help create new opportunities for citizens in need. Currently, the map features over a dozen public WiFi locations accessible from outside of county buildings and facilities currently closed to visitors. The new website also provides details on where citizens can park, stand or sit to get the best coverage. For example, the website informs visitors that good WiFi coverage is available at the Historic 1917 Courthouse by parking in the spaces in front of the courthouse.
Chesterfield encourages citizens to continue to follow social distancing guidelines established by the Centers for Disease Control and Prevention (CDC), including remaining at least six feet away from others, avoiding gathering in groups and staying away from crowded places. As facilities reopen to the public, Chesterfield's Department of Information System Technology will update the application with additional publicly-accessible WiFi locations within the county.
Public WiFi connections should always be used with caution, and citizens are urged not to access sensitive personal data such as banking information, medical records or credit card numbers while connected to public WiFi.
To view Chesterfield's new Public WiFi Access Locations website and begin using the interactive map, visit www.chesterfield.gov/wifi.