This year, the Federal Communications Commission (FCC) found that almost 29 percent of rural Virginians lack access to highspeed internet. To compare, only 2.8 percent of Virginians who live in urban areas lack access. VACo believes that closing the digital divide ensures that all Virginia communities can compete in the 21st century economy. Connectivity is critical for emergency communications, education, economic development, health care, and more.
VACo developed the Blueprint for Broadband to address the digital divide. This four-step plan does common good for the Commonwealth, and is community-based and cost-effective.
The first step of VACo's Blueprint for Broadband defines high-speed internet, served and unserved areas. The blueprint uses the FCC's standard definition set in 2015, and seeks more accurate geographic information by census area for mapping. The issue stems from the representation of service and empty census blocks, and from providers self-reporting data to the FCC Form 477.
The next two steps evaluate successful public-private partnerships utilizing existing infrastructure. The blueprint analyzes partners, partnership agreements, grants and loans, residential internet speeds and pricing outcomes. All case studies included deploy broadband technology on existing infrastructure, ranging from wireless on top of public safety radio infrastructure to fiber on top of electric infrastructure.
Increased state support is the last step to facilitate more successful partnerships. The blueprint highlights a two-fold method: fully fund the Virginia Department of Housing and Community Development's (DHCD) 2018 budget request for the Virginia Telecommunications Initiative (VATI), and establish a new state revolving loan fund. According to the $14 million DHCD request, that funding does not meet total VATI demand of $39 million. In the budget signed by Governor Ralph Northam, DHCD received $4 million each year for the initiative. To fill that funding gap, VACo suggests establishing a state revolving loan fund, modeled after the Tobacco Commission's revolving loan fund. As a means for Wireless Services Authorities and cooperatives to access funding, VACo advocates for more flexible eligibility criteria and no local match requirements.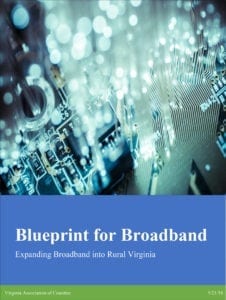 Across the state, different stakeholders are collaborating and calling for more state support to fund rural broadband initiatives.
Recently, the Richmond Times-Dispatch printed an opinion editorial by VACo President and King and Queen County Supervisor Sherrin Alsop about the importance of connectivity. Alsop also introduced the four steps of the Blueprint for Broadband in the op-ed.
Connectivity is not an issue unique to the Commonwealth, it's nationwide. To encourage more rural broadband deployment, VACo submitted a resolution to the National Association of Counties (NACo) urging Congress to strengthen reliability of federal funds and encourage cooperatives to further their involvement in bringing broadband to rural America. NACo members will vote on the resolution later this month.
Upon approval of the VACo Board of Directors, the Blueprint for Broadband was submitted to the Governor's Office. VACo looks forward to facilitating more rural broadband projects across the state.
VACo Contact: Khaki LaRiviere