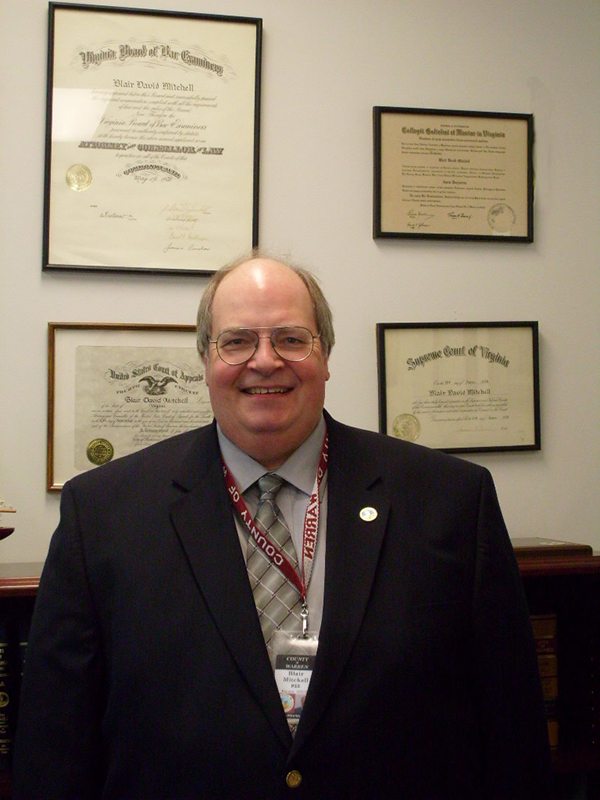 Warren County Attorney Blair Mitchell recently announced his retirement, effective at the end of April. Mitchell has served as attorney for various Virginia localities for almost 31 years. He's been a member of the Virginia State Bar for nearly 40 years.
"It was time," Mitchell was quoted in The Northern Virginia Daily. "I've got some household chores, mostly repairs and renovations, remodeling that we've been putting off and putting off just because I haven't had time to do it. Some gardening and stuff like that that I really have not been able to do because of being here."
Mitchell joined Warren County in January 2007 after serving more than six years as Front Royal's Town Attorney. He also worked as Assistant and Deputy Stafford County Attorney from 1984-1999.
VACo asked Mitchell five questions about his career, plans for his retirement and advice he would give to young local government attorneys. His answers are below.
VACo: You've worked for almost 31 years as a local government attorney. What will you miss the most?
Mitchell: First and foremost I will miss the people I have worked with. The staff and officials here in Warren are the best, the friendliest, and the most caring of each other and of the citizens we serve. They are truly family to me. I will also miss the challenges of encountering something new every week. In a two-lawyer office we don't get to specialize, so we constantly see new issues. The research to learn different areas of the government legal practice has been a rewarding education for me over the years.
VACo:  If you were speaking with young local government attorneys today – what advice would you give them?
Mitchell: Never assume you know everything. Always check your authorities because the legislatures and courts are always tinkering with what you thought you knew. Don't hesitate to take advantage of your peers in the Local Government Attorneys of Virginia. There is great wisdom and greater friendships in our colleagues around the state. Appreciate not only your legal colleagues, but your other dedicated co-workers as well. And don't take yourself too seriously. Have some fun doing what you do.
VACo: How has county law changed over the years?
Mitchell: It's getting more frustrating to deal with the restrictions the General Assembly keeps placing on localities. They still enact unfunded mandates, while refusing to give us the local option to have taxing powers equal to cities and towns. Counties keep growing in population, density, and demands for more rural counties to provide more urban services. Warren County is participating in building and/or paving roads, providing more parks and recreation facilities, enhancing our law enforcement facilities and courthouse, and building new schools. The list goes on. But we are still turned down when asking for the ability to tax cigarettes, and to raise our transient occupancy tax and our meals tax. We are restricted more every year on our ability to suggest and accept reasonable proffers during rezonings. Some other localities in the past have stretched the limits of the proffer system, and we all end up being punished for it. Our big brothers in Richmond want more and more to manage us without providing us the tools to manage ourselves.
On a more positive note, county law is still very interesting. We don't prosecute or defend criminal cases, we don't get into messy domestic relations cases, or personal injuries. But we are otherwise very much both a general practice of civil law and a specialized practice of land use and procedural law. The combination never loses its freshness.
VACo: Please say a few words about being able to serve the citizens of Warren County and the other communities you've served.
Mitchell: Warren/Front Royal and Stafford have a lot of similarities. Many people in both areas are commuters to the Beltway area around D.C. But many, too, are from families that have lived and worked close to home for generations. Those from the more permanent families have more of a sense of kinship and community, are very open to supporting each other, and being appreciative of the support that we in government can give to them. The people of both Warren and Stafford are great. They take pride in the community and celebrate the good things about home. As a government employee, you have to remember that anyone you deal with may be the cousin of someone else you work closely with, and as a result you make yourself more patient with people, which is a good thing, and makes you a better person. After all, helping to make the community better for the people is why we got into and stayed in public employment in the first place.
VACo: You mentioned in a newspaper article that you wanted to do some gardening – what do you like to grow? Flowers? Vegetables?
Mitchell: When I had more "home time" in the past, I grew several varieties of flowers (roses, lilies, daffodils, tulips, azaleas, and quince) and was able to cut them for filling vases in the house. My wife appreciated that. I also would plant lots of vegetables to have fresh veggies for cooking, mostly different types of beans, tomatoes, peppers, onions, lettuces, cabbage and carrots. You can't beat eating grape tomatoes that you've just picked and haven't even gotten inside the house yet. I look forward to getting my fingers dirty again!